Bei google/maps können Sie sich ja mal die Gegend anschauen: Bambush 69,
B-4850 Moresnet ist die genaue Adresse des belgischen Restaurants Le Gregalin. Allerdings sollte der deutsche Neuankömmling die Strasse, die direkt vor der kleinen Eingangstür liegt, sorgsam beachten, denn mit 70 km/h, und oft weitaus schneller, flitzen die Autos vor der eigenen Nase vorbei.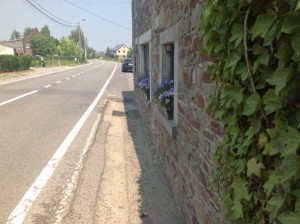 (direkt am Restaurant aufgenommen, die schmale Strasse im Visier)
 
 
Hinter dem altem Mauerwerk verbirgt sich ein elegant-minimalistisches Ambiente. Und noch besser, eines der besten Restaurants der Region. Die Zwei, die den Laden schmeissen, sind freundlich, wechseln spielend zwischen den Sprachen der belgischen und deutschen Gäste. Das Essen ist fantasievoll, ohne überkandidelt zu sein. So ass ich heute eine gegrillte Wassermelone mit Roquefort und Chorizo, hauchdünn geschnittenen Salamischeiben. Eine leicht erwärmte Wassermelone mag an heissen Tagen ein Stirnrunzeln auslösen, das aber von dem Erlebnis dieser besonderen Zusammenstellung Lügen gestraft wird.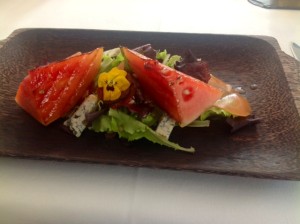 (die gegrillte Wassermelone im Gegenlicht)
 
 
Bin ich dort allein, nähern sich mir fortlaufend gute Gedanken, die vom Genuss kühlen stillen Wassers noch an Klarheit und Kontur gewinnen. So kam ich von einer Sekunde zur andern darauf, wie in meiner nächsten Ausgabe der Klanghorizonte, am 22. Juni, das Flair einer alten Zeit (Maria Sardovska, June Tabor, Stephan Mathieu) und die Klangfantasien dystopischer Gegenwarts- und Zukunftsräume (Boards of Canada, Pan American) einander Spiegel sein können.
Es funktioniert mit Fragmenten alter Gitarrendröhnungen, architektonischen Sichtungen in einem alten modernen Amerika anno 1960 inklusive glasverspiegelter Flughafenareale – und mit "vergrabenen Stimmen". Das schottische Duo von Boards of Canada muss jedemfalls in der Abteilung "Library Music" geforscht , und dabei allerlei Stimmenexotika ans Licht gefördert haben, die sie auf ihrem neuen Album "Tomorrow's Harvest" raffiniert verfremden.
Und Stephan Mathieu lässt seinerseits auf seinem fantastischen Album "Un Coeur Simple" neben Rauschklangerfahrungen der feineren Art auch manche geliebte alte Klangquelle ertönen, so die Aufzeichnung eines belgischen oder französischen Chores, der sich in den Zwanziger oder Dreissiger Jahren des letzten Jahrhunderts eindrucksvoll um ein Liebeslied von Monsieur Dufay gekümmert hat. Mathieu lässt diese Rarität erklingen, um sie allmählich in alle Windesrichtungen aufzulösen, zu zerstäuben! Das Gespenstische solcher Vokalbearbeitungen (bei Boards of Canada wie bei Stephan Mathieu) erlaubt solche Verwirbelungen der Zeit.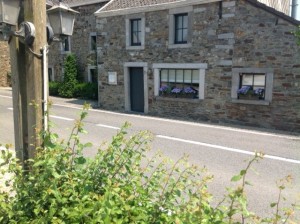 (Le Gregalin von vorne, vom Parkplatz aus)
 
 
A propos Verwirbelungen der Zeit: schon öfter wurde Chefkoch Gregory gebeten, einen Ring im Dessert zu "verstecken", damit bei einem stilvollen Ambiente im Gregalin ein Heiratsantrag gemacht werden konnte. Montags und Dienstags hat Le Gregalin übrigens geschlossen. Die Küche ist von 12.00 bis 14.00 Uhr und von 18.00 bis 22.00 Uhr geöffnet. Sonntags heisst Sie der feine Laden von der Mittagsstunde an durchweg willkommen, es empfiehlt sich eine telefonische Reservierung.