Archives: ECM
Es kann ja immer etwas dazwischen kommen, aber momentan sieht es so aus, dass meine nächste Ausgabe der der Radionacht Klanghorizonte im Deutschlandfunk eine spezielle wird: "Produced by Manfred Eicher – fünf Jahrzehnte ECM in fünf Stunden". Das Tempo dieser Reise durch die Dekaden wird trotz der "mission impossible" kein eiliges sein. Ob ich Manfred Eicher noch treffen werde im Vorfeld, ist unklar. Auf jeden Fall konnte ich zwei Musiker für die Sendung gewinnen, die seit ziemlich früher Zeit auf unterschiedliche Art mit dem Label verbunden sind. Steve Tibbetts wählt jeweils eine seiner Lieblingsplatten aus den "Siebzigern", "Achtzigern" und "Neunzigern" aus, Jon Balke macht das mit den "Neunzigern", "Nullern", und "Zehnern". Beide werden etwas zu diesen Werken erzählen, Steve wird sich dazu wohl in seinem Studio in St. Paul ein paar ruhige Minuten nehmen, Jon ist derzeit in Kompositionsarbeiten versunken, wird aber spätestens in Venedig, wo er demnächst auftritt, morgens auf einem Hotelbalkon, genug Musse haben, seine kleinen Stories beizusteuern. Das alles in der Nacht von Freitag auf Samstag, im Deutschlandfunk, am 17. August. Vielleicht kommt auch noch der eineoder andere Überraschungsgast hinzu. Natürlich wird von beiden auch etwas zu hören sein, spätestens in der letzten Stunde – Jon Balkes "WARP" (2016) und Steve Tibbetts' "LIFE OF" (2018) sind zwei fantastische Alben.
Als der Pianist Richard Beirach im Juni 1977 im Tonstudio Bauer in Ludwigsburg die erste Soloplatte seines Lebens aufnahm, betrat er bereits historisch wertvolles Terrain. Angetrieben von den visionären Ideen des Produzenten Manfred Eicher hatte das Label ECM seit Beginn jenes Jahrzehnts rasch seinen Ruf gefestigt, die Jazzlandschaft musikalisch radikal zu erweitern. Das Kölner Konzert von Keith Jarrett war eine künstlerische wie kommerzielle Sensation und sicherte jedem jungen ECM-Künstler unmittelbare Aufmerksamkeit. Die Produktionstage der Soloaufnahme "Hubris" und der Einspielung "Elm", einem Trio mit dem Bassisten George Mraz und Schlagzeuger Jack DeJohnette, wurden für Richard Beirach einschneidende Lebenserfahrungen – musikalisch wie privat.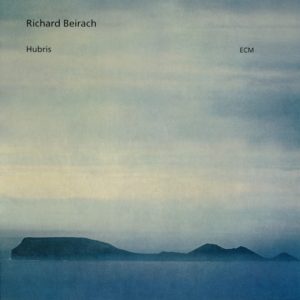 Michael: This is a fantastic record, Eivind. Free, floating and adventurous. Have there been, before the days in Udine, conversationsabout the feel of the music, and other preparations?
Eivind: Michele and I have performed as a duo on different occasions, we have also played a couple of gigs with Gianluca before the recording. Before we met in studio, we talked about keeping the project open for much collective improvisations.
And the producer's presence?
In the studio Manfred Eicher first listened, and then came with suggestions and inspirations. He would typically ask us to do one more in the same territory if he liked where we were heading, but maybe the version was not quit there yet. He would ask us to move on to something else if we got stuck, and also being enthusiastic when he heard something he enjoyed.
The pieces rely very much on texture, atmosphere, a drifting mood – some touchstones come to mind. Did you talk history before?
References were never a topic, but for me personally I have spent so much time listening to certain stuff – 70's Miles Davis, Rypdal and Garbarek, Jon Hassell, Brian Eno, David Torn, they have all been highly influential on me. I think Michele has some of the same references too. I am not sure about Gianluca, but he has a stronger jazz background than me, and he is very into music from the 70´s.
A golden age, that decade. You don't have to be nostalgic to realize that. The rhythmic anchor of the piece "Flood" is, in the first part, a pulsating figure of the trombone followed by this immersive watery feel of the whole track, with, well, waves of sound. The three of you make use of additional electronics and "sounds".
This was the first improvisation we did. In the post-production we added delay and some low frequency on Gianluca's riff, and at the very beginning and very end we also added some a "cloud" texture from another improv, a combination of trombone, guitar, and I think, some of Michele's stuff. The watery feel you mention is mirrored in a lot of the titles. But that "water concept" first came up when Michele and I listened thru the material and thought the music had a watery floating feel to it. This seemed to be OK for Gianluca and Manfred as well.

A recognizable "jazz vibe" can be detected in the opening track "Nimbus", in the trombone, and some of Michele's percussive patterns. For some seconds, I had a fleeting memory of an old Rypdal recording with guitar and trombone. And there's a short Rypdal-esque moment at the beginning of "Styx". I like to speak of "ghost echoes" here. 
I love Rypdal's album Odyssey with Torbjørn Sunde on the trombone! And, yes I agree, the beginning of "Styx" for sure has some Rypdal in there … He is such a strong influence, so I try to avoid to be too close, but you know, sometimes it leaks thru …
A change of scene, the appearance of your acoustic sounding guitar on "What Floats Above". A very ambient piece.
I wrote this one before the studio session. It was nice to explore this two very separate worlds, the very concrete acoustic guitar, and the all the other stuff playing more in parallel than with the guitar. Nils Petter Molvaer introduced me to Michael Brooks Hybrid in the 80´s, and it is one of the records which really changed me. This is also one of my favorite records from the production team of Lanois / Eno.

Still a buried treasure, that album On the title track, "Lost River", the trombone moves through a very special "landscape", no classifications possible. Is it a cliche to speak of a cinematic feel here and on other tracks, but, so, here we go, what a cinematic feeling!
This a another collective improvisation, and I remember that there were some talks about films, although I don't remember if there was any specific movie mentioned. I actually read about a river which disappeared into a underground canal, and it is called "Lost River".
There's a beautiful, melancholic sense of impermanence prevailing on the whole album, but here it comes, on "Night Sea Journey", a groove!
Yes it is a kind of groove tune, and as I said; I know that Gianluca are very much into music from the 70´s so it might be some references for him there. The starting point of the tune was a combination of effects on the guitar; harmonizers and delays, which had a character which we felt would be nice to explore.  
Do you see the cover photo as a kind of signifier for the music, or just a more or less typical "ECM design" suggesting space. And, really, what do I see on that picture: a wall, a floor, a bag? Somehow mysterious.
Well I am not sure, the decision on the cover was made by ECM, and we all liked it but I don't know what it actually is …, so absolutely a mystery …
Good morning,
here is another short portrait of an ECM-related photographer from the past, filmed in Nürnberg last year,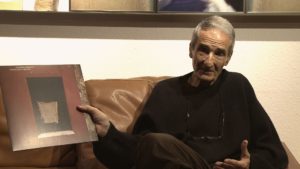 as well as a nice portrait of composer Gavin Bryars, which I filmed in the Midlands a couple of weeks ago.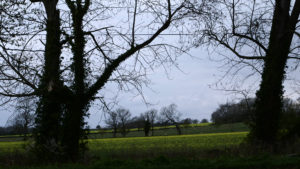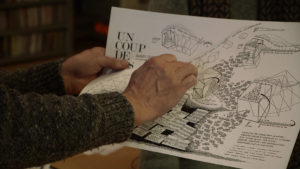 Here's another video that has become somewhat epic, but then again it's with the one and only Barry Guy who has been with ECM since the early 70s. If you'd like to hear the stories behind these interesting graphic scores (and more), please enjoy this visit in the small Swiss village where he lives with his longtime partner, baroque violinst Maya Homburger.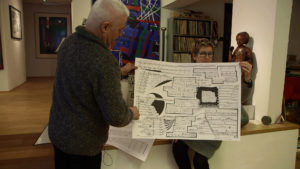 Schon im letzten Jahr gedreht und geschnitten: Ein kleiner Spaziergang mit Juan Hitters am herbstlichen Isarufer.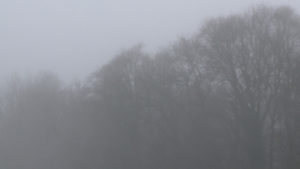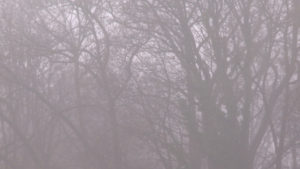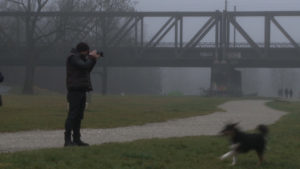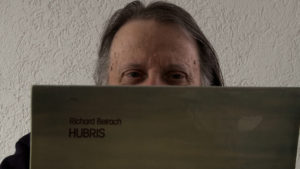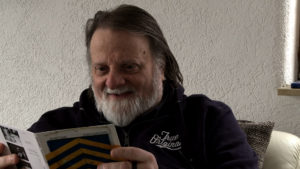 Some of you have been waiting for it. Here's my extensive "interview" with Richie Beirach (one part of it, at least). Enjoy!
Ich weiß nicht, bei wie vielen Berufsgruppen die Leute sagen können: "Ich bin am glücklichsten, wenn ich arbeite."
I don't know for how many professions people can say, "I am happiest when I work".