Every year brings an abundance of wonderful musics, reissues and archival discoveries. Nevertheless, it's easy for me to list a ravishing list of old and new dreams.  "Old True Love Never Dies", as Neil Young once sang, and I was 20 years young when the record ZUMA (quite a romantic album with some sharp edges) blocked my turntable in the International Student House in Würzburg for weeks. Along with three to five ECM records and John Coltrane's "Live In Japan". Brian Eno came later to my ears, at the end of 1975, with the albums "Taking Tiger Mountain (By Strategy)" and "Discreet Music" (and don't ask, I was not so much into the first two Roxy Music albums, I preferred the third one, "Stranded".) In fact, I could write a long short story about the evening i first heard "Taking Tiger Mountain (by Strategy). Weeks later, when "Discreet Music" from (Brian's Obscure Records)  put a spell on me, i kept asking myself why I was kind of surrendering to these silent sounds to the same degree as to that quite surreal song album. And my private answer was: both abums are circling around invisible centers.

Anyway, "old true love never dies".  Back in those days I entered into another dialogue with that  songline from Neil and had to realise that I had already left a few "true old loves" behind me, all of which (at least the real ones) remained unrequited and were merely adored (all courtship and lyrics failed), which in retrospect raises justified doubts about the attributes "old" and "true", not to mention "never dies". That was to change in my summer of love in 1975, at least for a beautiful, infinitely short while. First came Christiana, the unearthly one in the white dress, and after the end of this 2-year-engagement, nobody for a while, and then a woman of unrivalled androgynous beauty, whose full name reminded a classmate decades later of the sound of a Bavarian porn star. But… she was a goddess from the highway… There can be no question of self-delusion and projection with the following albums and works of art from the old days. And from the new days, too. 

01. P.J. Harvey: I Inside The Old Year Dying
02. Fire! Orchestra: Echoes
03. Natural Information Society: Since Time Is Gravity
04. Mette Henriette: Drifting (02/03/04: JazzFacts, 21.12.23)
05. The Necks: Travel
06. Modern Nature: No Fixed Point In Space
07. Palle Mikkelborg / Jakob Bro / Marilyn Mazur: Strands
08. Jan Bang / Eivind Aarset: Two Last Inches Of Sky
09. Roger Eno: The Skies, They Shift Like Chords (DGG)
10. Lankum: False Lankum  
11. Brian Eno: Top Boy (O.S.T.)
12. Craven Faults: Standers
13. Sylvie Courvoisier: Chimaera
14. Thandi Ntuli with Carlos Nita: Rainbow Revisited
15. Paul St. Hilaire: Tikiman Vol. 1
16. Rickie Lee Jones: Pieces Of Treasure
17. The Gurdjieff Ensemble: Zartir
18. Arooj Aftab / Vijay Iyer / Shahzad Ismaly: Love In Exile
19. Alabaster DePlume: Come With Fierce Grace
20. Blur: The Ballad of Darren
21. Wilco: Cousin
22. Nitai Hershkovits: Call On The Old Wise
For those who love albums, there's a slight difference between music you find highly interesting, intellectually challenging, thought provoking on one hand – and music you love to return to on the other. In the end it's all about love affairs. These are those 22 albums of 2023 I love to return to every once in a while. The first five numbers are carved in stone. The rest is changing places from day to day. For example the current no. 12: The previously anonymous producer played his first live shows in September, but most attendees weren't too concerned about his identity – they just wanted to gawp at his stupendous modular synth rig. Standers was his/its finest work to date, a series of hypnotic, throbbing epics that moved slowly but relentlessly like limestone scars through the Yorkshire landscape. For example the "unlucky" No. 23, Domestic Sphere, by Josephine Foster – magical from start to end.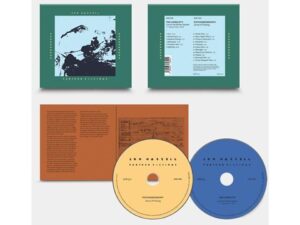 Nana Vasconcelos: Saudades (ECM)

Keith Jarrett: Bremen / Lausanne (ECM)

Jon Hassell: Further Fictions (Ndeya)

Old And New Dreams (ECM)

Neil Young: Chrome Dreams

Alice Coltrane: Journey In Satchidananda (Impulse)

The Kinks: The Journey – Part 1 & 2

The Obscure Records Box Set (Klanghorizonte, 25.1.24)

Pharoah Sanders: Pharoah

Dorothy Ashby: The Rubayat Of Dorothy Ashby

Scritti Politti: White Bread. Black Beer

Hiroshi Yoshimura: Surround
A CURIOUS COLLECTION OF OLD AND NEW DREAMS – Buried Treasure: The Call (japo 6001 – Mal Waldron's fusion masterpiece, and an audiophile delight anyways, from the early days of Gleichmannstraße  10 in München Pasing!) / Best Classic Rock Box: Frank Zappa – Overnite Sensation (50th anniversary) / Best Classic Rock Vinyl Remaster: The Who – Who's Next / Best Archival Discovery Of Electronica: Pauline Anna Strom – Echoes, Spaces, Lines / Fabulous Roots Reggae Re-Discovery: George Faith – To Be A Lover / Best Old Movie Experience: Silverado / Best Concerts (I didn't see): Brian Eno, Berlin – P.J. Harvey, London – Kronos Quartet, Pittsburgh / Best Crime Novel: James Kestrel – Fünf Winter (Suhrkamp) / Best Old German Jazz Reissue On Vinyl: Volker Kriegel – Missing Link (MPS) / Best Album Of 2024: Scritti Politti – Shangrila's Limbo  (September) / a forthcoming  ECM album fitting perfectly for "my Klanghorizonte edition" on  January 25: Arve Henriksen & Harmen Fraanje: A Touch Of  Time / A very special  BluRay (or vinyl experience) for the Christmas Tree: Neil Young – Before + After / Essential  Reissue of ECM in 2024: Keith Jarrett & Jan Garbarek: Luminessence (March) / The book I will read in the days of Christmas and New Year's Eve (and that will probably be a cracker): Jimmy Webb – The Cake And the Rain  / Another book that will trigger and restore adventurous  times: Jan Reetzes Liebeserklärung an ein 50 Jahre altes Album (März 2024) /   I am so sorry, my taste is so predictable, my only excuse, it's not taste, it's passion!

"Echo Chamber":  
"How very kind Michael.
Happy everything,
Roger and Out."
(Roger Eno)
"I´m a collector of Christmas songs. December started with Lutoslawsky´s 20 polish Christmas Carols followed by Jack Jones´ Christmas album."    (Jan Bang  email)