Archives: David Torn
Im vergangenen Jahr fand das Album Vortex von Sonar mit David Torn in den Jahresbestenlisten recht viel Resonanz und war sicherlich eines der bemerkenswertesten Alben von 2018 was die Konzeption, aber auch die Vitalität anging. 2019 haben nun zwei konzeptionell unterschiedliche, aber musikalisch höchst interessante Folgealben das Licht der Welt erblickt. Das Erste, Fractal Guitar vom Sonar-Kopf Stephan Thelen, der hier einige Side-Projekte mit Markus Reuter, David Torn und Henry Kaiser in bemerkenswert differenzierter und komplexer Weise umsetzt. Thelen schreibt in den Liner-Notes:
After a few years of playing without effects apart from reverb in Sonar, I felt the urge to compose and record some pieces in which effects were an integral part of the music. I especially wanted to use an effect I worked with before Sonar, which I call "Fractal Guitar" — a rhythmic delay with a very high feedback level that creates cascading delay patterns in odd time signatures such as 3/8, 5/8 or 7/8.
Daraus ergeben sich hochkomplexe Patterns, die von seinen Mitspielern – dabei auch Manuel Pasquinelli von Sonar – in fünf kongenialen Stücken treibend, tanzend und eine sogartige Tiefe entwickelnd entwickelt werden und selbst nach mehrmaligem Hören noch neue verschachtelte Räume und Klangnuancen offenbaren.
Im Gegensatz zu Vortex, bei dem die Beiträge David Torn's eher spontan enstanden sind, wurden die aktuellen Stücke des Sonar-Albums speziell für Torn komponiert, wobei eigentlich mehr die Pattern und Strukturen entwickelt wurden um den Raum für eine improvisatorische Erkundung der minimalistischen, repititiven und rhythmisch komplexen Muster zu schaffen. Diese wurden dann in einer fünftägigen Marathonsession eingespielt, wobei so viel Energie und Material freigesetzt wurde, dass Sonar entschied, daraus zwie Veröffentlichungen zu machen, von denen Tranceportation Volume 1 mit vier Stücken jetzt erschienen ist. Dadurch, dass die Musik sich hier ganz sensibel und iterativ im intensiven aufeinander Hören entwickeln konnte sind die Stücke tranceartiger (was der Name bereits andeutet), ruhiger und hypnotischer. Stephan Thelen vergleicht die zugrunde liegenden Ideen gerne mit den Bildern M.C. Escher's, die durch Wiederholungen und Verzerrungen, ungewöhnliche Kachelungen und Farbnuancen komplexe Vexierbilder ergaben, die oft erst ihre Substanz nach längerem Hinschauen offenbaren. Tranceportation ist wahrlich das akustische Pendant zu Escher's Mosaiken in denen die tritonal gestimmten Gitarren und Bässe einen verschroben-versetzten Klangteppich erzeugen über dem Torn's Gitarre ätherisch-zehrend schwebt und den Hörer erst in das lange und vielschichtige Labyrinth lockt, um ihm dann in der Falle akustischer Doppeldeutigkeiten zu partitionieren (Partitions), ihm eine scheinbare Pause in Red Sky (vielleicht eine kleine Anspielung auf Torn's letztes Soloalbum Only Sky) gönnt und ihn dann im finalen Tunnel Drive in eine faszinierende Tiefe zu ziehen, bei der sich der Ausgang aus dieser Klangreise möglicherweise erst im kommenden Frühjahr, wo dann der zweite Teil der Sessions erscheinen soll, offenbaren könnte. Bis dahin könnte es passieren, dass der eine oder andere Hörer mit Tranceportation im Kreis herumdriftet, ohne diesen als solchen zu erkennen. Geht bei Escher-Bildern ja auch …
"David Torn's music has always tilted toward the atmospheric, and in the 1990s he started creating film soundtracks. He played on the scores to "The Big Lebowski," "Traffic" and "A Knight's Tale," among others, before starting to compose entire soundtracks himself in the 2000s. It was during this period that he suffered a life-changing brain injury, and lost the ability to hear in one ear. It was a great hardship, but Mr. Torn treated it as just another part of life's ongoing improvisation."

"Life is a continuum in most ways, so an interrupter can be a part of the continuum," he said, explaining that he had to relearn how to listen to music. "I think my great love of distortion became very fine-tuned."
Ich mag keine Erinnerungsgegenstände. Es ist auch kein Erinnerungsgegenstand. Ich kann mich an kein Gespräch mit V erinnern. Vielleicht habe ich ihn einmal darum gebeten, mir die Teedose vom obersten Regal zu reichen, denn alle in dieser WG waren größer als einsfünfundachtzig. S hatte zwei kleine Zimmer, die miteinander verbunden waren, ein düsteres nur mit einer winzigen Luke an der Decke, durch die wir nicht hinausschauen konnten, und eins mit Blick auf eine stark befahrene Straße. J war der Linguist, er fing beim Frühstück damit an, über seine aktuellen Forschungen zu reden und fragte uns, wie wir dies oder jenes grammatikalisch korrekt ausdrücken würden. V stand frühestens gegen Mittag auf. Er studierte etwas Unverbindliches, wahrscheinlich Soziologie, aber eigentlich saß er mit seiner Freundin in seinem Zimmer, rauchte dope und sie hörten die ganze Zeit Musik. Er hatte dunkelgrün gestrichene IVAR-Regale, mit vielen Schallplatten und wenigen Büchern, und die Blätter, die gelb von seinem Ficus Benjamini fielen, hob er nie auf, so dass sich um den Baum ein Kreis herabgefallener Blätter bildete. V hatte immer körperlich anstrengende Jobs, er war sich für nichts zu schade und schien vor nichts Angst zu haben, nicht einmal vor der Zukunft. S und ich hörten Pink Floyd und Velvet Underground, während V eine Richtung einschlug, die ich schwieriger, interessanter fand. Ich bat S darum, mir etwas zu überspielen, was charakteristisch für V´s Musikgeschmack war. So kam ich an diese 90er Audiokassette. A-Seite: Us3 – Hand on the Torch, B-Seite: Sonic Youth – Go. Ich brauche eine bestimmte Stimmung, das zu hören, eine bestimmte Kraft, denn es ist anstrengender als beispielsweise Only Sky, für mich jedenfalls. Und natürlich verändert es, immer, uns. Wolf Kampmann schreibt in der Jazzthetik 1994 über die Magie der Kunst (und das gilt nicht nur für die Musik), die Gesetze, denen man folgen will, selbst aufzustellen, und er zitiert Thurston Moore, der Tape-Aufnahmen mag und sagt: "Je zufälliger ein Album klingt, desto besser." Das letzte Stück aus dem Album Washing Machine heißt "Diamond Sea", ich habe es eben zum ersten Mal gehört, leider nur sehr leise. Zwanzig Minuten lang nicht fassbare Rätsel und Verbindungen. Time takes ist crazy toll.
"Cast alone with just his guitars and effects rig for company, in this stunning if somewhat unsettling set of soundscapes David Torn has produced perhaps his most direct and unfiltered work to date. […] It's a truly fascinating glimpse into the mind of one of the great creative forces of our time and each successive listen should reveal fresh new dimensions for many years to come."
Only Sky ist eine ultime Form von kosmischem Blues. Torn halluziniert vorwärts in den aktuellen physischen Raum, in dem sich die gespielte Musik vollzieht, ereignet, und rückwärts in den Raum musikalischer Vergangenheiten. Magisch ist die Weise, wie hier uralte Themen und Stilelemente aus seinem Soundscaping hervortreten, Form annehmen, ohne darin festgelegt zu werden. Im Umspielen, mit Ellipsen und Fragmenten bleibt das Ganze in offener Bewegung wobei sich sehr wohl Konturen scharf abzeichnen.
Gleich zu Beginn, in "At least there was nothing", jagen Klangfetzen durch einen vibrierenden, anschwellenden Raum, der musikalische Urformen birgt, die der nordamerikanischen Landschaft entspringen und diese nachhallen lassen. Geradezu frappierend ist, wie dann aus dem Sturm die Klänge von Torns elektrischer Ûd aufsteigen und der Zuhörerassoziation kräftig zusetzen. "Spoke with folks", das zweite Stück, ist eine verlangsamte, nackte Form von Urrock, die sich irgendwo zwischen Howlin' Wolf, John Lee Hooker, Vanilla Fudge und Steve Reich bewegt – mit entfernten Echos von Pionieren des Blue Grass. "Ok, Shorty" ist 'a beauty of a song' und "Was a cave, There …" ist schlicht ein Meisterwerk auf einsamer Höhe.
Man kann den leeren Konzertraum des EMPAC in Troy, Upstate New York, mit seinem enorm langen Nachhall heraushören. Aus den Anfangsklängen steigt Konzertantes auf, das den Eindruck eines Gemisches aus Jimi-Hendrix, Arditti String Quartet, Metropolis-Filmmusik und Industrial Sound hervorruft. "Only Sky" ist eine subtile himmlische Ballade. "So Much What" arbeitet mit Gongeffekten und ruft entfernt Assoziationen mit Verdis Gefangenenchor aus "Nabucco" hervor. Das Schlussstück schliesslich gleitet in einen "Shenandoa"-Archetypus.
Torn hat eine anwesende Nichtanwesenheit (und umgekehrt), die seiner Musik eine besondere Qualität verleiht. Er ist der schalkhafte Magier, immer für Überraschungen gut, sowohl was das Sanfte wie das Extreme, Bizarre betrifft. Was Torn spielt, liegt nicht auf der Hand, ist aber stets von grosser Klarheit.
Only Sky ist bei ECM herausgekommen. Die Rezension ist eher auch im Printmagazin Jazzthetik erschienen.
Seit ein paar Tagen wird bei der Post nicht mehr gestreikt und so erreichten mich einige Gegenstände, die sich seit mehreren Wochen auf dem Weg zu mir befanden. (Andere sind wohl in der Loopschleife verloren gegangen.) Da ist das Album "Now This" des Gary Peacock Trio. Es ist klasse. Michael sagte in seiner Sendung, er hätte den Inhaber eines Cafés in New York oder Boston dazu bewegt, ein Album einfach mal durchlaufen zu lassen. Ich kann mich nicht daran erinnern, ob es dieses Album war, aber es könne es gewesen sein. Das ist eine CD, die ich auflegen könnte, wenn ich Besuch habe, dessen Musikgeschmack ich nicht kenne. Ich könnte sagen, es ist Jazz, aber es ist okay und es wird euch gefallen. Man kann zuhören, man kann aber auch reden. Keine Platte, über die man in Streit geraten wird. (Manche werden sich an die Aufgaben des musikwissenschaftlichen Seminars in Würzburg erinnern, bei der es darum ging, Musiktitel zusammenzustellen, die man auf einer kleinen Feier auflegen kann.) Etwas anders ist es bei David Torns Album "Only Sky". Michael hatte in seiner Sendung das erste Stück aufgelegt, und dies ist bestimmt eine gute Einführung in diese Arbeit, aber es war die Art, wie Michael über die Platte sprach, was mich dazu bewog, sie zu kaufen. Allein schon die Namen der Titel. Ich weiß nicht, wie oft ich diese Musik in den vergangenen Tagen schon gehört habe. Es fing beim zweiten Stück an, dass ich völlig in den Bann gezogen wurde und es allmählich kaum fassen konnte. Diese Platte ist sicherlich völlig ungeeignet für ein gewöhnliches Café, denn man muss sie auf jeden Fall allein hören. Es ist eine Musik, in die David Torn alles hineingelegt hat, seine Lebenshaltung, die ganze Lässigkeit, (der man nicht anmerkt, wie hart sie erarbeitet wurde, falls sie überhaupt hart erarbeitet wurde), es ist eine Musik, die schwebt, in Traumstrukturen, die aber doch nie völlig den Boden verliert. In den neun Stücken wird einiges ausprobiert, die ganz großen Stimmungswechsel bleiben aber aus, eine gewisse Ruhe bleibt immer, auch in verzweifelten Phasen. Da gibt es manchmal kleine Überlagerungen und ich überlegte, ob mein CD Spieler defekt ist, aber nein, das ist so gewollt und erinnert in der Technik ein bisschen an Christian Fennesz´ Bécs. He is a looper, too. Die Musik ist einsam, aber sie genügt sich selbst und erwartet längst nichts mehr von außen. I´m through, I can´t get any worse, I´m happy. "Only Sky" ist unfassbar schön. Ich bin absolut überwältigt.
I even like the track titles. Maybe David Torn found them according to an old formula: first thought, best thought. "i could almost see the room". "a goddamn specific unbalance". "at least there was nothing". Or the title track: "only sky".  I imagine when all had been played and done (mixed), David listened to it all (the final sequence) under very good headphones – and called it a night. Me oh my, an electric guitar. Tons of history. Cutting through styles, fragments, loops –  leaving it all behind, even the circles (in a silent way). Dream logic rules. Keep the threat imminent. Peace, brother, like a long look up into air. Be aware of silent explosions. Describable, but undescribable. If you don't think "Kenny Burrell"-style, well, then, you'll even find grooves, pulses. No great gestures. One "whenever i seem to be far away"-moment. A short passage of "Terje Rypdal Blue". No congas required. No strings. Only once, an electric oud, it (simply) happens. Eivind Aarset will love it. How this all works, beyond cliche and pastiche, I have no idea. It's much more than a textural thing. A hard rain's a gonna fall.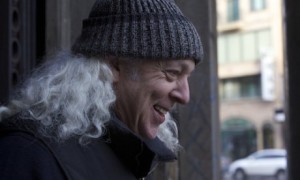 HE, did it: ONLY SKY, masterpiece


writteninmusic.com/david-torn-only-sky …


hyperbole is normal nowadays BUT a real masterpiece is a masterpiece:
out may 15th (NACH (!) Himmelfahrt)