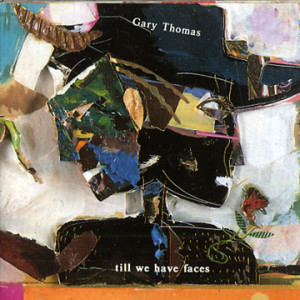 Standards seien ideale Vehikel, meinte Saxofon-Ikone Lee Konitz und auch Professor Rosenwinkel gibt seinen Gitarrenschülern stets mit auf den Weg, möglichst viel davon zu spielen. So kamen am vergangenen Wochenende auch zwei Mana-Fonisten in Hannover zu dem Schluss, dass es wohl hilfreich sei, den einen oder anderen davon einzuüben, um Struktur und Abwechslung ins freie, experimentelle Spiel zu bringen. Das Faszinierende an Standards und Cover-Versionen ist vor allem die Vielfalt ihrer Interpretationsmöglichkeiten.
Wer Jazz hört, gerne auch mal latino-rhythmisch unterlegt, der kommt an Pat Metheny nicht vorbei. Immer wieder wird einem bewußt, welch prägenden Einfluss der amerikanische Hybridjazz-Gitarrist hatte und mit welcher Vielzahl von Alben er zu überzeugen wusste, als role model einer ganzen Generation. Zum Besten zählen auch weniger bekannte wie die Filmmusik zu The Falcon and the Snowman.
Vor allem aber wirkte Pat Metheny mit auf Till We Have Faces des Saxofonisten Gary Thomas, das ich eine zeitlang sehr oft und gerne hörte. Eine ungemein spannungsreiche, kraftvolle, fast schizomässig gegen den Strich gebürstete Musik wird hier gespielt – genau das Richtige, um sich nach einer ausgedehnten Radtour zu entspannen, mit nichts als Dopamin im Hirn und dem Wohlgefühl, das alles easy sei und man selbst sehr wach.
Beeindruckend sind hier, neben dem kraftvoll-konkreten Bandleader: die Schlagzeugerin Terri Lyne Carrington mit enorm vitalem, dynamischem und homogenem Spiel; dann ein Pianist namens Tim Murphy, wenig bekannt und trotzdem sensationell. Und eben Metheny, der aus dem Kittel kommt wie selten sonst. Meine Lieblingsstücke: Angel Eyes, Lament und You Dont Know What Love Is.
Letztgenanntem stelle ich eine Interpretation des Keith Jarrett gegenüber: hört man erst das getragene, funkige Vierviertelstück des Trios (zu beobachten ist, mit welcher Hingabe, Präzision und mit welchem Körpereinsatz Jarrett hier agiert), kann man sich dann von der wilden Truppe des Gary Thomas im Sieben-Achtel-Uptempo aus dem Haus treiben lassen, auf den Drahtesel, über die Berge, auf die weite Flur: Fly Me To The Moon.


1 Keith Jarrett Trio