And if you think you knew me then
You don't know me now …
Als Blemish 2003 erschien war ich völlig unzureichend darauf vorbereitet, was mich erwarten würde. Verzerrte Sounds, eine weitgehende Dekonstruktion denkbarer Songstrukturen, ein Auseinanderfallen vertrauter musikalischer Muster nur noch durch die Stimme David Sylvians zusammengehalten. Ein Befreiungsschlag und Signatur des Schmerzes einer Trennung in einem, eine zaghafte Suche einen nicht mehr durch die Vorgaben der Musikindustrie geprägten Klangraum zu finden, ein sperriges und verstörendes Werk, zu dem ich erst langsam Zugang fand und es inzwischen wirklich immer wieder gerne höre. Jetzt sind alle 10 Alben, die David Sylvian zwischen 2003 und 2014 auf seinem eigenen Label Samadhisounds veröffentlicht hat in einer Box mit neuer Gestaltung und einem umfangreichen Begleittext wiederveröffentlicht worden: Do You Know Me Now?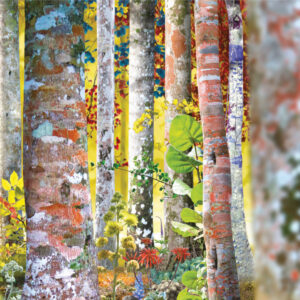 Blemish (****)
The Good Son vs. the Only Daughter (Blemish Remixes) (***)
Snow Bone Sorrow (Nine Horses) (*****)
Do you know me now? (Sakamoto/Nine Horses/Solo) (****)
When loud Weather Buffeted Naoshima (*)
Manafon (*****)
Died in the Wool (*****)
When We Return You Won't Recognize Us (***)
Uncommon Deities (w. Jan Bang/Erik Honoré) (**)
There's A Light That Enters Houses With No Other House In Sight (Sylvian/Fennesz/Wright) (**)
Die Veröffentlichung von Manafon war ja nun konstituierend für unseren Blog und nicht zuletzt der Namensgeber. Über die Zusammenführung von verschiedensten Sessionfragmenten, die jede bisherige Hörgewohnheit (selbst wenn man sie an Scott Walker geschult hat) in einen permanenten Orientierungsmodus kippte und etwas konsequent Neues schuf, das dennoch auf befremdliche Weise, wenn man sich mal darauf eingelassen hat, sich als ausgesprochen hörbar erwies, schuf Sylvian einen Meilenstein im Songwriting. Wahrscheinlich ist kein Album hier häufiger aus den verschiedensten Blickwinkeln betrachtet und gewürdigt worden, ist oft wieder- und umbewertet worden, übermäßig gehört, überhört oder nach Probehören abgelehnt worden oder durch die Perspektive der weiteren musikalischen Entwicklung Sylvians neu eingeordnet worden. Dem kann ich kaum einen neuen Blickwinkel hinzufügen. Leider brach das kreative Schaffen David Sylvians nach Died In The Wool – Manafon Variations deutlich ein, man hörte immer weniger Eigenes, noch ein paar kleinere Kooperationen von ihm und dann, seit 2014: Schweigen. Zugegeben wüsste ich auch nicht, wohin es nach einem Album wie Manafon musikalisch weitergehen könnte, aber es bleibt mir ein leises Warten.
Seit meiner Pubertät waren zuerst Japan und dann die vielen Soloalben, auch seiner Japan-Bandkollegen, wichtiger emotionaler Bestandteil meiner Musiksozialisation. Sylvian war bei mir immer synchron, seine musikalischen Aussagen, auch wenn sie fremder und eigenwilliger wurden, fühlten sich relevant an, bedeuteten mir etwas. Ausser den ganz alten Alben von Japan, sagen wir ab Quiet Life höre ich sie auch immer wieder, teils durchaus mit nicht zu verleugnender Melancholie, die dieser Musik ja auch immanent ist, irgendwo präsent ist, selbst bei den Kooperationen mit Robert Fripp und auf Dead Bees On A Cake. Auch die Ambientalben mit Holger Czukay und die frühen Soloinstallationen sind wundervolle Einladungen eine Stille zwischen den Tönen neu zu erkunden. Nun ist der Teil, in dem David Sylvian die größte Schaffensfreiheit hatte, wieder als Ganzes verfügbar, auch wenn das Label Samadhisound inzwischen Geschichte ist.
"Although I personally maintain samadhisound is the home of my best work it was produced during a very turbulent period that precipitated some devastating changes in my life. I can't gloss over this fact as it's incorporated into, and informs the material in many ways. Maybe that's why, after all this time, outside of any possible musical innovation, it remains so important to me."
… And if you think you knew me then
You don't know me now
I was happy, satiated
I was satisfied
But I still don't know you …