Café OTO, in der Nähe der U-Bahnstation Dalston-Junction gelegen, nicht weit vom (älteren) Vortex, das an der nächsten U-Bahnstation (Dalston Kingsland) liegt. OTO ist ein kahler Klub, wo die Musik der offenen Ränder ein Zuhause hat und findet (hier   Nachbarschaftsgespräch).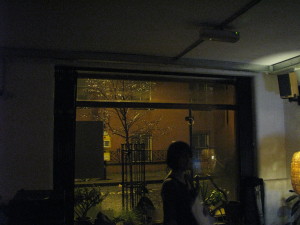 Hier gibt es als erstes das Trio des jungen Schweizer Posaunisten Samuel Blaser mit einem alten Hasen, dem messerscharfen Gitarristen Marc Ducret und dem dänischen Schlagwerker Peter Bruun, der bereits seinen manafonistischen Einstand hatte. In der Mitte das Power-Quartett des jungen Hundes Guillaume Perret, ein aufstrebender französischen Musiker, der sein Saxophon elektrisch gitarrisiert. Schlussendlich das taufrische, sich gerade aufbauende Assemblée von Luc Ex mit den beiden Saxofonisten Ab Baars und Ingrid Laubrock sowie dem sturmerprobten Chicagoer Schlagzeuger Hamid Drake.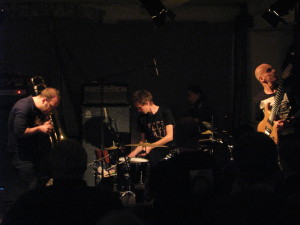 Blaser, Ducret, Bruun. Ich habe die drei nun seit Juni dreimal mitgemacht und spielen sehen: in Berlin, in Umeå und nun in London. Posaune und Gitarre, eine wunderbare Kombination mit Möglichkeiten zuhauf. Und wenn dann noch die Richtigen spielen … wie diese zwei, dann funkt's. Die Musik spielt sich nach den Monaten des Tourens aufblitzend auf Messers Schneide ab – siedend heiss, gleissglitzernd, getragen vom tausendfach raschen Nadelschlag, den Peter Brunn entfacht. Sie lässt sich nicht so einfach fassen, die vorwärts schnellende Form, die dabei entsteht. Grossartig, wie sie sich verdichtet, verschärft, umschlägt, tobt, gleitet, singt und springt. Verrückt die Komprimierung bei Ducret und die Art wie er dem battente auf den Saiten eine neue Dimensionen abgewinnt. Auch das kann Schlaggitarre sein.
Formverschiebung, Formverdichtung, Aufgehen, Verschwinden – es ist ein fortwährend auf hohem Niveau erschliessendes Spielen. Das Vierzig-Sekunden-Thema von Strawinskys Fanfare for A New Theatre erscheint diesmal gleich zu Anfang und expandiert dann. Blaser, Bruun und Ducret liefern über die Abwechselung der Reihenfolge ein faszinierendes Spiel mit der Mitte, um die Mitte und mit der (Un-)Bestimmtheit der Form. Wild, ohne dass jemand den wilden Mann raushängen oder auf Power machen müsste. Diese drei gehen konsequent ihren Weg. Auf Messers Schneide. Und das Ende der Fahnenstange, es ist noch lange nicht in Sicht! Es ist ein fortlaufendes Auskristallisieren und Austarieren scharfer Formen und glühender Texturen.
Und dann Luc Ex Assemblée mit den beiden Saxofonisten Ab Baars und Ingrid Laubrock sowie dem sturmerprobten Chicagoer Schlagzeuger Hamid Drake. Luc Ex ist für die kompositorischen Vorgaben zuständig und spielt akustische Bassgitarre. Und wie!
Dieser wunderbar stumpfe Klang seines Instruments, der sich zwischen den nordafrikanischen Lauten, der Guimbri und der Doussn Goni bewegt. Abwechselnd gerupft und geschruppt im Verein mit Hamid Drakes prasselndem Geschläge schaffen sie ein rauhes Gestrebe, das sich mit dem Atem der beiden Windinstrumente verschränkt, deren Farben verwirbelt, sie fängt, sie aufsteigen und wie ein Funkenflug sprühen lässt.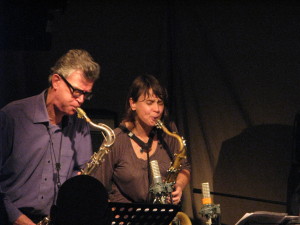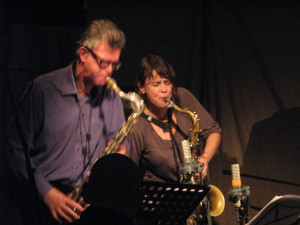 Baars und Laubrock, Laubrock und Baars sind eine wahrlich goldene Kombination, in der beide nur noch besser werden. Eine reine Freude, wie sie kürzeln und dann wieder schweifen, wie sie in einem Moment andeuten und im nächsten voll hineintauchen. Und all das mit dem Ernst der Selbstverständlichkeit, der Leichtigkeit des Unwiederholbaren und der Schönheit des gerade noch Greifbaren. Wenn Baars zur Klarinette griff, immer im ultimen Moment, stand das Erstaunen sich selbst gegenüber (und tanzte Tango).
Das ist das Gute am Londoner Jazzfestival. Man kann an die verschiedensten Orte ziehen und da Besonderes an originärem Ort mitmachen. Voraussetzung: man lässt sich durch Ort und Besonderheit leiten und nimmt sich Zeit und Raum fürs Hin- und Herbewegen.

alle Photos © FoBo_HenningBolte


Luc Ex (taken from my article DUTCH SCENE(RIE)S – A SNAPSHOT)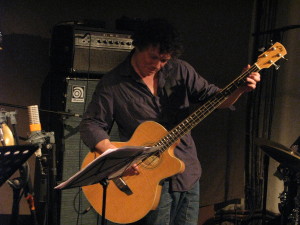 "… groups drawn from the older generation, each joined by a musician of the middle generation – which in itself makes a valuable point about the way that creativity passes down the years. One is a brand new formation of bass-guitarist Luc Klaasen – aka Luc Ex (1958) because of his long time membership of legendary Dutch band The Ex, one of the cornerstones and most longstanding groups on the Dutch scene.
Luc Ex's new band brings raw elements of clashing sound and distortion whilst maintaining an anchor in the signature format of a classic jazz quartet. He is joined by prominent reeds specialists from two generations, Dutchman Ab Baars (1955), member of ICP, and American-German Ingrid Laubrock (1970), formerly working in the London scene, and now one of the outstanding younger voices of the present New York scene. The quartet is completed by one of the strongest free improvising percussionists of these day, Chicagoan Hamid Drake (1955). Baars and Drake know each other from various earlier collaborations. Luc Ex worked with Laubrock in Dutch-English ensemble Sol 6 – which he founded back in 2008 together with British pianist Veryan Weston – and the multinational Sol 12. Sol6 is an ever fascinating chamber-hybrid of cabaret, punk, deep groove and free improvisation where Satie meets Bacharach meets Eisler meets Lacy etc.. The new band, Assemblée, leans on older collaborations but there is more than enough new and unknown territory left – an enterprise that fits into the polarities of orchestration mentioned earlier.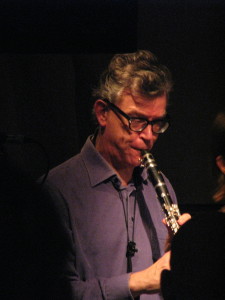 It is perhaps worth dwelling on Ab Baars – one of the mainstays of the Dutch scene for some decades. On the one hand he is a highly idiosyncratic musician with a kind of stylishness and noblesse which is rare in the Dutch scene (famous quote of the old master Misha Mengelberg: "Ab always plays Ab-music.") On the other hand he is a sought-after musician who travels to Chicago, Scandinavia, Norway, England, Italy. He is very much linked and associated with the old impro-garde but to the same extent he is his own man. His most stable constellation besides the ICP Orchestra ( he's been a member since 1986), is a delicate duo with violinist Ig Henneman. Again in the words of Misha Mengelberg: he is not "corruptible" – with all his distinctive qualities, he feels at home with the The Ex as well as he feels at ease with singer Fay Victor or french hornist Vincent Chancey. He plays tenor saxophone, clarinet and studied the Japanese bamboo flute shakuhachi which he regularly uses in his work."