1 – Vorspiel –  Einmal habe ich diesen Film gesehen, als er in die Kinos kam, und als ich gestern nur den Trailer wiedersah, könnte man ihn auch für "Eis am Stiel" auf mexikanisch halten, aber der Film geht, da traue ich meiner Erinnerung, so viel tiefer. Die Leichtigkeit der Jugend ist da so präsent wie, subkutan, der Tod. Mir fiel der Streifen wieder ein, als ich, auch schon wieder eine Weile her, "Licorize Pizza" sah, von Paul Thomas Anderson. Und was an der Oberfläche eine "luftigleichte Sommerkömödie ist", gibt, wenn die Wahrnehmung in bestimmter Weise kalibiriert ist, eine besondere melancholische Schwingung frei, die sich durch den ganzen Film zieht. Die Aura einer alten verschwundenen Ära, mit grossartiger Kameraarbeit, gutem Storytelling und Klasse-Soundtrack eingefangen! Und nicht mit "Pickel-Joe" habe ich mich identifiziert, der beharrlich einer Angehimmelten seine Offerten macht, sondern mit der Stimmung des Films.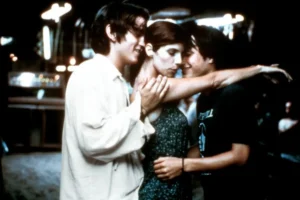 2 – Verlangen – Gibt es den Ausdruck "mood movie"? Solche speziellen "moods" ziehen sich auch durch "Y Tu Mama Tambien", den ich mir vor Jahr und Tag als alte Dvd (original mit deutschen Untertiteln) für 4,95 Euro bestellte. Peter Bradshaw bemerkte zu dem Film: "It looks like it's obsessed with sex – but actually this film is obsessed with death."

Ich habe mich schon dabei erwischt, "Stand By Me", American Graffiti", "Nordsee ist Mordsee", "Absolute Giganten" (letzteren kann ich mir immer wieder ansehen, er fängt so herrlich doof an und ist einer der profundesten Filme deutscher Herkunft über das Ende der Kindheit) und "Jede Menge Kohle" rauszusuchen (hier kann man mich in einer Statistenrolle sehen, ist ja auch ein "Ruhrgebiets-Burner" aus Dortmund).

Coming of Age-Filme durch die Bank. Aber alle mit jener Melancholie verwoben, die von der erhebenden Sorte ist, und so wichtig ist für jede Feier des Lebens. Grosse Freude, "Y tu mama tambien" neu zu entdecken.

3 – Verwandlung – Was für ein zweites Sehen! Einige der glücklichsten Momente des Films sind die, in denen sie durch die Landschaft fahren, das Auto mit Fastfood-Verpackungen übersät, Luisas Füße auf dem Armaturenbrett, berauscht von der Sonne und der Freiheit des Unterwegsseins. Cuarón ist großzügig genug, um ihr Eden am Meer tatsächlich existieren zu lassen. Auf dem Weg dorthin gibt es auf der Kassette ein wunderbares Stück von Brian Eno zu hören, dass das Thema des Trios, Nähe und Distanz, Träumerei und Melancholie feinsinnig vertieft –  und, zauberhaft, wie die Kassette, der Song, ins Stocken geraten, den Geist aufgeben.


Der schöne Abschnitt, in dem die Drei das Meer erreichen und bei einem Fischer und seiner Familie campen – es wirkt wie eine ausgedehnte Idylle, eine elementare Existenz, die das Rauschen in ihren Köpfen übertönt und sie alle vor Zufriedenheit schnurren lässt. Und all das zahlt sich auf dem Höhepunkt aus, einem Moment, in dem alles aus dem Ruder läuft, der gleichzeitig ein großartiger, gewagter Witz, die tiefste Bestätigung des Glaubens des Films an die Herrlichkeit der Lust ist. 

Bis zu seiner melancholischen Coda (deren Stimmung durch die beiläufige Elegie von Frank Zappas Komposition "Watermelon in Easter Hay" aus dem unterschätztem Opus "Joe's Garage" eingefangen wird) teilt Y tu mamá también dieses Gefühl der Freude – am Ende herrscht pure Wehmut.