Some time ago now, you remember? "Cattle and Cane". Think of my very last radio night in December, and how to end it, songwise, no second thoughts, just a smile on my face. It just came to me, on my flight yesterday from Kristiansand to Amsterdam. The last sequence, twenty minutes long, four pieces of music, four small, well, not so small worlds. On my list of 50 things to do before I die: crossing the Go-Betweens-Bridge in Brisbane with earphones while some spring rain will gonna be fallin'. This is an inventory for the love of a music. With a place. We are all Go-Betweens.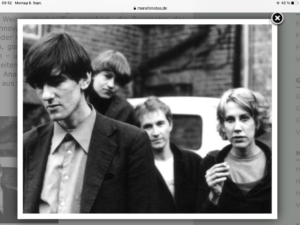 Grant McLennan dying so young, Robert Forster finishing Grant's last three songs when going solo again on "The Evangelist" after the end – and what songs that were!
The Go-Betweens were looking for pure songs and melodies. With a twist. With undercurrents. Melancolia, sunbathed. Or rain. They wrote one of the best songs about rain since Creedence Clearwater Revival. "Spring Rain". Passion and understatement. Fine lyrics all over the place. You can start anywhere.
And another way to enter their sunken world, the documentary "Right Here". Some might find moody shots of Forster walking across an empty field or staring at a bonfire cliched or even trite. But they are people who hold more value in technique than soul. The Go-Betweens have always been about soul, not technique. As Lindy Morrison says, "We didn't look the part, we didn't sound the part, we were too intelligent."
Haha. Well said, Lindy. It is an emotional, rolling thunder of a film, one this extraordinary band deserves. Those for whom the Go-Betweens are part of the architecture of their lives will love it. For casual watchers, it might introduce them to something special.
Send Me a Lullaby (1982) ***

Before Hollywood (1983) ****1/2

Spring Hill Fair (1984) *****

Liberty Belle and the Black Diamond Express (1986) *****

Tallulah (1987) ***1/2

16 Lovers Lane (1988) ****

The Friends of Rachel Worth (2000) ****

Bright Yellow Bright Orange (2003) ****

Oceans Apart (2005) ****1/2
"Before Hollywood" was my ticket to ride. i saw  the band wheneer they came near – it was meant to be a company for a lifetime. Reading a lot of these small letters on the band's website in the memorial section  can still bring tears to my eyes. There is a kind of "community" of listeners that never really met (apart from local stages), but can tell one another so much. About their experiences of the music. I never had such an intense emotional reaction about the death of a musician. Not even linked to my meetings with the guys. Their songs found a deep way down into my soull. Next week I will do a radio show where death is present all around, playing Ali Farke Toure, Johnny Cash and The Go-Betweens. That night I will wear my old blue Go-Be´s T-shirt. Sky-blue. Grant will always be part of the music I love, here and there and everywhere.

(m.e., summer 2006)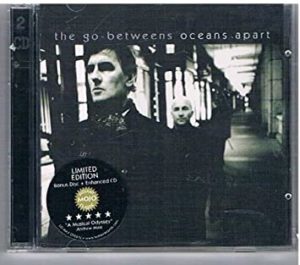 Michael Engelbrecht: Grant was writing on three songs. Sketches. Originally for another Go-Between album. Were there only melodies – did you write or finsih the lyrics for "The Evangelist"?
Robert Forster:  For the song "Demon Days", the first five lines were written by him, I continued the writing. When Grant worked on songs in the last few years, he always wrote the lyrics at the end. He loved choruses and melodies – this raw material fuelled his work on the lyrics. After his death I came across his notebook and there were no lyrics in it, except these five lines from "Demon Days".
And, how moving these lines are, in retrospect. Especially on this song, your singing is so soft and warm – I have rarely you heard that from you.  Somehow close to the devastatng tone of Neil Young  from "On The Beach", his album was about loneliness and alienation.
That's a special compliment, Michael.  "On The Beach" is my favourite Neil Young album. In fact, I was listening to side two of the album just a week ago. I don't think I've sung much in that vein before because the melody wasn't mine.  Grant's melody changed my voice. And of course his lines established a basic mood that I had to follow.
The album starts with a very quiet drawn-out sound, and it takes quite a while for the first words come up in  "If It Rains".  The beginning is an awesome kind of meditation on rain.
Meditation is a good word here. There was the end of the very last song by us Go-Betweens on "Oceans Apart"; and then, not much later, the terrible thing happened. I wanted the first song of "The Evangelist" to be a kind of meditation. The album couldn't start normally. I didn't want to start with a song, but with a sound, which, by the way, came from an old Casio keyboard. I wanted people who listen to hear this point zero, this  sound close to nothing. Only then do things start to develop.  The album just had to start slowly for its own stake!