Autoren-Archiv:
"What a wonderful book. Part essay, part travelogue with a smattering of fiction, it's an indescribable blend of humor, sadness, quirk and love. Author Julio Cortázar cooked up a plan with his second wife Carol Dunlop to drive from Paris to Marseilles in their VW bus nicknamed Fafner, the dragon. The catch is, they stopped at every single rest-stop along the way at the count of two per day, sleeping over night at the second one. This book chronicles their thoughts and notes throughout the journey. It really is a wonderful book, demonstrating how despite such odd circumstances Cortázar and Dunlop found great joy escaping the world, being not utterly isolated but separated from their responsibilities and obligations. Instead, they focused on each other, on reading, writing and observing.

Love, and the joy of their togetherness, was a major theme expressed throughout the story. Physical and emotional love. Their affection is so gentle and so poetic, reading it is near meditative in quality.

In the end, they summarize the journey, as unintentionally a Zen expedition. They set off not knowing what they would find and what they found was the beauty of existence even in the most absurd of situations. Touring rest areas."

(Peter Katzman)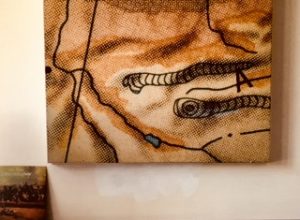 hi michael,
on land – that would be my favorite eno album. a timeless piece of music, highly inventive and enough room for the listener to create our train of thoughts. wonder if some of the reasons of its success simply has to do with it having almost no high end in the instrumentation, apart from the trumpet lifted from (was it "dream theory"?). same thing with brook´s "hybrid" – only low, low / high mid areas involved. if you listen to "dream logic" or "cartography" – or for "poppies" for that matter – it´s hardly anything going on in the treble (as if such word belongs in the analog world). when something do enter that frequency (voice, trumpet, the odd sine wave) area, it can be performed so softly and will still be extremely present in the recording.
wonder if the getz / gilberto album was (and still is) such a success, merely has to do with bass levels …
currently in norwich with matt calvert giving a performance tonight of battleship potemkin at the norfolk festival.
best,
jan bang
Michael Engelbrecht: For someone with such an approach to music, let's call it "minimal input, maximum effect", you must feel a certain soulmateship with the one record of YOUNG MARBLE GIANTS: COLOSSAL YOUTH. Not only because of the kind of voices you prefer …
Bill Wells: It's funny, a number of people have mentioned that record in comparison with what I do and I can understand why, but it's an album that I wasn't aware of at all when it was released, so was therefore not an influence. (I was probably too busy listening to "Gaucho"). I do however really like Alison Statton's voice, though actually (rather ironically I suppose) I prefer her work with Weekend.
Michael: I bet you have a pile of Robert Wyatt albums. I know Robert from heartfelt encounters and interviews for a very long time, lost a bit contact since he retired. Now he, too, sometimes has a special way of using jazz vibes in a very British setting. Can you tell me about your "stories" with Robert's music? 
Bill: Yes, for sure. I had a dream that the first six chords of "O Caroline" were the same as the first six chords as "Streets Of London". That was the first time I realised I had more musical ability when I was asleep. I did manage to ask him, R.W. I mean, (and indirectly via Douglas T. Stewart) about his version of Little Child, a cover which always fascinated me as he imitates, in a sort of really over the top way, both a child and an adult and I'm not sure how he pulls it off but for me it totally works and, well, I can't remember the exact answer but he did say something to the effect of it being about the most daring thing he'd ever attempted.
Michael: Your new album, Standards Vol. IV, has a musical narrative, from the "almost nothing" of the first notes till the crescendo in the "showdown area". Do you remember the time of production, did it all fell into place, or was it more a subconscious process? … 
Bill: Well, since you both noticed and asked, I wrote / arranged all the material and recorded most of it as I was heading for a nervous breakdown, then became suicidal and consequently ended up in psychiatric hospital for over a month, that was September 2016. I finished the recording in 2017.
Michael: Oh, sorry for that. Ahem … you very carefully chose the moments for Ab's viola coming into the foreground … it only happens a few times, and always has this nearly overwhelming quality (your sense for understatement easily undermines the passion involved). And Kate's voice: wow! When looking at the responses to the "trio music", all these "standard albums", people speak of lightness, nursery rhymes, easy listening, charming pleasures, but rarely rock bottom comes into sight. That there is a darkness hidden of considerable depth. Is there a special source of inspiration for such dark matters delivered with an innocent smile, so to speak? 
Bill: No idea.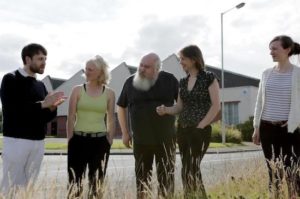 Michael: Okeydokey … now, hope you are in a good mood for this …
Bill: … I've certainly felt worse.
Michael: Can you name some of your all time favourite records for the infamous desert island …
Bill: Well I could but my choices are pretty definite and they're also mainly ones that are well – known eg The White Album, Innervisions, Kind Of Blue, Hunky Dory so, with that in mind …
Van Dyke Parks – Moonlighting (Van is indeed the man. One great thing about this live recording is that you also hear the spoken intros which are eloquent and witty, as is the music, which is refreshingly out of step with anything else currently going on then or now in contemporary music. Much though I love Brian Wilson's voice I do prefer the version here of "Orange Crate Art". I love that quote of his about making pop music that isn't very popular.)
Chris McGregor's Brotherhood of Breath – Live at Willisau … First track – greatest riff of all time, plus ….. icing on the riff cake … an Evan Parker solo! … thinking of food and drink … Gary McFarland – Butterscotch Rum. Jazz arranger that understood pop.
Jens Lekman – Life Will See You Now …. One of the best records of last year and one of his best ever.
Yumbo – Onibi

 

…

 

Shout out to Saya, Ueno, Tori, Reiko, Namio, Shugo, Otomo, Satomi, Takuji, Satoko, Tetsuya, and Nika.
Marvin Gaye – Here My Dear … Best break up album ever.
Peter Blegvad – Just Woke Up … Best wake up album ever.
Wayne Shorter – Native Dancer … Best Milton Nascimento album ever.
Carla Bley – Everything, but just to mention one, Fleur Carnivore which has a beautiful harmonica solo (by Karen Mantler) 
Kevin Ayers – Whatevershebringwesing … thinking of great solos, Mike Oldfield on the title track.
Mick Softley – Any Mother Doesn't Grumble … Proof that the good stuff doesn't always rise to the top.
Donald Fagen – all four solo albums.
Tyondai Braxton – Central Market

 … 

Seamless sonic mix.
Tot Taylor – The Girl With Everything … Not an album so I'm taking a slight liberty here …. nevertheless as perfect a pop single as was ever recorded.
Alle Männer beginnen eine Art Gesang: "Sada sada sada sada sada sada sada sada". Zwei Männer setzen die Hähne ab und lassen sie laufen. Sie fliegen gegeneinander, ein Gestöber von Flügeln und Federn, übereinander, stop, senkrecht gegeneinander, ihr Nackengefieder ist aufgerichtet, sie fliegen wieder ineinander, wieder und wieder; schliesslich hat einer eine Klinge in seiner Gurgel. "Ahhhh", rufen die Männer. Blut spritzt, Wetten gewonnen, Bhutakalas, böse Dämonen steigen aus der Erde. Der Dinosaurier, der verloren hat, wird von seinem traurigen Besitzer aufgelesen und einem alten Mann am Rande der Menge, noch lebend, überreicht. Er nimmt ein Messer und den Hahn – er legt den Hahn auf ein Stück Bambus, schneidet den Fuss mit der Klinge ab, und dann durchbohrt die Klinge, an welcher der Fuss noch hängt, das Herz des Hahns. Der Hahn gurgelt und blutet. Blut ist verspritzt worden, die Dämonen kommen heraus, aber sie werden später in der Nacht wieder verscheucht werden, wenn die Jungs ihre Töpfe schlagen.
Früher habe ich am Theater gearbeitet, weil ich dachte, dass es dort um das Erzählen von Geschichten geht. Aber statt Geschichten und interessanten Figuren, statt Handwerk und Inspiration fand ich dort viel zu oft Egomanen, denen es nicht um Inhalte ging. Als ich nach sechs Wochen ohne einen freien Tag, zu vielen Zigaretten, zu wenig Schlaf und zu wenig Nahrung eine Treppe hochlief, versagte mein Kreislauf. Ich setzte mich auf die Stufen und suchte den Grund, warum ich am Theater arbeite, aber ich fand ihn nicht mehr. Meine Geschichten und die Figuren, die immer in mir waren und hinaus wollten, hatten mich allein zurückgelassen. Ich hörte mit dem Theater auf, weil es nichts mehr in mir gab.
Ich folgte keinem Weg mehr außer dem der Wut. Der Wut und der Angst, nie irgendwo anzukommen, nie einen Platz, ein Zuhause zu finden. Ich nahm Aushilfsjobs und befristete Verträge an, und vier Jahre später fand ich eine neue Aufgabe. Ich wurde von einer Medienfirma engagiert, für die ich das Script für eine Bühnenshow erstellen sollte. Für einige Zeit lebte ich nur für dieses Projekt, hatte kleine Flügelchen auf dem Rücken und ein Dauergrinsen im Gesicht. Eines Morgens um 9 Uhr fiel ich aus dem Himmel. Die Firma war insolvent, wir wurden alle entlassen. Ich lag auf dem Asphalt und eine weiße Kreidelinie umrandete meinen Körper.
Mein Partner hob mich auf und besorgte mir einen Job als Monteurin beim Messebau. Ich wurde stark und hart im Nehmen, wurde respektiert und bald schon besorgte ich mir die Jobs selber. Ich behauptete mich in einer Welt aus Schweiß, Muskelkraft, Krach, Dreck, 24-Stunden Schichten, Autobahnen und Hotels. In dieser lauten Welt fand ich meine innere Stimme wieder. Ich nahm Dinge aus dem Leben, Bilder, Augenblicke, Satzfetzen und notierte sie auf Post-Its. Ich begann, über Menschen zu schreiben, die ihren Weg suchen in ein selbstbestimmtes, erfülltes Leben, die scheitern und wieder aufstehen, die ihren Platz suchen. Ich schrieb eine knapp hundertseitige Geschichte in fünf Tagen herunter. Einfach so.
Es fühlte sich an wie nach Hause kommen.
Nach und nach entwickelte ich aus den Notizen einzelne Geschichten, thematisch völlig unterschiedlich. Dabei benutzte ich immer das Verfremdete. Ich nahm die Post-Its als Basis und fügte frei erfundene Geschichten hinzu. So entstand innerhalb von drei Jahren der Kurzgeschichtenband "Von Menschen". Ich als Person bin in den Geschichten nie zu finden gewesen. Ich habe vielleicht einfach nicht viel Potenzial als literarische Figur. Doch dann schrieb ich eine Geschichte, die grob auf meinen Erfahrungen basiert, und die Worte, die ich schrieb, fühlten sich richtig an.
Eines Tages kam mich mein Bruder besuchen und erzählte mir von einem seiner Freunde und dessen Leben. Das schrieb ich auf. Ich schrieb von meinem Bruder, von seinem Freund, von früher. Ich schrieb über reale Dinge, über das, was wirklich geschehen war. Und wieder fühlte es sich richtig an.
Heute weiß ich, dass ich die Geschichten überall finden kann. Im realen Leben als komplette Handlungsstränge, in Beobachtungen, als Momentaufnahme in einem Bild, in einer Liedzeile. Ich sammle alles ein, mache mir kurze Notizen und warte. Denn eines weiß ich: Ich kann nicht eine Geschichte schreiben, wenn ich es will, sondern die Geschichte kommt, wenn sie sich aus den vielen Post-Its zusammengefügt hat und bereit dazu ist, geschrieben zu werden. Das ist mein Weg, denn das Schreiben ist mein Zuhause.
Iris Antonia Kogler: "Von Menschen".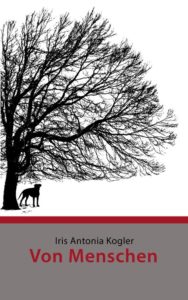 "I can remember one gig: we'd all dropped acid about two hours before we were due to go on and it was bloody strong acid. One of our roadies came in and said, 'Right, you're on now' and we said, 'Oh, we can't possibly go on now. That would be absolutely impossible.' So he went away and came back half an hour later and said, 'Now you really do have to go on.' So off we went and it was a weird old thing when we started playing when we got on stage. The audience all turned into skeletons! [LAUGHS] We had this amazing light show but you'd look down at yourself and find that you'd somehow turned into a massive green and purple blob. It was quite disconcerting."
Randy Newman, convinced atheist, loves gospel. Brian Eno, still atheist, loves gospel, and so does Ry Cooder, another atheist. In his telling review on npr (first listen), Tom Moon writes at the end: "If there's a complaint about The Prodigal Son, it's that Ry Cooder's reverence for the old songs can sometimes overshadow his considerable repertoire of guitar sounds and textures. Those who revere the waist-deep atmospheres of Cooder's soundtracks may wish there were more moments of instrumental meditation between the verses. But that's a small thing, and it doesn't detract from the big work Cooder is doing here — using earnest melodies from long ago to speak to the mushrooming crises, internal and external, of the present moment."
"It's just such a beautiful piece of art, this album, really gorgeous. It's a world that Echo & The Bunnymen  create; you're stepping into a place that feels very real with them. And again, back to my hidden goth. I don't have an inner child, I have an inner goth. I had maybe one or two friends that shared my love for them at the time, so this album is very personal. It's not a social album for me. It was very much something I kept for and to myself. The older I get, I realise how impactful it was for me. There's not a missable moment: every song is perfect on its own, and then all woven together, it's a beautiful thing. It's perfect. Beauty is really the word; it's just got this dark blue beauty, album cover aside – how it feels as well. I was listening to it the other day and was thinking, it's like 40 minutes long, and it feels like hours to me, in the best possible way. There's so much – I feel like it's not just linear."

(Tanya Donelly)