Autoren-Archiv: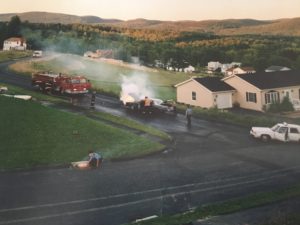 "I feel like my pictures are about movies in as many ways as they're not about movies. When I make a picture I work very closely with Juliane Hiam, my partner, and we write descriptions for each picture, which is almost like a one-page screenplay. But it's very limited in terms of what it tells; it doesn't describe plot or motivation or anything like that. And those one-page descriptions become like the bible for each picture."
(Gregory Crewdson)
Do you know there's no journey?
We're arriving and departing all the time
You were just mortal like me
God is only just a melody
Make the best of every moment
We are not evolving
Or going anywhere
And it's fine
How can the world lose his name?
Everyone is bawling again
Burn the cross or leave it
Look above, you'll see me
We miss you everywhere
Awaken all the ghosts in your mind
Speak of all the good that you find
Live and learn that life is not unkind
Understand the demons that you fight
I know it just seems cold to leave see
We all have to go
Believe me
But letting go
Is thanking you
Einst, in den frühen Neunzigern, im NDR, Rothenbaumchaussee, in Michael Nauras heiligen Hallen:
Naura: "Engelbrecht, was hast du dir denn da ausgedacht? Talk Talk?! Was ist das?"
Ich: "Einfach unglaublich gut. Und da schweben die Geister von Ligeti, Davis und Elvin Jones durch."
Naura: "Na gut. Der verrückte Titel klingt ja nach Hypnose: 50 Wege, das Zeitgefühl zu verlieren …"
Ich: "Mindestens fünfzig, Herr Naura!"
To be released on 9 November, to coincide with the hundredth anniversary of the end of the First World War, Thankful Villages Volume 3 is the final instalment of Darren Hayman's epic study of rural British life.
A 'Thankful Village' is one where every soldier returned alive from the Great War. Darren has visited all 54 of these villages and made a sound recording, painting and film in each one. Thankful Villages doesn't concern itself exclusively with the War, however. It is an exploration of rural communities, including collected stories, interviews, folk songs, soundscapes, field recordings and new original songs. The record takes the form of a fantastical radio show as Darren unearths lost human stories from hidden rural idylls.
The first volume of Thankful Villages revolved around a theme of churches, while the second volume focused on rivers. This third chapter concerns itself with the younger generation. In Hunstanworth, County Durham, Darren records a young girl called Ruby reading a poem written by her grandmother in 1974, on the day of that village's school closing. The school itself is still signposted by the Giant's Stride, a Victorian playground apparatus that towers above the village and features on the cover of Thankful Villages Volume 3.
In Wysall in Nottinghamshire, Darren finds lost cine film of the village shot by two sisters, locally known as 'the Miss Evans' and unseen for decades. Julia relates a poignant memory of the closing the village school she went to as a pupil, and how in winter the children warmed themselves around the single stove in the middle of the sole classroom.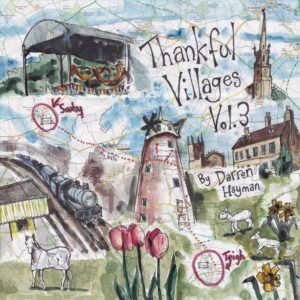 In the village of Teigh in the county of Rutland, we hear Sally Beers tell us about her grandfather, the Rev Henry Tibbs, who was arrested and jailed for being a Nazi sympathiser during the Second World war; we learn about mysterious lights in the church and swastikas painted on the door of the vicarage. The soundtrack to this story is in collaboration with the esteemed film composer Simon Fisher Turner.
Since the dissolution of his first band, Hefner, Darren Hayman's work has increasingly explored location and history. Thankful Villages Volume 3 is the beautiful and poignant culmination of this process; tiny, human vignettes plucked from Britain's blanket of green.
Hi Michael,

Here are the lyrics. I'm very interested in lucid dreaming, although sleep is so precious to me at the moment (I rarely get more than 6 hours sleep per night coz I've got too much to do – 2 kids, 2 jobs, 5+ bands, 2 elderly parents etc) I'd be a little worried about upsetting the limited sleep I do manage to engage in… Maybe it'd be a good book to take on tour, and read when I'm away from all the juggling – yes please, I'd be very interested in investing in the lucid dreaming book you recommend.

That's a relief to hear you like my project, I'm really pleased! I know I can't hope to please all the people all the time, but it would feel a little uncomfortable to have such indepth conversations between us if my own musical output and decisions felt inaccessible or unpleasant to you!

I think Robert Wyatt is absolutely brilliant (Bill Well's influenced this) but I don't think I know Rock Bottom (although I'm just listening to it now on spotify), and I wasn't aware of a direct influence – how curious – is there a specific track that could be accused of plageurism?!? eek.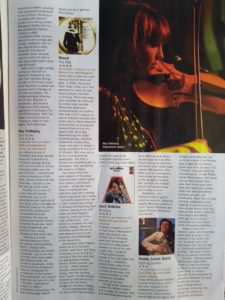 "Dutzende Kulturschaffende haben sich in einem Boykottaufruf gegen die Ausrichtung des European Song Contest in Israel ausgesprochen. Zu den Unterzeichnern gehören laut der Zeitung "The Guardian" der Pink-Floyd-Mitbegründer Roger Waters und der britische Filmemacher Ken Loach, die beide als Aktivisten bekannt sind.
Auch die Regisseure Aki Kaurismäki und Mike Leigh, die Schauspielerin Julie Christie, Sänger Helmut Lotti und der Musiker Brian Eno stehen unter dem offenen Brief auf der Liste.
Die israelische Sängerin Netta hatte im Mai mit ihrem Song "Toy" den ESC in Portugal gewonnen. Dadurch findet der Wettbewerb im Mai 2019 regulär in Israel statt. In dem Brief vom Freitag wird die Europäische Rundfunkunion (EBU) dazu aufgerufen, den Event an ein anderes Land zu vergeben. Grund seien Menschenrechtsverletzungen gegen Palästinenser durch die israelische Regierung, heißt es in dem Schreiben."
Überschrift: Michael Engelbrecht
Text: Kleine Presse
Brian Eno on Berlin, Pop-Kultur festival and BDS