Autoren-Archiv: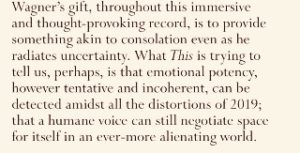 A wonderful conclusion of MOJO's review of Lambchop's new album, out on Friday.
Change
A few feathers on the riverpath by the copse
betray the corpse.
Nothing more sinister
than unseasonal cold weather –
the egrets and light have returned to the river
the same week as a storm from Russia.
The big drifts take their time, lie
unthawed on the far banks for days,
discoloured by a topsoil
that has blown off the fields.
The wild birds fly, awkward, away
upriver. Always away.
And I move, a violence all my own
shape, back through the town
alone and shamed,
a man on his worn out, empty way.
Umkehr
Ein paar Federn auf dem Uferweg neben dem Buschwerk
lassen den Kadaver erkennen.
Nichts ist unheimlicher
als außergewöhnliche Kälte –
die Reiher und das Licht sind zum Fluss zurückgekehrt,
in der gleichen Woche wie ein Sturm aus Russland.
Die starken Strömungen nehmen sich Zeit, sie liegen
tagelang unaufgetaut an entlegenen Ufern,
verfärbt durch einen Oberboden,
der von den Feldern weggeblasen wurde.
Die wilden Vögel fliegen, ungeschickt, davon,
flussaufwärts und immer davon.
Und ich, eine Gewalt in meiner eigenen Gestalt,
bewege mich zurück und durch die Stadt,
allein, beschämt,
ein Mann auf seinem ausgetretenen, inhaltsleeren Pfad.
Dear Manafonistas,
Whenever I'm reading a truly fantastic crime novel, there's a certain calm that comes over me. It's the feeling of knowing that you're in the hands of a genuinely gifted storyteller who knows exactly where he or she is leading you. Brookmyre writes with the kind of precision and richness that inspires this feeling for me. BLACK WIDOW is an assured thriller in every possible sense. This might not be a book that readers will binge-read, but that's no flaw of the novel.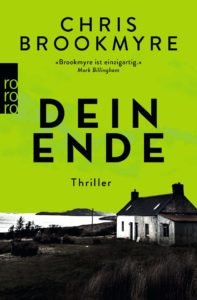 BLACK WIDOW is complex and layered, featuring alternate narrators and timelines—and, to make things even more complex, the chapter headings don't tell you right off the bat which narrator you're reading next. Despite all these moving parts, I felt completely at ease with this story's layers—Brookmyre masterfully leads the reader down rabbit holes and through a maze to the truth at the core of this book. Don't misunderstand: BLACK WIDOW is wholly engaging and moves at a pace that's comparable to its psychological thriller peers, it's simply not a book I found myself wanting to binge-read; I took my time with this read, savoring each page and letting myself get lost in its dark maze—and the payoff for this journey was absolutely worth it. The book will be published by Rowohlt Taschenbuchverlag on April 16.
Kindest regards, Emily
Released on Wacoal Art Center's NEWSIC label, Yoshiaki Ochi's Natural Sonic shares some of the same magic heard in the music of fellow roster mates Yoshio Ojima, Motohiko Hamase, and Mich Live. This time the aural trick would be one of the most simple of them all. Largely composed, conceived, and performed on organic material — water, stone, found and created, etc. — Natural Sonic tries to draw out a ton of beauty and inventive experimentation from very earthly objects. It's some of the beauty he would later provide to Miyako Koda's wonderful Jupiter as well.
Yoshiaki Ochi's work on Natural Sonic was largely derived from compositions he created as house performer and composer for the legendary Japanese fashion designer Issey Miyake. With a bit of outside help from his brother Yoshihisa, Natural Sonic was the interesting middle ground between experimental tribal music and Japanese environmental music.
For as many unplaceable wooden percussive exist on the album, sounds that mimic rain fall, bird song, and wordless vocal harmonizing take up equal sonic space. Whatever he didn't have at hand, Yoshiaki would actually create, as art object and sound object, to go after a specific sound he wanted. Obviously, the lack of synthesizers is made up for a welcome exploration of the sonorities of these instruments. If you're a huge fan of Geinoh Yamashirogumi's Ecophony Gaia or Midori Takada's Through The Looking Glass, Natural Sonic should sound of that lineage, albeit with a far more elemental stick.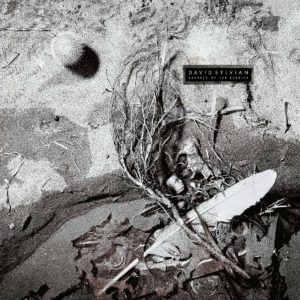 According to Danny Eccleston (Mojo, April 2019), "THE SECRETS OF THE BEEHIVE (1987) remains Sylvian's masterpiece, a symbiosis of masterly songwriting and the musicality of his recent excursions. Sakamoto's arrangements build a consistent arboreal mood, with piano and strings, and Danny Thompson's bass and Phil Palmer's acoustic guitar mixing late 60's folk rock and torch song."
"I have a feeling Steve Tibbetts' Life Of will henceforth be viewed as a towering achievement, the one that put him in the pantheon for good. It may not happen this week, next year, or even this century. But it will sit comfortably in my house right next to the late Mark Hollis' work with Talk Talk's Spirit of Eden, Laurie Spiegel's The Expanding Universe, La Monte Young's The Well-Tuned Piano, Terry Riley's A Rainbow in Curved Air, Radiohead's OK Computer, and Miles Davis' In A Silent Way, alongside any number of defining works that established the artist as a stealth maverick, a creative genius, a singular voice."
You may think this is a review. It is not. it is a story, part of a story. It's the part that looks like a review. For Uli Koch and me, "Life Of" has been the album of 2018. Fair to say, it will soundtrack the life of some people. For example, it had a profound effect on Josh. Personally, I don't believe in "the pantheon", but on a certain level, he is absolutely right. His essay comes with a required caveat that listening to healing music should not serve as a substitute for regular checkups with medical professionals. You may want to read this in a quiet moment. (m.e.)
Josh Rosenthal is owner of Tompkins Square label, based in San Francisco, and author of 'The Record Store of The Mind'. His label has received eight Grammy nominations, most recently for Sonny Clark Trio: The 1960 Time Sessions.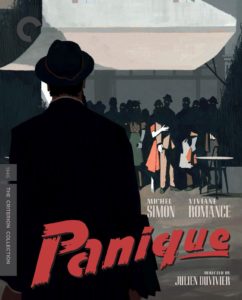 SPECIAL FEATURES
New 2K digital restoration, with uncompressed monaural sound­­track on the Blu-ray

The Art of Subtitling, a new short documentary by Bruce Goldstein, founder and copresident of Rialto Pictures, about the history of subtitles

New interview with author Pierre Simenon, the son of novelist Georges Simenon

Conversation from 2015 between critics Guillemette Odicino and Eric Libiot about director Julien Duvivier and the film's production history

Rialto Pictures rerelease trailer

New English subtitle translation by Duvivier expert Lenny Borger

PLUS: Essays by film scholar James Quandt and Borger
Wer kennt nicht das Empfinden, dass auch einst gepriesene Werke der Filmgeschichte in ihrer Zeit hängen geblieben sind, und nur mehr historisches Interesse bedienen. Die Art, wie "Criterion" alte Werke aufbereitet, ist, auch wenn es natürlich nicht durchweg funktionieren kann, ein Gegenmittel gegen solche "Ablagerungen". Nicht nur die optische Bereinigung. Manche der Extras lotsen uns  gekonnt in eine vergangene Ära, in diesem Falle sind etwa die Interviews mit dem Sohn von Georges Simenon, und die Dokumentation über "Die Kunst der Untertitel", absolut faszinierend. Gerne verweist Criterion auf ihre Darbietung des "uncompressed monaural soundtrack", das ist natürlich zum Schmunzeln. Ich kannte Panique nicht. Aber beim zweiten Sehen, und nach dem zusätzlichen "Push der Extras", konnte ich den Film mit neu geöffneten Augen erleben. Fast so, als wäre ich wieder 12 – ein guter alter Gong verrichtet seine Arbeit, ein Vorhang aus schwerer Seide öffnet sich, und schon bin ich in einer anderen Welt. In diesem konkreten Fall von Julien Duviviers "film noir" fühlte ich mich auch erinnert an zwei meiner Lieblingsromane des Franzosen, Das blaue Zimmer und Mein Freund Maigret. Seine Romane werden gerade allesamt im Kampa-Verlag neu herausgebracht. (m.e.)
I could forget it all on evenings like this—
the names, addresses, even our relations.
Everything could be taken
by the lights of the town in this weather.
The process has something to do with the buildings,
their vernacular of flint and brick,
but there is also the matter of the people.
How many there are … do we know? Can we trust the data?
The dogs at the borders, lapping it up,
must surely just have their own reasons.
And there are dogs wherever a line is drawn.
The map on my phone tells me (not just location)
but that I am quarter of an hour from a drink.
And that is all the news I can handle.
– written by Will Burns