Archives: Hannover
Ich werde nie das Glück vergessen, das erste Sehen von "Celine und Julie fahren Boot", in meinen Jahren um die Sweet Seventeen herum war Jacques Rivette der heimliche Gewinner vor Truffaut und Chabrol (der die schärfste Braut, gerne als femme fatale, aufs Zelluloid bannte, Stéphane Audran), und völlig abgeschlagen sowieso der katholische Langweiler Rohmer, und fast ehrfurchtsvoll bewegte ich mich auf meinen ersten zwei Parisreisen durchs Quartier Latin, durch die Gasse der alten Kinos, und schlafwandlerisch an einem Sommernachmittag und einem Wintermorgen durch den Jardin du Luxembourg, blieb sehnsuchtsvoller Betrachter von magischem Nichts, erst viele Jahre später sprach ich, endlich filmreif, die schönste Frau von Paris an, die sich als schönste Frau von Hannover entpuppte, und lange eine rechte Hand und gute Seele an der Seite Joe Zawinuls war. Die Ernüchterung kam, als ich, nach einer Ewigkeit, wieder Celine und Julie Boot fahren sah, und die Magie des ersten Sehens (und Versinkens) einfach verschwunden war.
Er war gerade sechs Jahre alt geworden, als er zum ersten Mal allein in die Innenstadt fahren durfte. Zunächst galt es zur Straßenbahnhaltestelle zu schlendern und dann zu hoffen, dass eine alte Straßenbahn kommen möge, die mit den Holzsitzen und der langen Lederschnur unter dem Straßenbahndach, an dem der Schaffner kräftig ziehen musste, um ein schrilles Läuten auszulösen, was dem Fahrer bedeutete, dass er nun abfahren durfte. Diese alten Bahnen, die 1959 manchmal noch durch Hannover fuhren, hatte er ins Herz geschlossen. Und tatsächlich, an diesem Tag kam die betagte Bahn mit der Nummer 5. Er kaufte beim Schaffner eine Kinderfahrkarte und los ging es bis zum Aegidientorplatz. Dort führte sein Weg zunächst zu einer Filiale der Firma MOST. Bis 1999 konnte man bei MOST edle Süßigkeiten kaufen, Ende der fünfziger Jahre, da gab es die Firma schon 100Jahre, bekam man zumindest hier in der hannoverschen Filiale für ein paar Groschen ein große Tüte Süßigkeiten-Bruch. Weiter führte der Weg des Jungen an den Mercedes-Benz-Ausstellungsräumen vorbei, magisch angezogen von den wunderschönen Autos, konnte er sich von den Schaufenbstern kaum lösen. Dann am Theater-Am-Aegi entlang – das Theater sollte 1964 in Flammen aufgehen und ein riesiges schwarzen Loch hinterlassen, was den Jungen stets in Schrecken versetzte – in die Maschstraße. Hier gab es nicht viel Interessantes zu schauen, außerdem war diese uninteressante Straße auch noch sehr lang, bis sie dann schließlich in die Meterstraße mündete. Hier, auf dem Gelände einer Schule waren die Übungsräume des Knabenchor Hannover, dem der Junge nun angehören sollte, untergebracht. Er hat das Singen im Chor gemocht, sehr sogar, aber die Fahrt und der Weg dorthin und wieder zurück, nach Hause, das war für ihn einfach nur großartig und er freute sich immer darauf, allein unterwegs zu sein.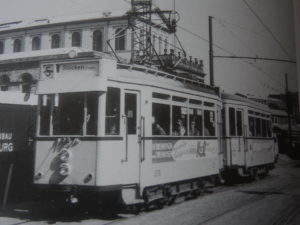 Jahrzehnte ist das her, aber sein weiteres Leben hat der ehemalige Chorknabe seinen Knacbenchor Hannover niemals aus dem Blick verloren. An zahlreichen Veröffentlichungen hat er sich über all die Jahre erfreut, aber 2017 wurde er besonders hellhörig, da hat der Knabenchor Hannover eine ganz ungewöhnliche CD herausgebracht: "New Eyes on Martin Luther" mit Jeanette Köhn, Nils Landgren, Magnus Lindgren, Eva Kruse, Johan Norberg, Knabenchor Hannover und Capella de la Torre . Jörg Breiding leitet inzwischen den Chor und er hatte während des Projektes "New Eyes on Martin Luther" auch die Aufgabe, so unterschiedliche Ensembles musikalisch zusammenzuführen; also das von Katharina Bäuml an der Schalmei geleitete Capella de la Torre, die Gruppe Nils Landgren and Friends und schließlich seinen eigenen Chor. Der NDR hat das Konzert in Hannover mitgeschnitten und auf Act-Records veröffentlicht. Herausgekommen ist eine großartige Platte. ACT-Music schreibt auf seiner Produkt-Info-Seite u.a.: "The three ensembles just dived into the music without pre-conceptions. The traditional German folksong "Die Gedanken sind frei" is here performed with a percussive flute solo, and Landgren's smooth voice on top of a funky rhythm. Sometimes he joins Capella de la Torre with a trombone solo and when all musicians play together it sounds as if the music was originally written with this in mind. It moves seamlessly between genres and what you can hear is the sound of really skilled musicians together – and just having fun."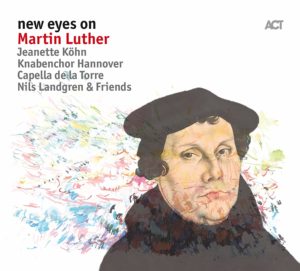 Es wäre ja mal an der Zeit, eine Lanze für seine Heimatstadt zu brechen (ja, ist er noch ganz frisch, frischverliebt zumindest nicht …) – "Leinen los!" also für diesen Ort an der Leine, der soviele Berühmtheiten vom Stapel ließ: die Lena, die Scorpions, den Gerd und einen Schloßhund namens Wolf, der sich ´ne kleine Hütte vorfinanzierte. Aber seit Jahr und Tag wird diese Stadt von ausserhalb her denunziert als Dunkelort der Depression.
Wie kommt das bloß? Wo liegt der Grund begraben? Bestimmt nicht in der meist trostlosen Architektur (post war re-buildings) – die gibts auch anderswo und selbst in Rio de Janeiro (am Fluß des Januars) sind die Häuser häßlich. Nichts als Vorurteile also: pride and prejustice?
Vielleicht. Wer länger in Hannover weilt – und viele tun das nicht aus Schwermut, sondern purem Glück -, der weiß: hier lebt sich´s gut und komfortabel. Ein großer Vorteil nämlich ist die enorme Konformität: niemand fällt hier aus der Rolle – alles ist gemäßigt und normal. Nur laut ist es: die Lärmbelastung ist von allen deutschen Städten hier am höchsten. Merkwürdiger Widerspruch – denn optisch gleicht die Szenerie eher einem von de Chirico gemalten Augenblick ewiger Windstille.
Das ist für Fahrradfahrer vorteilhaft, denn wo kein Wind ist, da ist auch kein Gegenwind. Zum Bikerglück tragen auch die ebene Landschaft und ebenso expomäßig renovierte Wege und Erholungsflächen bei. Gehört man allerdings zu den trainierteren Naturen, muss man schon 30 Kilometer bis zum Deister fahren, um dann am Nienstedter Pass endlich den ersehnten Widerstand zu spüren: dort gehts, man glaubt es kaum, in Serpentinen steil bergauf … und hernach steil bergab.
Hannover ist eine Stadt der Kunst. Ein ungeheurer Satz wie dieser will begründet sein: längst vergessen ist zwar die Fachhochschule für Gestaltung – sie fiel den Sparzwängen zum Opfer (dafür wird das Herrenhäuser Schloss jetzt wieder aufgebaut). Aber besagte Flachland-Topografie sorgt dafür, das alles, was aus dieser Ödnis sich erhebt, sich gleich als Objekt hervortut. In abwechslungsreicheren Gefilden wäre das gar nicht möglich: allein die Natur sorgte für eine Konkurrenz zum Artifiziellen, die hier gänzlich fehlt.
So sind der Projekt(ions)- und der Gestaltungswille groß: denn wo nichts ist, muss etwas werden. "Warum ist denn überhaupt Etwas?" – nach vielmehr Nichts sehnte sich doch schon der alte Leipniz, dem zu Ehren hier ein Tempel steht. Sein Wunsch blieb ungehört.
Denn was die Schöpfungsgeschichte uns verschweigt: am Siebten Tage, ausgerechnet, war Hannover an der Reihe. Es war gerade Sonntag und der Schöpfer sprach (im gleichen Dialekt wie Schröder): "Macht ihr mal fertig, Genossen, ich mach heute gar nix mehr!" Und deshalb ist hier seit Genesis ewig Messe (what a mess!) und das Leben eine Baustelle. High Life für die Stadtbauplanung einer Hochkultur. Ist doch auch was – oder Nichts?