Author Archive:



Nach dem chinesischen Mondkalender begann im Februar 2016 ein Jahr des Affen. Das bedeutet: Alles ist möglich. Gleichzeitig war 2016 auch das Jahr, in dem Patti Smith 70 wurde.
Ausgehend von einem Neujahrskonzert in San Franciscos Fillmore Auditorium, beschließt Patti, sich in diesem Jahr des Affen auf eine Reise zu begeben – und zwar allein, ein spätes Tramp-Abenteuer. Der Trip führt von San Francisco nach Santa Cruz, geht durch die Wüste Arizonas, eine Farm in Kentucky, ein Krankenzimmer, in dem Patti ihren kranken Mentor besucht, und weiter nach Osten, wobei sie feststellt, dass es anstrengender ist, die Zeitzonen von Westen nach Osten zu durchqueren als umgekehrt.
Sie beschreibt merkwürdige Fahrer, die darauf bestehen, dass keinesfalls gesprochen werden dürfe, oder die eine Pinkelpause nutzen, um wegzufahren und die Tramperin in der Wüste stehenzulassen, sie beschreibt Hotelzimmer, das Gefühl, als Nichtschwimmerin in der Brandung am Strand entlang zu laufen. Sie entdeckt bestimmte, ihr wichtige Bücher wieder, hat politische Ansichten, sie erwähnt ihre Tochter Jesse (die übrigens auf Laurie Andersons letztem Werk, Songs from the Bardo mitwirkt, siehe hier), es dreht sich ums Essen, und immer wieder gibt es Kaffee, in Hotelzimmern oder in Cafés, wieder und wieder und wieder.
Patti Smith denkt im Schreiben, und sie schreibt in der Bewegung. Daraus ergibt sich eine gewisse Ziellosigkeit der Erzählung. Man kann die knapp 180 Seiten dieses Buches aber auch als eine Art Meditation lesen. Eine gewisse Alterweisheit kommt gelegentlich durch, selbst Anflüge von Humor sind zu registrieren, ein Zug, der mir in früheren Büchern Smiths nicht unbedingt aufgefallen ist. Um die 30 Polaroids ergänzen das ansonsten auch typografisch ansprechend aufgemachte Buch.
Nur kann ich mich des Gefühls nicht erwehren, als hätte jemand – Patti selbst oder jemand vom Verlag – gesagt: Bei M Train hat das doch wunderbar funktioniert, das probieren wir jetzt einfach nochmal.



Ein passender Titel. Und dabei stammt er nicht mal von ihr selbst. Er stammt aus einem Nico gewidmeten Gedicht von Juliane Liebert.
Es gehört zu den Problemen dieses Buches, dass Nico selbst kaum etwas hinterlassen hat, das zur Klärung irgendwelcher Sachverhalte ihres Lebens beitragen könnte. Wer über sie schreiben will, muss sich damit begnügen, dass sie da war, dass es sie gab. Dass sie eine der wenigen wirklich außergewöhnlichen Erscheinungen in der Popmusik war, steht außer Frage, wenn man von Popmusik hier überhaupt sprechen kann.
Das von Manfred Rothenberger und Thomas Weber in Zusammenarbeit mit dem Institut für moderne Kunst Nürnberg herausgegebene Buch ist eine Sammlung von Essays, Fotos, Gedichten und Interviews, die um Nico kreisen. Soweit es möglich und sinnvoll ist, folgt das Buch der Chronologie, angefangen mit Kindheitserinnerungen an die junge Christa bis hin zu Betrachtungen nach ihrem Tod. Die Interviews und Gespräche mit Nico selbst sind oft schlecht geführt und springen vom Hölzchen aufs Stöckchen, doch liegt das natürlich auch daran, dass diese Frau überhaupt nicht daran interessiert war, interviewt zu werden, und an ihrer offenkundigen Unfähigkeit, überhaupt bei einem Thema zu bleiben, ohne ins Reich ihrer Phantasie und Träume abzudriften. Nico hat Songs Andreas Baader oder Charles Manson gewidmet, ohne dass das im Buch ernsthaft hinterfragt wird, wie sie auch das "Lied der Deutschen" mit allen drei Strophen zu Gehör brachte, wohl wissend, weshalb die ersten beiden nicht mehr gesungen werden sollten (sie war nicht so blöd, dass sie das nicht genau gewusst hätte). Aber auch darin steckt natürlich eine Aussage über die Person.
Deutlicher werden da schon die Essays, Filmkritiken und Konzertberichte, sofern sie sich nicht auf den allzu naheliegenden Holzweg begeben, auf ähnliche Weise in den Nebel abzudriften wie Nico selbst. Nicos Karriere als Model, als Filmschauspielerin, als Andy-Warhol-Superstar, als Gastsängerin der Velvet Underground, ihre Soloalben, ihre Drogensucht, ihre Konzertauftritte (die sie im Zweifel auch ohne Mikrofon bewältigte) und ihre Verwandlung vom Heinz-Östergaard-Model zur düsteren Gothic-Vorreiterin werden aus unterschiedlichen Perspektiven geschildert und eingeordnet. Einige Beiträge sind schlicht überflüssig, andere werden von einer Tendenz zur Heldinnenverehrung beeinträchtigt; Nicos Musik wird oft für wichtiger erachtet, als sie bei aller Einmaligkeit und Gutwilligkeit nun doch war. Nico selbst wird hier manchmal in einer Weise zu einem Überwesen hochstilisiert, die es schwer macht, noch die wirkliche Person dahinter zu erkennen. Aber vielleicht ist genau das der Punkt. Vielleicht war die wirkliche Nico nur sichtbar für diejenigen, die unmittelbar mit ihr gearbeitet und/oder zusammengelebt haben. Vielleicht war sie für andere wirklich nur ein Image, eine Projektionsfläche. Wer sie allerdings so sah, konnte unter Umständen sehr konkret erleben, dass das vermeintliche Imagewesen — wie alle Junkies — hochgradig gemein sein konnte. Am aufschlussreichsten sind die Beiträge von/mit John Cale, Gerard Malanga, Helmut Salzinger, Ecki Stieg, Susanne Ofteringer und natürlich Lutz "Lüül" Graf-Ulrich.
Das Gefühl, das bleibt: Ich bin mir nicht sicher, ob ich Nico gern kennengelernt hätte. Letztlich bleibt sie auch nach den 630 Seiten dieses sorgfältig aufgemachten Buches ein Rätsel, wenn auch ein durchaus faszinierendes. Und es bleibt die Anregung, mal wieder in ihre Platten hineinzuhören. Mein Tip, noch immer: Live In Tokyo von 1986. Es enthält nicht nur "The End", sondern auch "Das Lied vom einsamen Mädchen", geschrieben 1952 von Werner Richard Heymann ("Irgendwo auf der Welt") und Robert Gilbert. Vielleicht ist das das wirkliche Portrait.

ISBN 978-3-922895-34-3
Fürth 2019
Und hier wieder meine jährliche Blütenlese der abgegriffensten, schiefsten und tötesten Phrasen in den (vorwiegend deutschen) Medien:
Frauen und Kinder
eine Fülle
wie durch ein Wunder
crushing defeat
an der Preisschraube drehen
entzaubern
toxic/toxisch
Kandidatenkarussell
die Eliten
Morgenluft wittern
Schlag ins Gesicht
Gegenfinanzierung
Rosenkrieg
hochkarätig
proaktiv
Kiss-and-Go-Zone
Bärendienst
Land der aufgehenden Sonne
Reich der Mitte
den Namen tanzen
Man cave
Kompetenzteam
Brücken bauen
Vordenker
Trauma
politische Klasse
Aktivist
Schnappatmung
Starke-Familien-Gesetz
Gute-Kita-Gesetz
Faire-Kassenwahl-Gesetz
Geordnete-Rückkehr-Gesetz
Respekt-Rente
neoliberal
gläserne Decke
Kellerduell
offenes Geheimnis
Framing
Spaghettiwestern
Frauenpower
Powerfrau
Funktionsjacke
Rock-Röhre
Bestsellerautor
der geneigte Leser
X-Bewegung
Sprech
stellar
Wir treffen uns wieder nächstes Jahr zu noch stellarerem Sprech.

Meine Top 10:
1. Terry Riley: Sun Rings (Kronos Quartet)
2. Gong: The Universe Also Collapses
3. David Byrne: American Utopia on Broadway
4. Laurie Anderson, Tenzin Choegyal & Jesse Paris Smith: Songs from the Bardo
5. Creedence Clearwater Revival: Live at Woodstock
6. Kit Downes: Dreamlife of Debris
7. Willie Nelson: Ride Me Back Home
8. Leonard Cohen: Thanks for the Dance
9. Various: Kankyō Ongaku — Japanese Ambient, Environmental & New Age Music 1980-1990
10. Joe Lovano: Trio Tapestry
Sun Rings gehört für mich zum Besten, was Terry Riley bis jetzt komponiert hat, und bessere Interpreten als das Kronos Quartet konnte man dafür nicht finden.
Willie Nelson gehört schon allein wegen dieses Songs in die Liste, den ich manchen Leuten gern dreimal am Tag vorspielen möchte, wenn es denn helfen würde. Und Leonard Cohen hatte ich zunächst glatt vergessen. Wie konnte ich nur.
In der engeren Auswahl waren außerdem:
Areni Agbabian: Bloom
Nick Cave & The Bad Seeds: Ghosteen
Fennesz: Agora
John Fogerty: 50 Year Trip Live At Red Rock (2-CD-Version)
Matmos: Plastic Anniversary
Múm & Kronos Quartet: Smell Memory (Split single)
Lee "Scratch" Perry: Rainford
Pet Shop Boys: Agenda (EP)
Pet Shop Boys: Inner Sanctum
Bruce Springsteen: Western Stars
Keine Chance hatten:
Lana Del Rey: Norman Fucking Rockwell
Jeff Lynne's ELO: From Out Of Nowhere
Madonna: Madame X
Reissues:
Beatles: Abbey Road (Super DeLuxe Edition)
Brian Eno, Daniel Lanois, Roger Eno: Apollo (Ext. Version)
Gong: Love from Planet Gong — The Virgin Years 1973-1975 (12 CD + DVD)
Tangerine Dream: In Search Of Hades — The Virgin Recordings 1973-1979 (16 CD, 2 BD)
Eberhard Weber: The Following Morning
Ob man wirklich die ganze Gong-Box benötigt, möge dahinstehen. Die Remasters, in einigen Fällen auch Neuabmischungen, sind erstklassig; die Flying-Teapot-Trilogie habe ich noch nie so gut gehört (definitiv besser als die Versionen des Charly-Labels), desgleichen das Shamal-Album. Dazu gibt es Live-Aufnahmen und ein sehr schönes Buch. Es gibt aber die Trilogie auch als Einzel-CDs (Flying Teapot, Angel's Egg und You), ergänzt jeweils um eine Live-CD. Schade nur, dass die ersten Alben (Magick Brother, Mystic Sister, das seinerzeit nicht mal auf Tape aufgenommen wurde, sondern in einer Garage auf einer Tonfilmpiste, und Camembert electrique) nicht enthalten sind, aber sie entstanden vor dem Virgin-Vertrag.
Die Tangerine-Dream-Box enthält einige Highlights, aber auch einige Aufnahmen, die meines Erachtens in der Schublade gut aufgehoben waren, zumal die Auswahl einige Fragezeichen aufwirft — wo sind Exit, Hyperborea, Logos, White Eagle? Außerdem gab es Mitte der 1990er Jahre bereits eine remasterte "definitive edition" — ist die Industrie inzwischen schon so verzweifelt, dass sie anfangen muss, die Remasters zu remastern?
Das Apollo-Reissue lohnt sich vor allem wegen der neuproduzierten zweiten CD, die mir fast besser gefällt als die erste.
Rediscovered: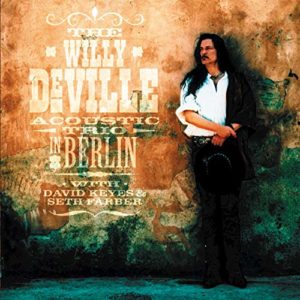 Willy DeVille: The Willy DeVille Acoustic Trio in Berlin (2002)
Stephan Eicher: Hotels (2001)
Pat Metheny Group: Travels (1982)
Lalo Schifrin: Mission Impossible … And More! (The Best, 1962-1972)
David Van Tieghem: These Things Happen (1984)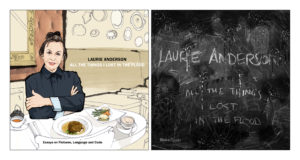 I first ignored this book for cost reasons ($75!) and because I thought it would only be an addition to Laurie Anderson's album Landfall with Kronos Quartet (see here). But when I found a used copy for less than half the amount, I couldn't resist.
And I was wrong; this book has much more to offer than just Landfall. "All the Things I Lost in the Flood" (left: book cover, right: slipcase) is Laurie's personal retrospective — not on all her works (that would be too much), but on many of them. As the subtitle says: "Essays on Pictures, Language and Code". She lost a lot of things when her basement got flooded, but she doesn't whine after them, she takes the misfortune as an opportunity to look back, sometimes with a touch of irony, sometimes with a touch of melancholy, usually not deadly serious. She offers views on her life and family background and her start as an artist, and what we get here is more than Roselee Goldberg's Anderson biography from 2000 had to offer. Laurie speaks about the first-person narrative in her performances which, as she puts it, might be personal but never private. We hear about some important collaborators without whom she wouldn't have been able to design and assemble several of her technical works — like sound designer and technician Bob Bielecki who built several of Laurie's modified violins and other stage gadgets, the Headphone Table (1978) or the Talking Statues; or Hsin-Chien Huang who collaborated for the interactive virtual room installation Aloft (2017). She talks about how and why she uses projections and stage gadgets.
Every chapter starts with a short text in a computerized phonetic alphabet Laurie developed herself. She writes about and documents not only the works itself in essays and pictures, she also gives some information about their making, sometimes spiced up with nice little anecdotes. In one of her earliest performances, Duets On Ice (1975), she played a modified violin while her shoes where frozen into two blocks of ice; the performance ended when the ice was molten away. She performed this at some public places in a couple of Italian cities. An Italian guy obviously traveled after her and was always present at her appearences and unaskedly and rich in gesture explained to the (usually small) audience what she was doing and why she probably did it. Must have been an early fan.
She tells how at the Nova Convention in 1978 she met William S. Burroughs who, with his unforgettable voice, later appeared in "Sharkey's Night" on her album Mister Heartbreak. A sample from this track (the lines "listen to my heartbeat") were transformed into a tune in the film Home Of The Brave (where she also slow dances with him across the stage). Alas, she does not tell us why this film was never released on DVD although it was announced. However, on Youtube you can watch a full version, technically perfect because obviously taken from the laser disc. The Nova Convention was also the place where Laurie discoverd the harmonizer which she used to transfer her voice into a sort of male voice, "the voice of authority", as she calls it. Later, Lou Reed gave this character the name "Fenway Bergamot". Other parts of the book are about the "United States" performance, her works as artist in residence at NASA, her latest film Heart Of A Dog.
I have to admit that not everything Laurie did becomes completely clear to me, but that might be my problem. Her concerts for dogs, to name an example, doesn't make much sense to me. But obviously it was her beloved rat terrier Lolabelle who put this idea into her brain. Laurie's increasing connection to Buddhism is a permanent companion in the book. In the end, after the passing of Lolabelle, in the chapter "Time To Go", she fills several pages with chalk drawings of her dog's way through all stations of the Bardo (a topic she dealt with earlier already, see here).
The book, it has to be said, is physically heavy and formatted in square, which makes it unpleasant to hold; the text in small print makes it even worse … well, you can't have it all. The best idea probably would be to put it on a table to read it. It's a very nice book, 320 pages, I enjoyed it, and probably it would also make a great Christmas gift, in case you still need one.
Laurie Anderson
All the Things I Lost in the Flood
Rizzoli Electra, 2018
ISBN-10: 9780847860555
ISBN-13: 978-0847860555