Archives: Ryuichi Sakamoto
Ein sehr schöner französischer Film über Sakamotos Arbeit am 1984er Album Illustrated Musical Encyclopedia.
Mit dem Einsetzen des Rhythmus macht die Zeitmaschine eine heftigen Sprung nach hinten und weiß auf einmal nicht, wo sie genau anhalten soll: Bei meinem ersten Beitrag auf diesem Blog oder von da aus etwa 35 Jahre früher, wo mich ein Kabukiartig geschminktes Gesicht etwas verschlafen in einem Frankfurter Plattenladen anstarrte und ich das Album nach kurzem, mesmerisierenden Reinhören mitnahm, um wenige Stunden später erst einmal völlig verstörte Blicke meiner Freunde zu kassieren, die mir die schlimmsten Befürchtungen bezüglich der Entwicklung meines Musikgeschmacks entgegenbrachten. Aber bereits nach dem zweiten oder dritten Anhören dieses Kronjuwels japanischer Popmusik war ich zum Glück rehabilitiert und dann lief die Scheibe erst einmal heiß. Und das tut sie bis heute, wo ich nun endlich die gerade in Europa erstmals erscheinende, remasterte Wiederveröffentlichung der original japanischen Version samt einer zweiten CD mit der Instrumentalversion in den Händen halte: erfrischend wie vor Jahrzehnten, schillernd perfekt, exzentrisch und zeitlos genial.
Nachdem er Robin Scotts Pop Muzik gehört hatte, lud Ryuichi Sakamoto ihn nach Tokyo ein, um mit ihm ein Album aufzunehmen. Mit von der Partie waren seine Mitstreiter vom YMO Haruomi Hosono und Yukihiro Takahashi, Adrian Belew, der neben seinen Gitarrenkünsten einige angry animals beisteuerte, Robin Thompson, der bei Stockhausen studiert hatte und nicht zuletzt der damals fast omnipräsente Hideki Matsukake, der Sakamoto beim Programmieren der Synthesizer unterstützte. Von Fluxus-Konzepten beeinflusst konzipierte Sakamoto, gelangweilt von bereits bestehenden Musikformen, dieses Album bewußt als kollektive Improvisation mit intensivster Neophilie und offenem Ausgang. Die Stücke entwickelten sich jeweils um die primären Rhythmusstrukturen herum und nach und nach flochten die anderen Instrumente ein feines Gewebe daraus. Mit großer Experimentierfreude drifteten die Stücke als Mix zwischen einer höchst originellen japanischen Form des New Wave, lässiger postavantgardistischer Popmusik und minimalistischen (aus unerfindlichen Gründen schlägt mir die Autokorrektur hier "minimaoistischen" vor, was mich an das Noir-Cover von Japans Tin Drum erinnert…) Miniaturen hin und her und entwickeln eine subtile, in sich völlig schlüssige Suite exzentrischer Klangausflüge, die den geneigten Hörer befriedigend verstört im finalen Saru No Ie für immer in einem bizarren Neo-Dschungel zurücklassen. Hidari Ude No Yumi – Left Handed Dream, again and again …

Ryuichi Sakamoto on his feelings about troubled times:
Jiko (時光) by lenzan kudo + ryuichi sakamoto
video by Zakkubalan series
incomplete
In these times when things are not "normal," I wanted to document the sensations I've been feeling. I invited a few of my musician friends to do this with me. I wanted to share the results with you all.
Ryuichi Sakamoto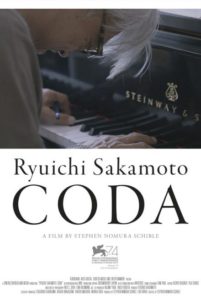 It's hard to say why this portrait film, made by Stephen Nomura Schible, refers in its title to an album that's 35 years old, but however, the title fits. A coda is the closing part of a symphony or suite movement or of a single piece of music, and this is — probably — what we get here. Ryuichi Sakamoto, piano wunderkind, co-founder of the Yellow Magic Orchestra, composer of countless movie scores, solo records and collaborations with numerous musicians and part-time actor, is 67 now and doesn't need to prove anything to anybody anywhere anymore.
Sakamoto is also known as an environmental activist and uses his popularity in Japan for campaigning against nuclear power. Consequently, the film opens with pictures of the Fukushima disaster and leads to Sakamoto, discovering and playing a ruined Yamaha grand that got into the water during a tsunami. It's still playable and sounds, let's say: interesting. But it is captivating to watch him checking out what kind of sounds this piano can produce for him — sounds you couldn't get from a undestroyed instrument. This again leads to Sakamoto in the studio, preparing a piano.
It is this what makes this movie worth watching: It has a lot of time to follow its subject, but it leaves it up to you to draw conclusions from it. The film has no comments, Sakamoto himself doesn't say very much, so the film concentrates fully on what he does. Of course there are some cutbacks to old times — snippets from YMO's "Public Pressure" tour (with Sakamoto's former wife, Akiko Yano, singing), his contribution to Merry Christmas, Mr. Lawrence and some other movies (acting is not really his strong point, sorry to have to say that), some other companions he collaborated with over the years. Except some short mentions of his recent illness (in 2014, cancer of the throat was discovered, and this left some traces), the film doesn't say much about the private Sakamoto, his family, wife, children, friends; apparently he wants to keep his private life private.
But that doesn't do a harm. The most interesting moments in Coda are always to see this guy working in his studio (he has two, one in Tokyo and one in New York), checking out singing bowls or putting samples of nature sounds he loves to collect into compositions. Not all of his compositions are masterpieces, but Sakamoto always has an inerrant feeling whether a sound fits into a composition or not. However, it's obvious that the piano is his main instrument, all his music is thought from there. And he has this Japanese way of hiding highly interesting or melodious stuff behind walls of scratchy or otherways unpleasant sounds which need an active listener. You can't listen to most of Sakamoto's music in the background.
At a reasonable price the DVD or Blu-Ray is available only in the UK; for some reason not in the US, and you have to sign to a subscription channel to watch it online. It's also available with a live-taped presentation of his album Async. You can watch the trailer here.
And this I dreamt, and this I dream

And this I dreamt, and this I dream,

And some time this I will dream again,

And all will be repeated, all be re-embodied,

You will dream everything I have seen in dream.

To one side from ourselves, to one side from the world

Wave follows wave to break on the shore,

On each wave is a star, a person, a bird,

Dreams, reality, death – on wave after wave.

No need for a date: I was, I am, and I will be,

Life is a wonder of wonders, and to wonder

I dedicate myself, on my knees, like an orphan,

Alone – among mirrors – fenced in by reflections:

Cities and seas, iridescent, intensified.

A mother in tears takes a child on her lap.
Miniaturen. Essentiell. Auf das Wesentliche reduziert. Ein Spiel mit bekannten Instrumenten, vorbeigelaufenen Geräuschen, unbekannten Perspektiven. Intim und sehr persönlich. Ein Spiel mit A-Synchronizitäten, Primzahlen, Chaostheorie und Quantenphysik und nicht zuletzt der Unschärfe von Musik, Klang und Geräusch. Warm und beiläufig. Ein Soundtrack zu einem unbekannten Tarkovsky-Film. Inspired by nature. David Sylvian gibt ein Lebenszeichen von sich und trägt das Gedicht von Arseny Tarkowsky vor. Unikate. Ein bisschen wie die Jane-Stücke von Harold Budd. Aber ausgearbeiteter. Subtiler. Tiefer. Abwechslungsreich und doch ein homogenes Ganzes. Und eigen, einfach sehr eigen. Async.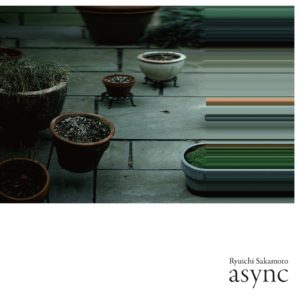 Träume ich oder bin ich wach? Dies ist nicht nur die Ausgangsfrage eines jeden Klarträumers, nein, nicht Frage sondern wiederholte ernsthafte Überprüfung des eigenen Bewusstseinszustandes. Darauf wies der Klartraumforscher Paul Tholey vor etwa 30 Jahren in seinen Seminaren an der Uni Frankfurt und seinem Buch zum Klarträumen hin. Die Sache hat nun einen kleinen Haken: Wenn ja, wo bin ich wirklich? Diese kleine und scheinbar unbedeutende Frage kann man sich höchst berechtigt sowohl im Traum- wie auch im Wachzustand stellen mit keineswegs immer eindeutigen Antworten …
Träume ich oder bin ich wach? Wo bin ich hier: in einer Schleife gestrandet, wo ich die Worte dieses Blogs immer nur rezeptiv begeistert aufnahm und nun auf einmal mit vielen Anderen zum eigenen Leser werden und mich kommentieren kann? In einer eigenen virtuellen Realität, die durch erträumte Schnittmengen ein Panoptikum an Ideen und Inspirationen abfeuert? Spielt sich das jetzt wirklich ab oder ist "Breaking 13" nur ein Seriensequel, dass sich aus einer ominösen Klartraumapotheke speist und meine Neurotransmitter gerade einen obskuren Schreittanz vollführen lässt? Und wenn ja: gibt es unterschiedliche Traumformen?
Vor Jahren arbeitete ich in einem Schlaflabor und wir weckten unsere Probanden aus unterschiedlichen Schlafphasen, um zu erforschen, ob Träume in allen Schlafstadien auftreten können. Sie konnten. Da waren die faktischen, grauen, drögen Träume aus den Tiefschlafphasen, die einsilbigstens berichtet wurden und nach vielen Zwischenstadien die bunten, intensiven, phantastischen der REM- oder Traumschlafphasen, die direkt nach dem Wecken ausschweifend geschildert werden konnten und uns Mitarbeiter in einen Strudel aufgebrochener unterbewusster Welten fast filmartig hineinriß. Bilder können das auch manchmal. Und Musik natürlich.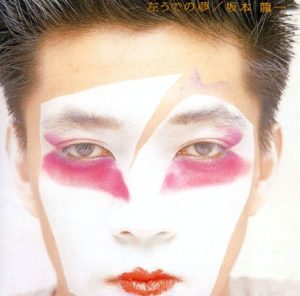 Eines Winternachmittags in Frankfurt starrte mich also dieser gut geschminkte Typ im Montanus-Plattenladen aus der Auslage an. Lesen konnte ich die Aufschrift leider nicht, war die japanische Fassung. Fand das Cover aber auf den ersten Blick sympathisch, nein eher magisch anziehend. Also reinhören. Aber: Was war das? Eine Sorte unbekannter Popmusik? Japanische Zauberformeln? Vielleicht auch ein bislang unentdecktes Universum, das mich mit jedem mal hören tiefer in sich hineinzog und so eigenartig faszinierend und fremd war wie die plastischen Träume unserer Probanden.
Left Handed Dream. Gibt es sowas überhaupt? Das Traumlexikon sagt dazu, dass Träume mit dem Aspekt der Linksseitigkeit darauf verweisen, dass man sich der unbewussten Seite des Erlebens vermehrt zuwenden sollte. Da geht es also hin oder ist Sakamoto halt Linkshänder und die träumen vielleicht anders? Diese vertrackten Arrangements, die viel mehr ein japanisches Empfinden als die dortige Musikkultur abbilden. Diese archaischen manchmal sogar fast tanzbaren Rhythmen, die schrägen Gitarrensounds von Adrian Belew, der näselnd-monotone japanische Gesang (ich mag die amerikanische Version dieser Platte bis heute nicht) und dann die seltsamsten Tierstimmen im letzten Song. Chill-factor. Fragmente. Tell me your story … a yellow chrysanthemum. Die Blume des japanischen Kaiserhofes oder doch der Mohnblütengarten? Träume ich immer noch oder bin ich wach? Ich weiß es bis heute nicht, aber Ryuichi jedenfalls träumt mit links …