Archives: Eggs Laid By Tigers

Eggs Laid By Tigers on the road #1 Berlin, sept. 21st


VIDEO You Shall Not Despair (Dylan Thomas)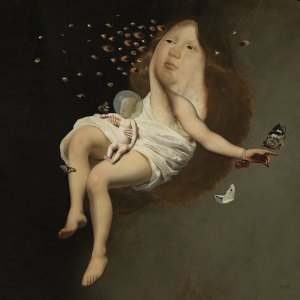 EGGS LAID BY TIGERS TOUR EGGS LAID BY TIGERS


September 24, 2014 Aaltra Chemnitz, Germany
September 25, 2014 Noch Besser Leben Leipzig, Germany
September 26, 2014 Kassette Düsseldorf, Germany
September 27, 2014 Cafe Limba Villingen Schwenningen, Germany
October 25, 26 DO NOT GO GENTLE FESTIVAL Swansea Wales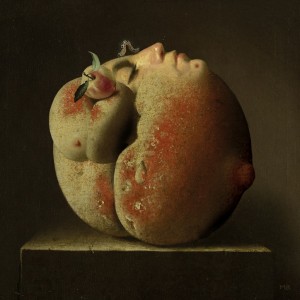 VIDEO Do not gentle ….

Eggs Laid By Tigers vorigen Sommer in Kopenhagen: ebenso verblüffende Metamorphose wie gelungener musikalischer Rollenwechsel.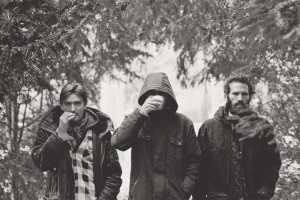 Wo sonst avancierter Jazz klingt, stimmen drei Musiker auf einmal in close harmony wunderbare, ergreifende Songs zur Gitarre an – so, als sei Levon Helm auferstanden. Essentiell, mit tiefem musikalischen Gefühl. Der Leadsänger entpuppt sich als der reichlich bekannte Wahlberliner Jazzbassist Jonas Westergaard. Und dann auf der spanischen Gitarre der gleichfalls bekannte dänische Jazzschlagzeuger Peter Bruun.
Dazu Rockgitarrist Martin Dahl und – hauptsächlich an einer alten Philips Heimorgel – Jazzpianist Simon Toldam. Es sind straight songs, kompakt und schillernd in den Moods. Und die Texte, die sie singen?


Lie still, sleep becalmed, sufferer with the wound
In the throat, burning and turning. All night afloat
On the silent sea we have heard the sound
That came from the wound wrapped in the salt sheet.
Under the mile off moon we trembled listening
To the sea sound flowing like blood from the loud wound
And when the salt sheet broke in a storm of singing
The voices of all the drowned swam on the wind.


weiter


Es sind Zeilen aus dem Gedicht Lie Still, Sleep Becalmed von Dylan Marlais Thomas (1914-1953). Dessen Deliriker-Image kennen Leute mehr als seine Gedichte, über die ihm selbst entfiel, sie seien von Tigern gelegte Eier. Thomas verliert sich bis heute einfach nicht im Vergessen – auch dank des jungen Mannes aus Duluth in Minnesota, der sich einen Teil von dessen Namen entlieh.








Gesang und Songform machen Sinn, liegen sie doch nahe an den Qualitäten von Thomas' eigenem Vortrag, einem mündlichen Vortrag, der seinen Ruhm wesentlich mitbegründete. Er zog schliesslich deklamierend herum, bevor ihm die Lungen im Chelsea Hotel in New York versagten. Gesang und Songform verleihen dem Werk von Thomas im 100. Geburtsjahr eine grossartige zusätzliche Dimension.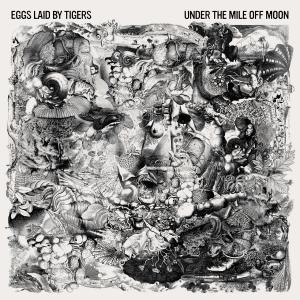 Das erste Album der Dänen Under The Mile Off Moon ist gerade international auf CD erschienen (die Vinyl-Fassung war auf Manafonistas schon eher angezeigt worden), ein zweites Album ist gerade entstanden. Und hier im Vorlauf ein besonderes Stück Tafelmusik in der Küche von Thomas' Geburtshaus im walesischen Swansea. Angestimmt von Jonas Westergaard, Martin Dahl und Simon Toldam: Do Not Go Gentle Into That Good Night.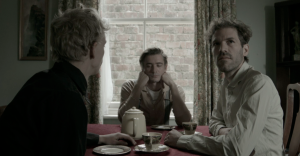 Erst war da der Text


Do Not Go Gentle Into That Good Night
Do not go gentle into that good night,
Old age should burn and rave at close of day;
Rage, rage against the dying of the light.
Though wise men at their end know dark is right,
Because their words had forked no lightning they
Do not go gentle into that good night.
Good men, the last wave by, crying how bright
Their frail deeds might have danced in a green bay,
Rage, rage against the dying of the light.
Wild men who caught and sang the sun in flight,
And learn, too late, they grieved it on its way,
Do not go gentle into that good night.
Grave men, near death, who see with blinding sight
Blind eyes could blaze like meteors and be gay,
Rage, rage against the dying of the light.
And you, my father, there on that sad height,
Curse, bless, me now with your fierce tears, I pray.
Do not go gentle into that good night.
Rage, rage against the dying of the light.


Dann kam der Gesang


VIDEO








Die Eggs-Sänger-Musiker sind auf Fahrt und machen auch hierzulande in der ersten Februarhälfte halt (Berlin, Hamburg, Köln, Offenbach, Wuppertal).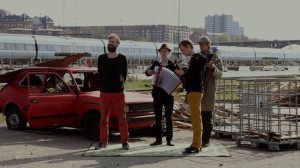 Danes are fond of vinyl with carefully designed sleeves and boxes. Vinyl is not an exception but on the contrary in some circles it seems to be considered as the essential part of an album release. It has become a philosophy and an artistic must. Vinyl with a carefully designed sleeve as an artifact is the real thing. It tells how much the musician(s) believe in it, it is a way of wooing listeners and it gives way to a special kind of perceiving music.
On vinyl an album is presented as a present. And in case you receive a copy by an artist you feel really honored. It makes a lot of difference thus. As a consequence I had to continue my travel from Copenhagen to Norway and back to Holland with a bunch of vinyls what also makes a nice difference. I brought them all home safely and enjoyed every piece of it.
I already introduced Simon Toldam's black trio-album with Nils Bo Davidsen and Knut Finsrud as well as the new Eggs Laid By Tigers album with its perceptual reversible picture on the sleeve. A tiger-face is recognizable and also the physiognomy of Dylan Thomas.








What makes the Toldam album so distinguished is its sound quality which is true to the place where the music happened. That is reflected and framed by the beautiful sleeve noir and its salient typography. It differs all through aurally and visually from the hyperbolic, hypernatural stylization of contemporary piano-trio recordings. Its switching, shifting and jumping characteristics with its moments of finding, connecting and diverging is not presented as fireworks but as down to earth be here playfulness.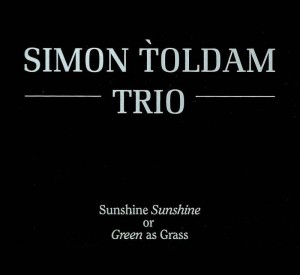 Many albums on ILK are released as vinyl only which means it is primarily perceived in that format and identified with it.
One of it is the upcoming new vinyl-album of Peter Bruun, Unintended Consequences.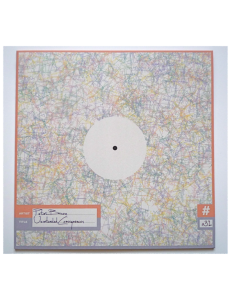 It features pianist Søren Kjærgaard, reed-player Torben Snekkestad, trumpet-player Eivind Lønning and bassist Jonas Westergaard. The sleeve shows some old school, old fashioned filing features: a name-badge plus, similar to a an old studio sheet of recordings, handwritten information on track-titles, musicians and some additional info. All (mis)guiding allusions – common in these days – are eliminated, expectations are downplayed. No mysteries are evoked besides one: there will be some unpredictable, creative music. That may help to decondition listeners' minds. Each copy of the Unintended Consequences vinyl is numbered and has some additional handwritten info on the back of the album on the making of the music:
"The consequences of an act may be unintended or intended. A state of affairs is an unintended consequence of an act if it results from the act, although it was not the aim of the act to bring about this state of affairs. An intended consequence of an act, on the other hand, reflects a will, plan, or desire to make a particular state of affairs obtain. Only conscious beings with complex mental states can have aims in this way. Tables and avalanches, for example, do not."
A thorough review soon.
Different aesthetics are manifestated by the releases of HIATUS, a label run by composer/saxophonist Niels Lyhne Løkkegaard. There are vinyl only releases as well as releases on more than one storage medium.
Løkkegaard himself has released his extraordinary opus Vesper last year. Vesper features Jakob Buchanan, flugelhorn, Jakob Bro, guitar, Marilyn Mazur, percussion and four clarinets (Ole Visby, Tine Vitkov, Birgit Bøgh Sønderiis, Mette Alrø Stoktoft) on the label. For a review see HERE and HERE.








Recently Hiatus has released two remarkable and very different piano-albums. First the highly idiosyncratic solo-album of pianist Johannes Richter titled 13 Pieces:








and Heights by pianist August Rosenbaum, featuring eminent bassist Thomas Morgan, the guitarists Joel Gjærsbøl and Jakob Bro, the saxophonists Lars Greve and Otis Sandsjö as well as percussionsts Mads Forsby and Victor Dybbroe. It is Lostinadream/Dreamlost music from the rushing ether with a very quiet form of electronics. Part of it a masterful solo passage by Thomas Morgan. And more. A wonderful ballad on side B – stopping time passing for a fraction of a second, then catch up with it again …




Ich bin nicht der Reisende, der sich in Flugzeugen und auf Flughäfen die Zeit mit dem Anhören von Musik vertreibt. Tapfer nehme ich immer wieder die notwendige Apparatur mit, aber bis jetzt will es nicht recht gelingen. Zu unnatürlich für mich, finde nicht die erforderliche Konzentration. Dafür gestern auf dem kurzen Flug von Kopenhagen nach Amsterdam ein dünnes Büchlein. Ich schlag's auf, lese. Was ich lese, ist das, wessen ich mir am Vortag beim Aufstieg auf den Berg in Molde gewahr wurde. Ich las das Gedicht Abschied vom Augenblick von Wisława Szymborska, zufällig nicht zufällig. Das unbeschwerte Hoffnungsfrohe. Etwas, was ich nochmal, auf andere Weise, beim Anhören der Musik auf Under The Mile Off Moon von Eggs Laid By Tigers empfand. Es kommt auf den Moment an, die Verbindung, die Erinnerung.
Hier ein Ausschnitt aus einem anderen Gedicht von Szymborska, Kleine Komödien, zu dem man den Rest erfinden oder lesen kann:

Wenn es Engel gibt,
Dann sollte sie – hoff ich –
Diese auf dem Grauen schaukelnde Lustigkeit
überzeugen,
die nicht einmal Zuhilf, Zuhilf ruft,
weil alles in der Stille geschieht

Ich wage anzunehmen,
Dass sie mit den Flügeln klatschen
und weinen,
zumindest Tränen des Lächelns
Meine erste Station in Kopenhagen: das alte Schlachthofviertel, Meatpacking District, hinter dem Hauptbahnhof. Das ILK-Kollektiv hat dort in der Slagdehusgade 5e seine Spielstätte. Es ist ein weites Gelände mit Flachbauten. Ein Teil der Gebäude ist noch in Betrieb, andere sind in Restaurants, Studios umgewandelt oder erfüllen andere Funktionen der Freizeit- und Kreativindustrie. Altindstrielles ist hier nicht extra kulturell renoviert oder herausgeputzt. Die alte Funktion ist in mehr oder weniger verbrauchter oder gar verfallener Form überall sichtbar. An der Strassenseite etwa deutlich erkennbar eine alte Autowerkstatt, die jetzt als biodynamisches Restaurant dient. Reästhetisierung.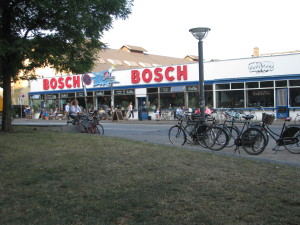 Daneben eine kleine Tür im Gatter, durch die man treten muss, um zu ILK zu kommen. Das Gelände ist lagermäβig in Längs- und Querverbindungen eingeteilt. In einem der Querblöcke also ILK. Kein (Jazz)Keller wie in früheren Zeiten, vielmehr kleine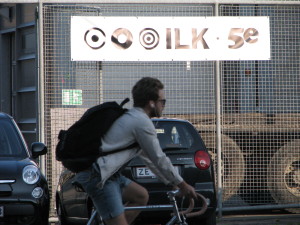 Compartments, wo früher verschiedenste Fleischverarbeitungsprozesse und damit Zusammenhängendes seinen Platz hatte. Es ist schon ein bisschen schummrig. Die Beleuchtung ist spärlich, ohne dass es einen spelunkenhaftigen Eindruck vermittelt.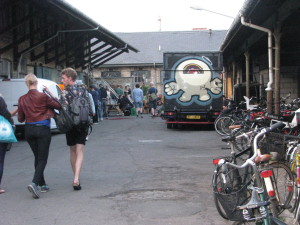 An dem Abend noch zwei Auftritte: Eggs Laid By Tigers und Kresten Osgoods Superstarz. Ich weiss nur, dass der Schlagzeuger Peter Bruun und der Pianist Simon Toldam in der Gruppe (mit)spielen, mit denen ich tags drauf jeweils eine Gesprächsverabredung habe (für diejenigen, denen die Namen nicht gleich etwas sagen: Peter Bruun spielt im Trio von Django Bates und Simon Toldam im Trio von Han Bennink). Viel mehr weiss ich über Eggs Laid By Tigers eigentlich nicht, habe aber bei der Programmdurchsicht den Eindruck bekommen, dass sie etwas Besonderes machen. Hab allerdings vorher nicht mehr ergründen können, in welche Richtung das gehen könnte.
Was ich dann zu sehen und zu hören bekome, ist schon mehr als überraschend. Einzigartig und von nicht alltäglichen Qualitäten. Im ersten Moment denke ich, dass Levon Helm zurück auf Erden ist. Und noch ein paar alte Bekannte. Wunderbare Songs herrlich dreistimmig gesungen. Peter Brunn sitzt zwar an seinem Schlagzeug, spielt aber häufig akustische Gitarrre und singt. Der Bassgitarrist – irgendwie kommt er mir bekannt vor – singt herzergreifend die Leadstimme und bildet eine enge Einheit mit dem elekrischen Gitarristen Martin Ullits Dahl. Simon Toldam schliesslich sitzt meistens an einer alten Philipps-Orgel aus den sechziger Jahren und spielt. Unfassbar und ergreifend. Machte einfach Riesenspaβ und Freude zu zu hören!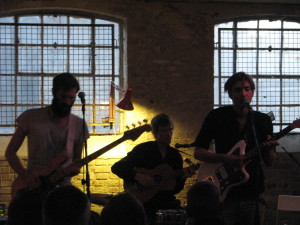 Einfach gut die Songs, rund, gut gesungen und gespielt – welche Reminiszenzen sie auch immer hervorrufen mögen (ich schenke mir hier das inzwischen übliche öde ein- und ausgemeindende Namedropping und Vergleichen). Songs und Singing von unbefangener Frische. Hellwach wird von dieser Musik. Die Songs enthalten ein basic musical feeling auf sophisticated Niveau. Erst später realisiere ich mir, dass der hervorragende Leadsinger niemand anders ist als der in Berlin ansässige Jazzbassist Jonas Westergaard. Noch nie habe ich glaube ich eine solch überraschende, packende und überzeugende Metamorphose erlebt. Glückliche Momente des Erinnerns, ohne darin stecken zu bleiben. Peter Bruun überrascht am nächsten Tag mit einer wunderbaren Vinylausgabe des Tiger-Albums Under The Mile Off Moon mit seinen elf Songs. Ein tolles Ei! Das Bild vom eierlegenden Tiger ist von Dylan Thomas (1914-1953) entlehnt, diesem erleuchteten Deliriker. Und die Songs der Gruppe sind durch sein Werjk inspiriert. Da war doch noch einer, der es so weit trieb, dem Milchwald-Dichter den Vornamen zun entwenden. Ebenso wie er die pathologische Sprechweise des kranken Woodie Guthrie adaptierte – auf geniale Weise. Thomas, der grosse Welshman, ist einfach nicht klein zu kriegen und schon gar nicht ins Vergessen schickbar.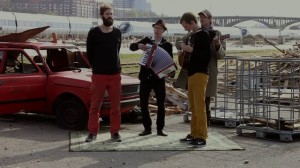 Hier nur Photos der Gruppe. Es gibt eine Reihe von Videos. Die kann sich jeder selber heraussuchen. Empfehlenswerter vom Erleben her ist jedoch, sich erst die Vinyl-Lp anzuhören. Oder einen Live-Auftritt. Mehr noch in der Serie En Route Sommerveie. Das Album ist direkt bei ILK zu bestellen (es muss weltweit noch erscheinen). Ein weiteres Album zu den anstehenden Gedenkdaten ist in Vorbereitung.