Archiv: Mai 2016
When a man walks into a room, he brings his whole life with him. He has a million reasons for being anywhere. Just ask him. If you listen, he´ll tell you how he got there. How he forgot where he was going. And then he woke up. If you listen, he´ll tell you about the time he thought he was an angel. Or dreamt to be perfect. And then he´ll smile with wisdom content that he´d realized the world isn´t perfect. We´re flawed because we want too much more. We´re ruined because we get these things and wish for what we had.
"Waxwork's pressing of Taxi Driver is certainly above average. While there are pops and clicks throughout the release despite an initial cleaning, nothing will take the listener out of the experience. There were no unintentional locked grooves, or loud rhythmic pops that suggested an actual problem on the pressing or created any real distraction. This pressing sounds great from start to finish, and is exactly what a big Taxi Driver fan like myself has hoped would come along for years."

(Zachary Behm)
Edmund de Waal is a potter. His pots, plates, and vessels are the result of craft and mastership, but they are also so much more than that: they are experiments in form and function, abstractions of thoughts on silence and space, on repetition and failure, on substance and fragility, on memory contained.
Edmund de Waal is an artist. He arranges his objects in complex choreographies that are as mysterious as they are mesmerizing. Displayed in galleries and institutions worldwide, his considered installations play with architectural concerns, integrating ideas of space, light and obscurity.
Edmund de Waal is a writer. In 2010, his intimate memoir of a kind, The Hare With Amber Eyes, intertwined the biography of a collection of netsuke figures with the biography of his family and became a surprise bestseller, winning several awards. His latest book, The White Road, presents a highly personal and engaging research into the history of porcelain.
Whether he sculpts with words or with clay, what Edmund de Waal works with are concepts, ideas, and desires. In a body of work that is at odds with our times and yet oddly successful, his writings and objects overlap and integrate each other in an attempt to understand and transcend our complex relationship with objects and our surroundings.
In an interview with mono.kultur structured like an A-Z of notes and ideas, Edmund de Waal talked about his rules of attachment, the impossibility of repetition, and why "doubt" is the most beautiful word.
Visually, the issue takes inspiration from that most perfect of materials: porcelain. Printed entirely in double-sided splendour, the two finishings of the paper – shiny gloss and smooth matt – evoke the texture of ceramics before and after glazing.
All in all, a wonderfully white and considered issue for our next decade and available as usual through our online store mono.konsum or, at the trusted book dealer of your choice very soon indeed.

Enjoy and all our best,
mono.kultur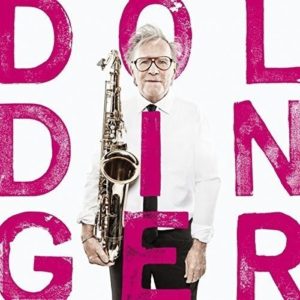 Nun ist Klaus Doldinger 80 geworden. Und er ist so vital, wie er auf dem Coverfoto wirkt.
Statt eines simplen "Best ofs" gibt es zum Geburtstag in limitierter Auflage einen Rückblick auf etliche Doldinger- bzw. Passport-Klassiker, aber in neuen Versionen. Dankenswerterweise hat man auf "Das Boot" oder das "Tatort"-Motiv verzichtet; die einzige Filmreminiszenz ist "Auryn" aus der "Unendlichen Geschichte", aber auch sie in neuer Einspielung (mit Dominic Miller). Auf Max Mutzkes Gesang in "Inner City Blues" hätte ich, ehrlich gesagt, verzichten können, und Udo Lindenberg, der in Passports Gründungszeiten deren Drummer war, trommelt diesmal nicht, sondern hat mit "Der Greis ist heiß" einen Song beigesteuert, der wohl ein Geburtstagsständchen sein soll, mir auf diesem Album aber eher entbehrlich vorkommt. Aber man hat das wohl geahnt und den Song deshalb ans Ende gesetzt.
Das ist aber auch schon alles, was ich an der Platte auszusetzen habe, und das ist natürlich Geschmackssache. Alles andere an der Scheibe stimmt, ist rund und macht Spaß. Die Platte hat eine Grundentspanntheit, die vielleicht eine Frage des Alters ist. Der Mann muss wirklich nichts mehr beweisen, seine Kompositionen haben nicht die leisteste Spur von Staub angesetzt, und das weiß er natürlich. Besonders deutlich wird das, wenn man die Stücke mal im direkten Vergleich mit den Originalen hört.
Ich freue mich schon jetzt auf Doldingers nächste.
Das einzige, was ich mich schon immer gefragt habe: Weshalb sind die beiden wunderbaren "Jubilee"-Konzerte von 1974 und 1975 nie in voller Länge veröffentlicht worden? Aber vielleicht wird das ja das Geschenk zum Neunzigsten.
Stewart O´Nan ist für mich ein zutiefst menschlicher Autor, einer, der das Schicksal der Verlorenen, Verlassenen, vergeblich Hoffenden, sich abmühenden, aber scheiternden Menschen in den Mittelpunkt seines Schreibens gestellt hat. Sein Erstlingsroman Engel im Schnee (1993) erzählt das tragische Leben der Annie Morchands.
1999 veröffentlicht der 1961 in Pittsburgh / Pennsylvania geborene Autor Sommer der Züge: 1943 kehrt der schwer verwundete älteste Sohn eines vollkommen zerstrittenen Ehepaares in die Heimat zurück. Die Familie muss ihr Leben neu ordnen.
Ebenfalls 1999 erschien in Deutschland Das Glück der Anderen: Jacob Hansen bemüht sich als Pastor, Sheriff und Totengräber in einer Person um das Glück seiner Mitmenschen und das in aussichtsloser Lage, im Kampf gegen eine alle bedrohende Seuche.
Von einem letzten Treffen einer Familie in einem Sommer für Sommer von allen Familienmitgliedern besuchten Ferienhaus erzählt der große Roman Abschied von Chautauqua (2005) (siehe auch der Beitrag vom 28.2.2012, manafonistas.de).
Halloween (2004): Bei einem Autounfall sterben drei Jugendliche, zwei überleben. Die Geister der Verstorbenen kehren zurück.
Eine junge Frau, gerade verheiratet, schwanger, muss, nachdem ihr Mann einen Einbruch begangen hat, bei dem jemand umgekommen ist, und der nun viele Jahre im Gefängnis zuzubringen hat, allein mit ihrem Leben fertig werden: Eine gute Ehefrau (2007).
Erst kürzlich las ich einen kleinen Roman O´Nans, der von einem einzigen Winterabend im Dezember handelt: unwirkliches Wetter, Schneesturm, auf dem Gelände eines riesigen Einkaufszentrums gibt es auch ein Fast-Food-Restaurant, das allerdings wegen zu geringem Umsatz schließen soll. Erzählt wird in dem Roman Letzte Nacht (2007) von der letzten Schicht der Angestellten dieser Kneipe, die dann für immer schließen wird.
2011 veröffentlicht der Rowohlt-Verlag Emily, allein.  Eine alte Frau, von allen verlassen, muss einen Neuanfang wagen (siehe auch manafonistas.de vom 28.2.2012).
Die Chance (2012) handelt von einem vollkommen zerstrittenen Ehepaar, verschuldet, arbeitslos, das den Hochzeitstag dazu nutzt, eine letzte Chance zu ergreifen, um ihrem Elend zu entkommen (siehe auch manafonistas.de vom 21.2.2015).
Das 2003 in deutscher Sprache erschienene Sachbuch Zirkusbrand setzt den Toten, den Verlorenen und Trauenden ein Denkmal. Am 6. Juli 1944 starben 167 Menschen bei einem Zirkusbrand in Hartford / Connecticut, viele wurden schwer verletzt, gezeichnet für ihr Leben.
Im Frühjahr dieses Jahres folgt nun der Roman Westlich des Sunset: Tragischer Held der Geschichte ist Francis Scott Fitzgerald (1896-1940), bei uns bekannt vor allem mit seinem Roman Der große Gatsby, 2013 erneut verfilmt mit Leonardo DiCaprio als Jay Gatsby. Aber O´Nan erzählt nicht von der Zeit des erfolgreichen Schriftstellers Fitzgerald, nichts von den rauschenden Partys in New York, Rom oder Paris, nichts von der Freundschaft zwischen ihm und Ernest Hemingway, den Trinkgelagen, den Frauengeschichten.
O´Nan beginnt seine Geschichte in Hollywood des Jahres 1937. Der Ruhm des großen Schriftstellers Scott Fitzgerald ist bereits verblasst, abhängig von den Filmbossen in Hollywood, fristet der Autor das Leben eines Lohnschreibers, der froh sein kann, wenn ein Drehbuch oder Teile davon in irgendeinem drittklassigem Film Verwendung finden. Die größte Freude für ihn: wenn sein Name im Abspann eines Filmes erwähnt wird.
Meistens werden seine Entwürfe aber abgelehnt oder von anderen Schreibern bis zur Unkenntlichkeit verändert. Zelda Fitzgerald, Scotts langjährige Ehefrau, lebt in einer psychiatrischen Klinik, die Rechnungen der Anstalt kann ihr Mann kaum zahlen, muss sich ständig Geld zusammenleihen. Die einzige Tochter Scottie studiert, der Kontakt zum Vater ist alles andere als eng. Scott sucht Trost bei Sheila Graham, einer Klatschrepoterin. Beruflich scheitert Fitzgerald vollkommen, versinkt mehr und mehr in Schulden, Alkohol und Verzweiflung. Am 21. Dezember 1944 stirbt der erst 44jährige Scott Fitzgerald in Sheila Grahams Apartment in Hollywood.
O´Nan erzählt – wie immer – höchst einfühlsam über die letzten drei Jahre eines Menschen, der seinen Absturz unbedingt verhindern will und scheitert.
Further is a cheering record,