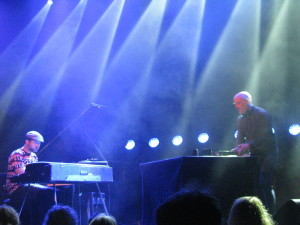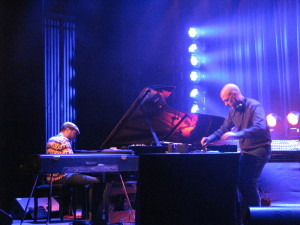 Jason Moran ist inzwischen auf ansehnlichem Niveau von Ubiquität angelangt, was ihn vor allem weiter zu beflügeln scheint. Er geht die diversesten Sachen mit erstaunlicher Offenheit und wirklicher Interessiertheit an. Auch ein förderliches Maβ an Understatement und Dezidiertheit gehören dazu. Und: er ist vor allem auch ein guter Beobachter! Seit kurzem ist Moran künstlerischer Leiter des Jazzprogramms am Kennedy Center in Washington D.C. , wo er gleich zu Beginn ein eindrucksvolles Anthony Braxton Programm organisierte. Auch gab er Okwui Enwezor als Kurator der Münchener Ausstellung ECM – eine kulturelle Archäologie wesentliche Impulse. Er ist auf dem binnenkurzem erscheinenden ECM-Debut von Trompeter Ralph Alessi vertreten und macht sich auf für Aufnahmen mit der Gitarristin Mary Halvorson und Trompeter Ron Miles.
In Molde fungierte er dieses Jahr als Artist in Residence. Neben einer Reihe von Sessions spielte er während der Festivalwoche in sechs Konstellationen:
– im multimedialen Monk-Programm In My Mind mit norwegischen Bläsern und seinem Bandwagon (Kåre Nymark, Kristoffer Kompen,Daniel Herskedal, Atle Nymo, Frode Nymo, David Demedolf)
– mit dem All-Scandinavian Andratx (Jonas Kullhammar, Kresten Osgood, Ole Morten Vågan, Maria Laurette Friis)
– mit seinem Bandwagon Trio
und in drei Duos:
– Duo mit Charles Lloyd
– Duo mit Jan Bang
– Duo mit seiner Frau, der Opernsängerin Alicia Hall Moran
Das Duo mit Bang, keine in etablierte Erwartungsschemata passende Verbindung, war Morans ausdrücklicher Wunsch. Entsprechend gespannt war man. Bang arbeitet zwar seit kurzem mit dem Pianisten Tigran Hamasyan, aber das ist qua Hintergrund und Naturell ein anderes Paar Schuhe.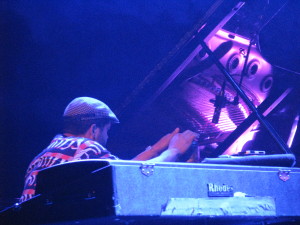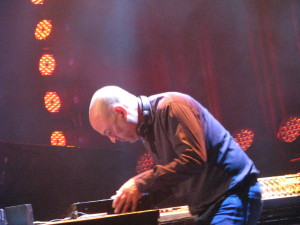 Während Moran sich mit und am Piano und am Fender zu schaffen machte, ist das Instrumentarium von Bang für den Zuschauer weniger einfach kategorisierbar. Es ist auf wenige Apparate beschränkt und Bang verwendet live (bewusst) keinen Laptop. Kein Bildschirm also, sondern freier Blick und intensive Bewegung beim Regeln (Drehen, Drücken, Schlagen, Schieben) der archivierten und synthestisierten/modifizierten Klänge.
Im Erscheinungsbild gleicht Bang am ehesten noch einem Perkussionisten (zuweilen selbst einem Tänzer).
Am Anfang markierten beide Musiker ihre DNA. Moran mit einer Collage aus dem Kanon des Jazzpiano. Bang damit, dass er rhythmisch-melodische Motive herausgreift und elektronisch mit ihnen spielt, sie verwandelt und damit das Spielfeld öffnet, erweitert, transzendiert.
Jason Moran selbst dazu: "It was awesome to make sounds with Jan Bang. He literally was remixing my piano as I played it. Stuttering, shifting octaves, making drones, and making the earth's core shiver. We did crazy remixes of James P. Johnson's You've Got to be Modernistic. Also Duke Ellington's Single Petal of a Rose, and a haunting Body and Soul. Thrills."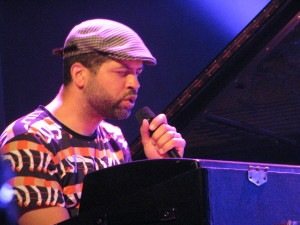 Es endet mit einer Zugabe, bei der Bang strahlend sein Diktaphon hochhält, aus dem die unbegleitete Folkmelodie einer estnischen Sängerin klang. Wie sich Bang und Moran in diesen Klängen musikalisch verständigten, hatte etwas Magisches und erbrachte ein befreites strahlendes Lachen beider Musiker. Dazwischen spielten sich Moran und Bang hellwach wunderbare Bälle zu, entstanden suggestive singende Klangbilder, die von den Trompeten von Jericho, trashigen Splittern bis zum Summen ferner Küsten reichte und Moran zum Flöten brachte.
Postscriptum 1 – Herausspülen
Bei Bang werden die Stücke nicht länger im gewohnten Frame nach bestimmten ungeschriebenen Regeln improvisatorischer Variation behandelt. Sie werden in ihrer 'reinen' Klanglichkeit genommen und 'herausgespült', verflüssigt und in neuer, indeterminierter Form wiedergewonnen. Letzteres heisst, dass sich dabei eine klare neue Form herausschält, die aber qualitate qua nicht auf Reproduktion angelegt ist. Genauso könnte man sagen, dass klangliche Elemente des 'Originals' interagierend in die (flüssige) elektronische Leinwand eingeschrieben werden. Das Herausspülen ist eine Konsequenz der Existenz von Stücken als reifizierter recorded music. Mit der improvisierten live-Elektronik von Jan Bang werden (paradoxerweise) ora(k)le Qualitäten wiedergewonnen, die sich in einer neuen, faszinierenden Dialektik von Crossfadings bewegen. Diese Arbeitsweise unterscheidet sich vom rein verzierenden, hervorhebenden und konturierenden Elektronikgebrauch.
Postscriptum 2 – Jaki Byards offener musikalischer Diskurs als Leitbild
Morans Bereitschaft und Offenheit kommt nicht von ungefähr, war einer seiner wichtigsten Lehrmeister doch Jaki Byard, für den musikalisch keine Ausschlüsse oder Berührungsängste gab. Moran gibt davon während eines Gesprächs beredte Beispiele.








Byard brachte das nicht nur in seiner Lehrtätigkeit, sondern auch in seinen eigenen Ausführungen (als Pianist und Saxophonist) in auch heute noch hörenswerter und faszinierender Weise in die Praxis.: HIER eine Demonstration von Pianostilen und HIER ein Beispiel für seine berühmten Verschiebungen und Umsprünge.
Alle Photos ausser Jaki Byard
© FoBo – Henning Bolte