Dass bestimmte Rotwein-Traditionen zum Niedergang der gegenwärtigen Philosophie Frankreichs beitragen, bemerkte Brian Eno jüngst bei einer interessanten Weinverkostung. Wie weit er da auch den Existenzialismus einbezog, ist nicht bekannt, changiert doch diese radikale Denkweise mit Protaganisten wie Sartre und Camus zwischen paradoxem Humanismus und einem Lebensstil, bei dem alte Charlie-Parker-Platten und teure Pariser Cafes Ton- und Geschmacksspuren lieferten. Ein interessantes Buch zum Thema stammt von Sarah Bakewell: At The Existenzialist Cafe – Freedom, Being and Apricot Cocktails (unser Philosophiebuch des kommenden Monats). Sollten Sie in Kürze Patti Smith treffen, machen Sie ihr dies zum Geschenk – sie wird es verschlingen!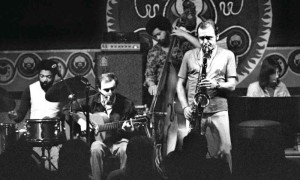 "This book takes us back to a time when philosophers and philosophy itself were sexy, glamorous, outrageous; when jazz was cool,  and sensuality and erudition were entwined… Bakewell shows how fascinating were some of the existentialists' ideas and how fascinating, often frightful, were their lives. Vivid, humorous anecdotes are interwoven with a lucid and unpatronising exposition of their complex philosophy …Tender, incisive and fair."

(Jane O'Grady Daily Telegraph)
Dass der Existenzialismus auch eine Wurzel hatte im Horror der Geschichte der ersten zwei Weltkriege, stellt nun tatsächlich eine Verbindung her zu dem Album The Ship von Brian Eno, und es gibt nur wenige Komponisten, denen ich zutraue, den Untergang der Titanic und die Schlachtfelder von WW1 in ein modernes Lamento zu verwandeln, ohne altbekannte Trauer- und Pathos-Gesten.
Um es kurz zu machen: "The Ship" wird einmal zu den den grossen Werken des Engländers gezählt werden, in einem Atemzug mit "On Land", "Another Green World", oder "Music For Airports". Unsere "Platte des Monats", und bei einigen Manafonisten bestimmt auch eine "Platte des Jahres". Das Album erscheint in diversen Formaten am kommenden Freitag. 
Ein sicherer Kandidat für den kommenden "Thrill Mana Factory Prize" ist Lou Berneys The Long And Faraway Gone, der von einem anderen Winkel und Genre her unsere flüchtige Existenz mit ihren unberechenbaren Verlustmeldungen beleuchtet. Ich würde diesem Buch im Mai den "Edgar Award" zusprechen, aber das Buch wird auch so seine Wege gehen – genauso wie The Passenger von Lisa Lutz.
Die amerikanische Autorin folgt einer so gebrochenen wie mit Überlebensinstinkt ausgestatteten Protangonistin quer durch die USA – ständig wechselt diese Figur Namen und Identität, wird sich selbst zunehmend zur Fremden – und doch von der lange rätselhaft bleibenden Vergangenheit eingeholt. Stellen Sie sich vor, Albert Camus' "Der Fremde" würde ins 21. Jahrhundert transportiert, und begegnet dort einer Illusion von Freiheit, und absolutem Schrecken.
Bleibt noch die Frage, welche "reissue of the month" in diesem Reigen chronischer Flüchtigkeiten und Verluste bestehen kann, und da muss man nicht lange überlegen: im Jahre 1976 trat ein Mann in einem Jazzclub auf, der eine Musikrichtung miterschaffen hat, in der sich alles um die schemenhafte, fragile Natur der Liebe dreht: in der Musik von Joao Gilberto wird die Zeit nicht angehalten, sie verfliegt im Hauch von Stimme und Gitarre. Umso deutlicher wird das noch, wenn sich an seiner Seite das Saxofon von Stan Getz so sanft wie vehement diesem Verschwinden entgegenstemmt (s. Foto!).
Genau diese CD wird im Deutschlandfunk gespielt, in den nächsten Klanghorizonten am 18. Juni, um viertel vor sechs, im "brasilianischen Ausklang", zusammen mit der ersten Langspielplatte von Joao Gilberto. In den wilden Zeiten, 1968, sahen Joao, Caetano und Co. hinüber nach Paris, und vielleicht bekamen sie auch mit, wie Sartre zu den Studenten sprach.
Getz/Gilberto '76 ist kein Aufguss ihres Welterfolgalbums, es ist das bewegende Dokument eines brasilianischen Ausnahmekünslers, der sich selten aus den Zonen des Schattens heraus bewegt hat, und unentwegt an seiner "Discreet Music" gearbeitet hat. Die Existenzialisten haben ihn in Paris auch gerne gehört.