Archives: Film
Die Frau vom Reinigungsteam steht mit einem Wagen voller Putzutensilien im Hotelflur und klopft an eine Zimmertür: "Housekeeping." Sie wartet, klopft wieder. Die Wahrscheinlichkeit, dass sie stört, weil Gäste im Zimmer sind, ist gering. Sharm El Sheikh liegt an der Südspitze der Sinai-Halbinsel am Roten Meer, es war ein beliebter Urlaubsort in Ägypten, doch die unsicheren Verhältnisse nach dem Arabischen Frühling, die Angst vor Anschlägen haben die Touristen abgeschreckt. Die Urlauber bleiben aus. Die Liegestühle am Pool sind unbesetzt. Der Masseur formt aus dem großen Handtuch einen Elefanten. Die Räume werden gefegt, Fenster werden geputzt. Der Bademeister sitzt auf einem Hochstuhl und spricht ins Megaphon. "Jetzt beginnt unser Mittags-Sportprogramm. Machen Sie mit." Die Musik ist rhythmisch und leicht. Eine Gruppe junger Frauen macht ein paar Schritte hin und her, Bewegungen mit den Armen, einigermaßen synchron. Sie lächeln. Die Gäste dürfen Sie nur mit einem Lächeln sehen. Heißt es im Auswahlgespräch. Da ist der Stillsteher, der seinen Körper jeden Morgen mit bronzener Farbe bemalt, ein paar schwarze Streifen dazu. Er greift nach der Gitarre. Er ist bereit, sich für ein kleines Honorar fotografieren zu lassen. Aber niemand fragt. Die Gehälter werden gekürzt. Dreißig Prozent. Fünfzig. Die Shoppingtour mit der besten Freundin fällt aus. Am frühen Abend machen die Hotelangestellten einen Ausflug durch die Wüste. Eine Frau trägt eine rosa Mütze mit Hasenohren. Dream Away – ist es wirklich ein Dokumentarfilm? Ist es nicht doch inszeniert? Durch die Straßen fährt ein Pickup, auf dessen Ladefläche ein Mann im Affenkostüm steht. Immer wieder laufen einzelne Menschen dem Pickup hinterher und der Affe verwickelt sie in Gespräche. Er hat die Gesprächstechnik drauf. Sie sagen ihm alles. Ist ja doch nur ein Affe, der zuhört und spricht.
Three Billboards outside Ebbing, Missouri. When I met A almost a year ago at a literal event each of us took a piece of paper and wrote down some recommendations concerning film, music and poetry for the other one. This film was on the top of A´s list. Maybe some of you remember the billboards in Antonioni´s Zabriskie Point. Hypocritical advertising in Los Angeles suggest your dreams come true as a consumer. In Three Billboards a woman as a mother rents three billboards by the access road to town for a year for political reasons. This movie is about taking revenge with an impressive ending. Chief of police is played by Woody Harrelson (True Detective I) who, again, is a family father.
M – eine Stadt sucht einen Mörder, von Fritz Lang. I became aware of this film through a book about lighting in movies, which I want to come back to later. In this film, which deals with the search for a child murderer, lightning plays a decisive role as a stylistic device. I wouldn´t have recognized it without the reference from the book. Already the first scene, children playing in a backyard in Berlin, is nightmarish and concerning the light you just don´t know what time it is. Keep an eye on the shadows throughout the movie, there is a change in the lightning concept at one point. The film was shot in 1931. Goebbels offered Lang the position as head of the film industry. Lang said he would think about it and emigrated in the US.
Auf der Suche nach der Seele der Landschaft. Die Natur vor uns. Ein Film von Niels Bolbrinker in Zusammenarbeit mit Christiane Stahl. 5 Filme von Alfred Ehrhardt. Avant-garde landscape films from the time of the 30s to 60s, of which I was most impressed by the shots on the North German Wadden Sea and even more in Iceland. Alfred Ehrhardt was a photographer of the new objectivity. Inspiring ideas for photographers. Hans-Dieter, our Manafonistas Iceland expert, to whom I recommended the film some time ago, was enthusiastic about the Iceland part.
Hiroshima mon amour, directed by Alain Resnais. Film en noir et blanc de 1959 sur un traumatisme politique et privé. En fait, il y a plusieurs traumatismes politiques et plusieurs traumatismes privés. Mais le film montre aussi comment le traumatisme peut être surmonté.
Tequila Sunrise, directed by Robert Towne. I decided to buy this film because of a film setting I had seen in the portrait film about Michael Althen "Was heißt hier Ende?": Two men sitting by the sea as silhouettes with an impressive coloured sunset. Well, this was a quick shot. I enjoyed the beginning, some mysterious appointment, a scene in a hotel room, the tense between four men and you could smell vaguely some forthcoming solid argument or crime. But in the end it was a superficial mainstream end 80s thriller with ingredients like cocaine, a fight for a beautiful woman and some surprises which cannot rescue it all. But if you like the end 80s, the Californian landscape, men wearing sunglasses and being really cool, you might have a good time.
Iwans Kindheit, von Andrej Tarkowskij. Der Film wurde mir vor vielen Jahren von jemandem empfohlen, der einfach nur sagte, der Film sei sehr gut. Mehr wollte er nicht sagen. Der Titel landete dann auf einer to-watch Liste, letztlich kaufte ich vor ein paar Monaten eine Auswahl von Tarkowskij-Filmen, von denen mich Iwans Kindheit besonders berührt hat, den Stalker hatte ich schon. Es ist die Geschichte eines 12-jährigen Jungen, der während des Zweiten Weltkriegs für die Rote Armee als Späher tätig ist, allein unterwegs durch von kleinen Gewässern geprägte, weite sowjetische Landschaften. Es gibt Rückblenden aus der früheren Kindheit, einmal war sein Gesicht glücklich gewesen. Dark stuff.
Es kommt selten vor, dass Kinder in Kinofilmen, die sich an ein erwachsenes Publikum richten, interessante Rollen spielen. Anders in den Filmen des mexikanischen Regisseur Alejandro González Iñárritu, der zu den von mir besonders geschätzten Regisseuren zählt. In seinen Filmen "21 Grams", "Biutiful" und "Babel" spielen Kinder entscheidende Rollen, sie sind Drahtzieher des Geschehens, mal mehr, mal weniger im Vordergrund. Diese Kinder haben bemerkenswerte Rollen, sie werden präsentiert als Persönlichkeiten, die sich entwickeln wollen und von Erwachsenen daran gehindert werden. In den drei genannten Filmen sind sie im Grundschulalter oder jünger, und einige von ihnen zeichnen gern. Hier sind zwei dieser Zeichnungen. Das erste Bild ist gezeichnet von einem zehnjährigen Mädchen, die in Barcelona lebt und deren Traum es ist, mit der Familie in die Pyrenäen zu reisen und dort zum ersten Mal in ihrem Leben den Schnee zu sehen. Sie hatte ihren Vater gefragt, wie man "beautiful" schreibt. Die Antwort des Vaters (Biutiful) ist der Titel des Films.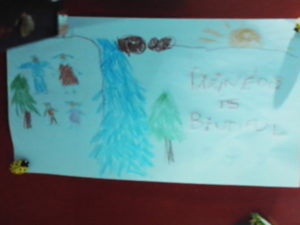 Die folgende Zeichnung stammt von einem etwa fünfjährigen Mädchen und aus dem Film "21 Grams":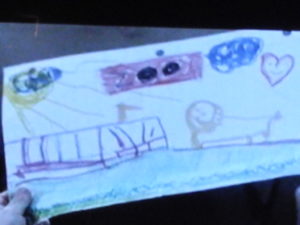 Bei meinen Recherchen zum Ersten Weltkrieg stieß ich auf Wasili Sergejewitch Woronow (1887-1940), der als einer der ersten die historiographische Bedeutung von Kinderzeichnungen erkannte. Gaston Bachelard schreibt in seinem Buch "Poetik des Raums": "Jedes große einfache Bild enthüllt einen seelischen Zustand." Und er zitiert Madame Balif: "Von einem Kind verlangen, dass es ein Haus zeichne, heißt ihm die Enthüllung seines tiefsten Traumes abzuverlangen, wo es sein Glück bergen möchte."
Strong Island
Blade Runner 2049
Detroit
Wind River

Three Billboards Outside Ebbing, Missouri

Manchester by the Sea 
Die Lebenden reparieren (Réparer Les Vivants)
Dunkirk
Baby Driver
I am not your Negro
Moonlight
Loveless (Nelyubov)
Beuys
Denk ich an Deutschland in der Nacht
The Salesman
120 BPM
missed + still on my list: Lady Macbeth / Mother! / Die beste aller Welten / Elle / In Zeiten des abnehmenden Lichts
(NB: As some films are often released later in Germany than in their country of origin, a few of these films may count as 2016 releases to residents of the U.S. or Iran. Also, many films in the run for Academy Awards 2017 have of course not been released in Germany yet. So I can only include films that have been screened in cinemas in Germany this year – or at festivals in Cannes and Berlin.)
Ich bin nicht chronologlisch vorgegangen bei der Beschäftigung mit dem Werk von Alejandro González Iñárritu. Es ist sein vierter Film und der dritte von ihm, den ich gesehen habe, nach "21 Gramm" und "Babel". "Biutiful" ist insofern anders strukturiert, als der Film hauptsächlich an einem Ort spielt, nämlich in Barcelona, und im Zentrum nur eine Hauptfigur steht. Es ist Javier Bardem, der in "21 Gramm" einen Familienvater spielt, der nach einem langen Gefängnisaufenthalt im religiösen Glauben Halt sucht. In "Biutiful" spielt er Uxbal, der, wie man vielleicht dezent sagen könnte, Geschäfte macht. Weil seine Frau eine bipolare Störung hat, hat er das alleinige Sorgerecht für seine beiden Kinder, ein Mädchen, vielleicht 12, und einen Jungen, vielleicht 7 Jahre alt. Die Spannung liegt weniger im Plot, eher in der Erzählweise und in der Auswahl der Bilder, im Schnitt. Es wird viel oder ausschließlich mit der Handkamera gearbeitet, was teilweise eine enorme Unruhe erzeugt. Trotz der existenziellen Belastung, der Uxbal ausgesetzt ist, und obwohl ihm die Handlungsfäden aus den Händen gleiten, versucht er, verantwortungsvolle Entscheidungen zu treffen. Die sozialen Verflechtungen seines Lebens sind vielfältig, was der Figur viele Möglichkeit zur Interaktion und viel Tiefe gibt. Die Frau, die Kinder, die widersprüchlich erscheinenden Jobs. Mit seinem Bruder, der einen Stripclub führt, verbindet ihn nur ein Rechtsproblem um das Grab des Vaters. Auf dem Kühlschrank stehen Fotografien aus glücklichen Zeiten, und es gibt Bilder, Blicke auf Barcelona, die nur einen Bruchteil einer Sekunde eingeblendet werden und die umso stärker wirken, weil man sie festhalten möchte. Uxbal scheint zudem eine besondere metaphysische Gabe zu haben, die ihn mit einer Frau verbindet, die er aufsucht, wenn er verzweifelt ist und Rat sucht. Das Zentrum seines Lebens aber sind seine Kinder, für die er eine Bedeutung haben will und die er zu anständigen Menschen erziehen möchte. "Papa, wie schreibt man `beautiful´?" – "So, wie man es spricht." Mit den Kindern raus, in die Pyrenäen, damit sie den Schnee sehen. Wussten Sie, dass Eulen, bevor sie sterben, ein kleines Haarbüschel aus ihrem Schnabel verlieren?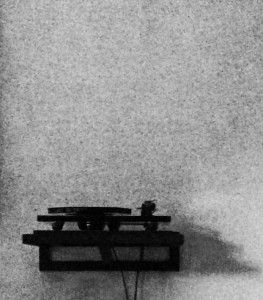 Ein Schatz der jüngeren englischen Filmgeschichte. Leider weitgehend in Vergessenheit geraten. Hier die ersten 8 Minuten einer Doku über Christopher Petit:

Scene From The Other Side

Zwei Spannungsfilme aus Hollywood, die in der deutschen Filmkritik ein geteiltes Echo fanden. Ich schlage mich auf die Seite der Befürworter.  Gekonnt inszenierte Thriller sind das, die jedem Detail,  jeder Szene, Aufmerksamkeit schenken. So gelingt es in beiden Fällen, den Raum unter der Oberfläche des Atemlosen zu öffnen: die Vereinbarkeit von Charakterstudie und vorwärtstreibender Handlung ist ihr Gütesiegel. In beiden Fällen entwickeln sich die männlichen Protagonisten: der Rechtsanwalt erscheint anfangs als kalter Zyniker (mit einem Muskelbody, der ihn eigentlich zum idealen Nachfolger trashiger Steve Segal-Filme macht), und erhält im Lauf des Films immer mehr Sympathiepunkte und Brüche. Man kann hier einer Fassade beim Bröckeln zuschauen.  Der Lehrer ist der klassische normale Bürger, der in der Not über sich hinauswächst. Die Qualität der beiden Thriller wird noch gesteigert von der Musik, von durchweg hervorrragenden Darstellern. In DER MANDANT sind der Fahrer des Anwalts und der befreunde Privatdetektiv eine Nummer für sich, in 72 STUNDEN die weibliche Hauptdarstellerin. Der eine ist ein Remake (was seiner Qualität keinen Abbruch tut), der andere  die Verfilmung eines gut recherchierten Romans von Michael Connelly.  Clint Eastwood ist es vor Jahren sogar mal gelungen, einen weitaus weniger überzeugenden Connelly-Roman in einen guten Film zu verwandeln. 72 Stunden gibt es schon als DVD und BluRay, Der Mandant läuft derzeit in den Kinos. Die Schauplätze beider Filme sind aus unzähligen  Filmen vertraut.  Dennoch wirken sie nicht wie eine sterile Bühne, allem kalten Licht, allen abgenutzten Dejavues zum Trotz.