For me, the film's key scene is when at the end Marcello Mastroianni reads the letter that Jeanne Moreau has handed to him. He reads it out and doesn't realize that he himself wrote it at the beginning of the relationship. And in my short film Heute letzter Tag (Last Day Today) I wanted to do the same thing: Someone reads a letter that he wrote himself and fails to remember what significance it used to have. I also liked how the film reaches this kind of endpoint there. The fact that someone in a film would read an entire letter was completely new to me as a teenager – I saw the film for the first time at the age of 15 or 16.
I was immediately captivated by the movie's imagery [and] the way in which the two characters are being placed in relation – or rather without a relation — to each other. When I was a teenager, it was the perfect puberty flick, because, among other things, it's also about finding out why love doesn't work — or at least not in the long run. That really hit my attitude to life very well back then.
Whenever I see La notte, I'm astonished what's in it. It's a film you never remember in its entirety, but only certain parts of it, and then perhaps the very parts that are relevant to you right then. The film is like a sort of mine from which each viewer pulls out different aspects.
For example, there is a scene at a party, where people play some party game, and I was enthralled by the director's concept to use the characters more like in a kind of game and less like in a psychological constellation, and thus [the whole movie] works more like a kind of laboratory set-up, while [it] is still highly emotional. Antonioni is indeed a big hero. You have to remember that many of his directing colleagues in Italy hated him for that. Orson Welles always spoke of the 'sin of Antonioni', which consists of the fact that you treat your characters in such a cold-hearted way – as Welles put it. You know, [Michael] Haneke talks about the 'glaciation of emotions', which Antonioni detected already in the sixties and also linked it very closely to the industrial age. From this viewpoint I find him very visionary.
What is certain is that at the time he made La notte, he was a kind of 'navel' of European film culture, and he certainly had already understood a lot of things with foresight at the time. And when you watch the movie today, it still appears very modern with its camera perspectives and visual ideas, and not antiquated in terms of imagery.
In comparison with Antonioni's other films, I even find La notte a bit conciliatory, because it allows at least some kind of catharsis. There is a lot of beauty in the film – aesthetic beauty like the music… and these moods you can revel in, which is not the case with Antonioni's other movies. L'Avventura, for example, is a big nature movie among other aspects, but it actually ends in great frustration – the main character disappears and then doesn't show up anymore… and the movie ends with an image of a wall. As a viewer, you also feel as if you have been driven against the wall.
What remains a mystery to me today, however, is why Antonioni's late films enjoy so little recognition. Many of them are not even available. The Mystery of Oberwald (Il mistero di Oberwald), for example, is a technically very experimental Jean Cocteau adaptation, shot on video. It's not available. And it's also odd why with his later films Antonioni has been so placed into an 'old boys corner'.
Ralf Stadler is a filmmaker and managing director of the "Randfilmfest" in Kassel. His film Zigarettenpause (Cigarette Break), a Daniil Charms adaptation, was awarded the German Short Film Award 2006.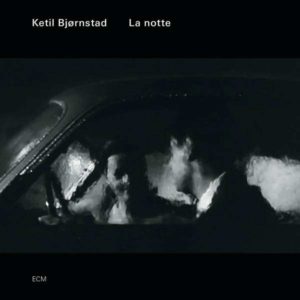 La notte is for me a very wonderful gift. It was a kind of collaboration with Manfred Eicher. For so many years he had been using some of my music for the different settings for the Jean-Luc Godard and Anne-Marie Miéville [films]. And then I was trying to make music inspired by film. I had the early films by Antonioni in my mind and asked Manfred if that could be something for him, and he was very positive. Then I got a chance to make a big concert at the Molde Jazz Festival that year. And I like live recordings. I was very happy that Manfred opened for that possibility. One never knows — it can be awful, but if you succeed, it can also have a special energy. So we had the Rainbow Studio coming up to deconstruct the material and find a CD format for it; of course [we could not include] the whole concert, but more than half of it. It was not much we took away, perhaps one fourth [of it].
How did you choose the ensemble of rather unique musicians?
That was a collaboration with Manfred. Manfred is very strong in finding solutions and new musicians. I had been working with Andy Sheppard before. We were on tour all over Great Britain in 2006, so I knew him quite well. Anja Lechner was a fantastic experience; I had not been working with her before. Arild Andersen is the 'safe man' in my life, a bass player I have been working a lot with. With Marilyn [Mazur] I made a trio recording, together with Palle Danielsson, Floating. And with Eivind Aarset I had also been working with for many years. We never had that ensemble collected together again. 
So why Antonioni, why La notte?
Antonioni is one of the most important for me. I saw everything he did in the sixties and I have had him as a favourite for many years. It [could have been] many other choices, but I am still very happy that we ended up with Antonioni.
Where can we find Antonioni or La notte in the music?
It is a kind of feeling. I think it has to do with the rhythm of his films, [among other things]. He has a slow intensity. I was thinking about that — that it's not always about tempo to be intense. [It was about] finding a language for the music that is more or less inspired by it. One shouldn't overload the inspiration either, one should just put Antonioni as a frame for something. I have some different scenes in my head. I also had that when I wrote the music. I had something from La notte and from other films that inspired me for the compositions.
If one thinks about music that is inspired by old films, one usually associates rather slow or nostalgic music, instead of this kind of energetic jazz music.
I haven't been very conscious about that… But what is interesting is that my grandmother was a silent movie piano player in a small city in Norway in the twenties and thirties. At that time, the music was often very stormy, because those weren't high-quality movies, but [rather very simple] dramatic films. And then they picked up different music for that. I [made the music for] a silent movie by Victor Sjöström, Terje Vigen (1917). I played it in many places around the world. And that is quite stormy music, because so much is happening. I am thinking that some of Antonioni's scenes are very intense. But I hope there are also some moments of contemplation and silence on the album.