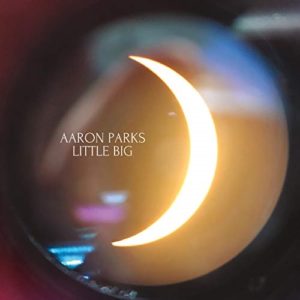 I didn't know Aaron Parks had a new release until I accidentally stumbled across it a few days ago on Tidal and was happily surprised to see the title, Little Big, which happens to be the title of one of my very favorite novels. Apparently it's one of Parks' favorites as well.
Little Big the novel was an allegory of life, a fantasy about a peculiar family, an exploration of relationships and karma, and a blend of mysticism and magic set in a sort of parallel Macondo deep in the heart of New England. Little Big was a fairy tale for adults, populated with visions of an alternate reality as filled with mysteries, paradoxes, and conflicts between light and dark as the world we inhabit.
Little Big the album (Ropeadope,) takes us on a journey that is at first deceptively simple, but a closer listen reveals deep roots under the soil. It grooves, lopes, and meanders along with its own logic, at times sounding like a Bruce Hornsby tune without words, at other times like an early Jarrett solo piano piece, at various times melding and synthesizing influences as disparate as Phillip Glass and Stephen Foster, Return to Forever and Procol Harum, an indie soundtrack vibe a la Sufjan Stevens, occasional forays into '70s fusion, and even hints of EDM. Every so often, Parks ratchets up the energy into a near frenzy of good old-fashioned rock 'n roll. Yet regardless of the detours it takes, the sound of Little Big is decidedly Parks', and always remains distinctively American.
Clocking in at about 80 minutes, it's a long ride. I admit that at first I didn't quite get the moderate tempos, stacked up one after the other after the burning opening track, but then I let the music wash over me and began to settle in for the trip.
Parks is a sure-footed conjurer of unique sonic textures. He needs far less notes than most to evoke these tonal hanging worlds, and the band seems to fully understand their job: Like Parks', it isn't to grandstand or show off their chops. Rather they are all entirely in service to the music and the particular spaces and stories Parks is invoking. Indeed, in a way, this music is entirely focused on storytelling; Parks and his band are all about the telling of the tale.
Some of compositions are long-form, while some consist of not much more than a repeated hypnotic ostinato. Odd time signatures appear as do phrases that require an extra measure or two, but these devices are never self conscious or employed to merely be clever; clearly these are the kinds of things that came unforced and organically, right out of the fingers and the heart. They have that fresh, newfound sense of joy that only seems to flow from genuine, improvised discoveries.
This is a very well recorded album of a simpatico band playing beautiful, accessible music. Go ahead- turn it up; Much of it is meant to be played loud. It's not intellectual music per se, yet it certainly is intelligent. It is far less a jazz album than Parks' fine ECM trio album, Find the Way, and more aligned with his first Bluenote release, Invisible Cinema. Parks is mining his roots here, while keeping his head high in the sky.