Über Facing You und Solo-Concerts Bremen Lausanne ist seit ihrem Erscheinen wahrlich viel gesagt und geschrieben worden, jedoch keine so denkwürdigen Geschichten, wie jene vom Köln Concert, das um ein Haar nicht stattgefunden hätte. Die wohl authentischste Version dieser *merckwürdigen* Anekdote kann man hier nachlesen.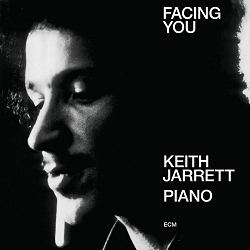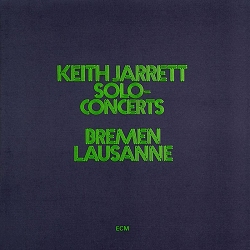 Ich schreibe dieses Double Take aus zwei Gründen. Es gibt kaum ein Solokonzert von Keith Jarrett, das mich so bewegt, wie Lausanne Part II. Es gibt eine persönliche Geschichte, in der diese Aufnahmen eine gewisse Rolle spielen. Sie kann mit der, welche sich um das Köln Concert rankt, nicht konkurrieren. Beide Stories gibt es freilich nur deshalb, weil um das Jahr 1971 Manfred Eicher und Keith Jarrett zusammenfanden. 1970 war das Jahr, in dem ich Keith Jarrett für mich entdeckt habe, nicht aufgrund einer Empfehlung in einem Magazin oder einer Rundfunksendung, sondern eher zufällig – Details zu schildern, unterlasse ich. Nur so viel: das Charles-Lloyd-Quartet war das Initium.

Das ist ein Ausschnitt aus der Cover-Rückseite meiner ersten ECM Schallplatte. Die letzte Zeile ist bemerkenswert. Die Postadresse des Labels war identisch mit der Anschrift von Elektro Egger, München-Pasing Gleichmannstraße 10, wo es die legendäre Abteilung 'jazz by post' gab. Vielleicht ist manchem Leser das Label JAPO bekannt. Es ist leicht heraus zu finden, wie der Name zu deuten ist.
Bei dieser Adresse gab es Jazz nicht nur 'by post'. Im obersten Stockwerk befand sich eine Schallplatten-Abteilung mit dem besten Jazz-Sortiment Deutschlands. Ich habe dort Nachmittage verbracht am Plattenspieler, umgeben von Regalen mit LPs. Man munkelt, dass mehrere 10.000 Vinyls vorrätig lagerten. Dort habe ich fast alle meine Charles-Lloyd-Scheiben gehört und gekauft, bevor ich durch die Lampenabteilung und an Waschmaschinen und Haartrocknern vorbei schlendernd den Laden von Elektro Egger verließ.
Jarrett war da noch weit weg, erreichbar nur auf Schallplatten, bald sogar auf solchen der Miles-Davis-Group. Im Oktober 1971 gastierte das Miles-Davis-Septet mit Keith Jarrett in München im Kongress-Saal des Deutschen Museums, mit dem Musiker, der mich damals wie kein anderer faszinierte – von den Beatles und Miles Davis einmal abgesehen. Es war das erste Mal, dass ich Jarrett live hörte.
Kurz darauf, im März 1972, kam Facing You zur Welt, im Hause ECM, in der GLEICHMANNSTRASSE 10. Es war ein wunderbarer Schock für mich. Diese Liaison! Unglaublich! Das Album wurde am 10. November 1971 in Oslo aufgenommen, einen Tag nach der Performance des Miles-Davis-Septet.
Piano Solo Alben waren damals im Jazz eher eine Rarität. Möglicherweise setzte ECM nachhaltige Impulse. Facing You und Chick Coreas Piano Improvisations Vol.2 erschienen am gleichen Tag.
In Front heißt das erste Stück. Ich habe seinerzeit die Titel nicht hinterfragt, ich habe sie einfach hingenommen. Jetzt, im Rückblick, hat in front, vorneweg, etwas Vorausschauendes. Es ist in nuce das erste Solo Concert Jarretts, ein Konzentrat von 10 Minuten Dauer, von einem Thema ausgehend frei vagabundierend und zu ihm zurück findend, und dennoch formvollendet. Starbright habe ich am 12. Juni 1972 im ARRI Kino München wiedergehört, als dort das Trio mit Haden und Motian auftrat. Es war die zweite Livebegegnung mit Jarrett.
Die dritte Begegnung ereignete sich am 27. März 1973. Jarrett spielte solo in Nürnberg im Saal des Heilig Geist Spitals. Den Flügel kannte ich von Proben her, die mein Freund Wolfgang Kelber für die Jugendgottesdienste in der Meistersingerhalle dort abhielt. Es war kein besonders gutes Instrument. Das Konzert – Eintrittspreis 2 DM – besuchten mehrere Oberstufenschüler des Kronacher Gymnasiums für die ich Tickets besorgt hatte. Im Musikunterricht hatten wir Facing You gehört und besprochen, auch die fantastischen Stücke des Charles-Lloyd-Quartetts. Jarrett spielte einen Set von fast einer Stunde Dauer, kam nach langem Beifall zurück auf das Podium mit einem Glas Wasser (Medizin?) in der Hand und erklärte, dass er leicht erkrankt und das Recital beendet sei. Eine Woche vorher, am 20. März 1973, spielte Jarrett das wunderbare Konzert in Lausanne.
Im Sommer 1973 hielt ich mich für ein paar Tage in München auf. jazz by post in der GLEICHMANNSTRASSE 10 besuchte ich natürlich. Ich hatte ein paar LPs ausgesucht und beim Bezahlen stellte ich 2 Fragen.
"Tät der Jarrett auch in der Provinz auftreten?"
"Scho, wenn ses zoin."
"Hat ECM was mit dem Elektro Egger zu tun? Is ja dieselbe Adresse."
"Net so recht. Die ham ihr Büro hindn im Rückgebäude. Schaugns halt amol dort vorbei."
Erst Jahre später habe ich erfahren, dass Manfred Eicher bei der Gründung des Labels ECM von Karl Egger unterstützt wurde. Ins Rückgebäude ging ich auf der Stelle. Im Büro war es sympathisch unaufgeräumt, auf einem Plattenspieler drehte sich eine Scheibe mit einem weißen unbedruckten Etikett. Ich hörte nicht genau hin, denn ich schwärmte von Jarretts Musik, erzählte, wie ich ihn für mich entdeckt habe und wiederholte meine Frage "tät der auch in der Provinz spielen?". Die beiden freundlichen jungen Männer erklärten mir, ECM sei zwar keine Konzertagentur, aber sie vermitteln ihre Künstler gerne an Clubs und sonstige interessierte Veranstalter, ich möge einfach meine Adresse hinterlassen. Jetzt erst hörte ich genauer auf die Klänge aus den Lautsprechern. Kann es sein, dass ich Keith Jarrett zuhöre? So kam es mir vor. Ich wollte wissen, was da aufliegt. Es sei die Anpressung von Solokonzerten, gespielt in Bremen und Lausanne. Im Herbst würden sie in einer LP-Box erscheinen.
Von nun an bekam ich Post von ECM. Im August 1974 holte ich dieses Schreiben aus dem Briefkasten: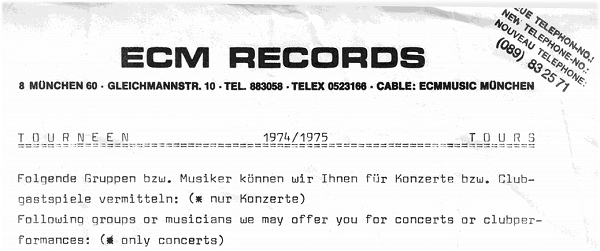 Man muss die Grafik anklicken, um zu sehen, was ECM 1974/1975 im Angebot hatte. Am 17. Januar 1975 kam es zur nächsten Begegnung. Es war die näheste.
Ich liebe vor allem sein Solospiel. Wenn ich Solo spiele, dann kann ich manchmal ein solches Level an Inspiration 5 Minuten halten, doch Keith Jarrett kann so etwas 40 Minuten lang tun. Er zapft da immer etwas an, etwas Göttliches, etwas, das man nicht in Worte fassen kann. Er erstaunt mich.

Brad Mehldau
Ja so ist es. Gemeint ist das freie Solospiel, nicht Improvisation nach einem vorgebenen Song, der eine Melodie, chord progressions, und seine Form als Richtlinie bereit stellt. Jarretts Solokonzerte der 70er Jahre waren riskante Wege ins Ungewisse, ohne Umkehr, Revision ausgeschlossen. Beethoven hatte Skizzenbücher, die den oft langen Weg bis zur endgültigen Gestalt eines Themas verraten. Lausanne Part II ist gewachsen wie eine unberührte Landschaft, voller Gegensätze, vollendet, unfassbar. Kann es sein, dass auch Jarrett ins Staunen geriet über diesen *einmaligen* Vorgang?
I believe in Music to the extent that it was here before we were. ln that sense, perhaps l'm not a musician. [..] I don't believe that I can create, but that I can be a channel for the Creative. I do believe in the Creator, and so in reality this is His album through me to you, with as little in between as possible on this media-conscious earth.

Keith Jarrett (aus den liner notes zu ECM 1035/37)
Wer will, kann Lausanne Part II *mehrmalig* hören. Das tat ich und werde es noch oft tun. Nach und nach hat sich mir offenbart, wie konsistent und formvollendet sein Spiel ist. Kaum vorstellbar, dass Jarrett, als er dem Wirbel seiner Hände und Füße zuhörte, dies alles bewusst war. Es muss ein besonderes Flow-Erlebnis gewesen sein.