War dieser Kriminalroman ein klassischer "Pageturner" für dich?
Das kann man sagen, es war ein ziemlich spannendes, aber auch wirklich interessantes Buch.

Wenn du dir eine sehr gute Verfilmung des Romans vorstellst, wer wäre die Idealbesetzung für Regie, Hauptrolle, und Filmmusik (du kannst Lebende und Verstorbene benennen, es ist ja eh imaginär)?
Regie: Tony Richardson // Hauptrolle für Philip Nore: Patrick McGoohan // Filmmusik: Franco Ambrosetti: LP Movies Too, Titel: Thema from Peter Gunn / Kenny Barron: LP Landscape, Titel: Hush-A-Bye und Ringo Oiwake / Ensemble Economique: Interval Signals Ausschnitte / Pan American: Cloud Room Ausschnitte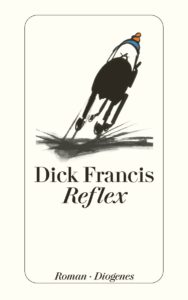 Was ist der ideale Ort zum Lesen? Ist es das klassische "book for the beach", oder gibt es für dich eine idealere Umgebung?
Kein klassisches "book for the beach", eher ein Buch für die Kneipe in Hörnum in der Nähe der Dünen, in einer Ecke sitzend, Blick aufs Meer und auf Amrum, Krug Weißwein, ansonsten allein, und man sollte mich beim Lesen in Ruhe lassen.
Dick Francis hatte ja die Eigenart, ein bestimmtes Sachgebiet in seine Kriminalromane einzuarbeiten. Wie ist ihm die Umsetzumg in "Reflex" und "Verrechnet" gelungen?
Das Sachgebiet Pferderennsport interessiert mich eigentlich nicht die Bohne, aber Dick Francis bringt den Stoff so interessant an den Leser, dass er mein Interesse dafür absolut geweckt hat, ich habe viel darüber gelernt. Das zweite Sachgebiet: Fotografie und Entwicklung von Fotos, Arbeit im Fotolabor hat mich schon allein deshalb interessiert, weil ich früher selber ein Fotolabor hatte und sehr gerne Fotos entwickelt habe.
Wenn du einen Themenabend zu dem Roman veranstalten würdest, was würde auf der Speise- und Getränkekarte stehen, und welche Hintergrundmusik würde zur Begrüssung der Gäste laufen?
Ein Jockey darf nicht viel auf die Waage bringen, deshalb auch nicht viel essen. Aber okay, nach dem Rennen gibt es schon etwas Ordentliches, auf der Speisekarte des Themenabends steht zunächst eine Vorsuppe: Klare Gemüsesuppe mit Eierstich; als Hauptgericht: Pasta mit einer Lachssoße (natürlich vom schottischen Lachs), dazu ein guter Weißwein; Nachtisch: Creme Brulee.
Hintergrundmusik: Brian Eno: Music for Installations:  I Dormienti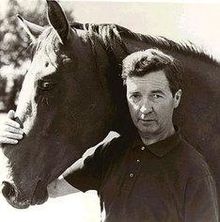 Wenn ein "special guest" an diesem Dick Francis-Abend einen Vortrag halten würde, der mit dem Autor und / oder dem Roman zu tun hätte, wie könnte man ihn idealerweise betiteln?

Thema des Vortrags des "Special Guest": die Ein-Wort-Titel der Kriminalromane von Dick Francis und was sie dem Leser des jeweiligen Romans verraten: Todsicher, Rufmord, Doping, Nervensache, Blindflug, Schnappschuss, Hilflos, Peitsche, Rat Race, Knochenbruch, Gefilmt, Schlittenfahrt, Zuschlag, Versteck, Gefälscht, Risiko, Galopp, Handicap, Reflex, Fehlstart, Banker, Gefahr, Weinprobe, Ausgestochen, Festgenagelt, Mammon, Gegenzug, Unbestechlich, Außenseite, Comeback, Lunte, Zügellos, Favorit, Verrechnet, Rivalen, Hurrikan, Scherben, Gambling, Abgebrüht, Schikanen, Verwettet, Kreuzfeuer.
Dick Francis gehörte ja zu einer älteren Generation von Kriminalschriftstellern. Wie würdest du das Buch zwischen den Polen "Zeitlos" und "Altmodisch" einordnen?
Reflex erschien 1980 in England, 1982 im Ullstein-Verlag, 1991 im Diogenes-Verlag, es wird auch in Zukunft nachgedruckt werden, es ist ein zeitloser Roman.
Was wird der nächste Roman sein, den du liest? Erzähl ein wenig von dem Buch!
Ich werde mir wahrscheinlich ein Buch vornehmen, das mich schon längere Zeit anbrüllt: "Lies mich endlich!". Es wurde von Georges Perec geschrieben und heißt Das Leben – Gebrauchsanweisung. Das Buch erschien 1978 in Frankreich und wurde 1982 von Eugen Helmlè ins Deutsche übersetzt. Das wird ein größeres Leseprojekt sein, ich werde darüber sich auf manafonistas.de erzählen.