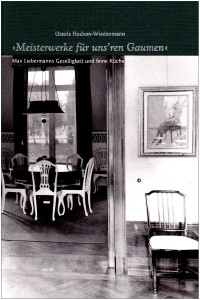 Slow food, Fast food, listen to "Food".
Or read a book and then cook:

SUPPE JULIE ELIAS

Eine gebundene braune Wildsuppe, kräftig gehalten, wird beim Passieren durch das Sieb, mit abgeriebene Orangenschalen, etwas Colmans Senf, Orangensaft und Johannisbeergelee gewürzt. Vor dem Servieren wird die Suppe mit etwas Moselwein und Curacao abgeschmeckt und im Teller mit rohen Orangenfilets heiß angerichtet. Die Suppe soll nicht zu süß und nicht zu scharf sein, sondern angenehm pikant schmecken.
Julie Elias schrieb dieses Rezept in ihr Kochbuch, das sie dem Maler Max Lieberman widmete. Julie war Kulturjournalistin und Salonière in den 20 er Jahren in Berlin und eine enge Freundin von Max Liebermann. Er bedankte sich brieflich bei ihr für das ihm gewidmete Buch: " … an einer guten Mahlzeit habe ich große Freude. Kunst und Natur sei auch im Essen eines nur: die matiére première muss gut sein, aber nur die Kunst kann aus ihr das Meisterwerk für unsren Gaumen machen."
Wer mal draußen in Wannsee in der Max Liebermann Villa war, weiss, dass der Maler einen großen Gemüsegarten hatte, in dem er hauptsächlich Kartoffeln und Kohl anpflanzte. Nun, es waren Kriegszeiten.
In diesem ästhetisch schön gestalteten Buch stehen raffiniert einfache Rezepte, die durch Einfallsreichtum und Fantasie zu kulinarischen Geschmacksschätzchen werden.
Ich werde eine Nachspeise daraus bereiten, von der es heißt, sie sei "Musik für den Gaumen."

Herausgegeben hat dieses Buch Meisterwerke für uns'ren Gaumen – Max Liebermanns Geselligkeit und feine Küche: Ursula Hudson-Wiedenmann, im vacat Verlag.