Archiv: Februar 2015
TV und Psychoanalyse (1)
Der Psychiater sieht so fertig aus, als hätte er all das persönlich erlebt, was ihm seine Patienten tagaus tagein erzählen. Dann könnte er sich selbst von der Schweigepflicht befreien und über sich mit der Familie, einer alten Schulfreundin, städtischen Ämtern oder natürlich der Polizei tratschen, wie das all die TV-Kollegen ebenfalls tun. Vielleicht sieht der Schauspieler Ulrich Noethen so fertig aus, weil es anstrengend ist, so viele Klischees zu spielen. Nach 5 Minuten ist bereits klar, dass der Psychiater Affären mit Patientinnen hat. Wozu auch sonst steht bei jedem Psychoanalytiker eine Couch im Behandlungszimmer? Weil sie bequemer ist als das Rollwägelchen des Automechanikers natürlich. Automechaniker liegen im TV immer, wenn man sie aufsucht, auf einem Rollwägelchen unter einem Auto, und erreichen so nie den verführerischen Ruf des Psychoanalytikers mit seiner Couch. Für Männer ist sie, sofern der Therapeut männlich ist, eher bedrohlich, und so sitzt der Kommissar blitzschnell im Sessel des Psychiaters und dieser gezwungenermaßen auf der Couch. Weiterer Rollentausch gelingt dem Polizisten nicht, aber der Wunsch einer Gerechtigkeit zwischen Therapeut und Patient ist groß: "Das ist, was mich an euch Psychofritzen so ankotzt. Ihr erwartet, dass die ganze Welt vor euch die Hosen runterläßt, aber euern nackten Arsch hat noch keiner gesehen." "Neben der Spur" ist als Reihe geplant. "TV und Psychoanalyse" auch.
Wieder mal hat Paul Thomas Anderson mit dem Radiohead-Mann Johnny Greenwood gearbeitet Auf THERE WILL BE BLOOD ging es recht perkussiv zu, bei THE MASTER extrem zurückgenommen, minimal. Nun gesellen sich einige warmtönende Streicherarrangements ins turbulente Geschehen, und bereichern die Blickwinkel, statt bloss das Sichtbare dem Ohr im Verhältnis 1:1 schmackhaft zu machen. Die Musik sollte immer eine zweite Geschichte erzählen (oder andere, nicht so offen zu Tage tretende Emotionen, freilegen).
Das gelingt Greenwood richtig gut, wobei auch die Fremdkompositionen trefflich ausgewählt sind. Was kann auch schon schiefgehen, wenn Can und Neil Young in einem Kinofilm auftauchen, der vom Ausgangsstoff her in Kalifornien anno 1970 angesiedelt ist. Cans "Vitamin C" ist ja ein Klassiker, und sicher nicht zum ersten Mal Soundtrackstoff geworden, Neil Youngs "Journey Through The Past" ist da schon etwas unbekannter.
Johnny Greenwoods orchestrale Beiträge tauchen leitmotivartig immer wieder mal auf und spielen mit "old Hollywood styles". Überraschung: ein unbekanntes Radiohead-Stück ist ebenfalls im Spiel, es wird von der Band Supergrass dargeboten, und aus dem Off hört man (im Original) die Stimme von Joanna Newsom.
Kommt ein Pferd in einen Saloon.
Tucson, Arizona, 1870.
Sagt das Pferd:
– Ein Bier bitte!
Sagt der Mann hinter der Bar:
– Gerne, aber eine Frage.
– Okay.
– Wer sind Sie wirklich?
Ariel was pregnant, nobody knows who made her pregnant.
What´s hot:
Karl is homosexual, kills himself.
What´s hot?
The mother left the family.
What´s hot:
Gus dates a cowgirl.


To me little Jake is further on the subject of my interest. He likes to read comics "Jake picked up one of the HOT STUFF comic books which was about a little devil whose temper was always getting him into trouble." HOT STUFF is a Harvey comic and was created by Warren Kremer 1957. A little baby disguised as a red devil with white diaper is able to throw flames against the evil.
I remember me reading a little bit later LURCHI. I went with my mother quite often into a shoe shop. She loved shoes. There I was sitting reading the adventure of LURCHI, the Feuersalamander. When I get bored I stopped reading this comicbook and went to the X-ray machine where I could see my toes. I don't know how often I did that, probably my both feet contain a lot of radium. I was very pleased when I discovered in the carnival this year a wagon which showed a lot of LURCHIs. Really don't know why.


What´s hot here?
I read for the third time Gustave Flaubert: November.
What´s hot here:
Steely Dan – "Do It Again".


von Lajla Nizinski

–

"I´m afraid sometimes."

"Of what?"

"That Mom won´t come back. I mean she might come home but she won´t come back."
Ruth does come back, Ariel´s friend Karl dies in a car accident, the father of Ariel´s child is identified, bully and first suspect Morris Engdahl dies in accident at work and in the end the murder mystery is solved. But after "all the dying that summer" it is no longer important who the culprit is. The epilogue connects the deaths of Frank´s childhood with the present, where Frank picks up his old and frail father on Memorial Day. They drive to the cementry of New Bremen where they meet Frank´s brother Jake who had lost his stammering after saying the "ordinary grace" at Ariel´s funeral feast. Together they visit the graves of all those who died in the summer of 1961 and of other family members including that of Ruth who died at 60 of breast cancer. The scene is perfect for reflecting what life is all about. And Ordinary Grace´s low key style leaves plenty of room for doing just that.
"It seems to me when you look back at a life, yours or another´s, what you see is a path that weaves into and out of deep shadow. So much is lost. What we use to construct the past is what has remained in the open, a hodgepodge of fleeting glimpses."

von Thomas Schirmer

–


"Die bewährte rororo-Thriller-5.Seite-Personenliste wird zunächst mit der Vorstellung einiger Nebenpersonen fortgesetzt, die letzte Woche verschoben werden musste. Es folgt ein update der Befindlichkeit einiger Hauptpersonen. Die Listen ersetzen nicht die Lektüre des Buches. Oder doch?


Die Nebenpersonen

Emil
ist ein blinder Komponist mit einer geheimnisvollen Muse.
Lise
hängt sehr an ihrem blinden Bruder Emil und ist überhaupt etwas seltsam: menschenscheu, aufbrausend.
Morris Engdahl
hat ein Motiv für eine Untat: die Rache des Gekränkten.
Judith Kleinschmidt
ist Zuschauerin, als Frank ihren nichtschwimmenden Lover Morris Engdahl in den Baggersee schmeißt, und gibt ihm trotzdem ein Alibi.
Danny o'Keefe
ist einer der Jungs um Frank und Jake: "goofing around".
Warren Redstone
ist Indianer, Danny o'Keefes Großonkel und verdächtig.


Die Hauptpersonen 2.0

Frank
ist wissbegierig, gerechtigkeitsliebend und wahrheitssuchend; seine Unschuld verliert er plaudernd.
Jake
hat ein ungutes Gefühl und liegt damit richtig: seine und Franks Schwester Ariel ist tot.
Ariel, der Engel,
war schwanger, aber nicht von ihrem Freund Karl.
Karl
fährt seinen Triumph ungebremst gegen einen Baum.
Ruth
trauert um ihre Tochter und warnt ihren Mann, nie wieder in ihrer Gegenwart Gott zu erwähnen.
Nathan
schafft das keine 2 Minuten.
Gus
ist immer gefragt, wenn die Jungs nicht weiter wissen.
Ginger French, Freundin von Gus,
ist für Frank die schönste Frau aller Zeiten, mehr den ödipalen Konflikt lohnend als der Vater oder The Almighty.
Warren Redstone
trägt eine Kette bei sich, die Ariel gehörte, und ist weiterhin Indianer und verdächtig.
Cherry Cool Aid
ist keine weitere Verdächtige.

Vielleicht gibt es noch ein kleines weiteres update vor dem Showdown in 2 Wochen; aber eigentlich ist doch alles …?


von Wolfram Gekeler
2015 22 Feb
Fredrik Hossmann | Abgelegt unter: Blog | RSS 2.0 | TB | Tags: Africa, America, Autumn, Before The day breaks, beginnings, bo jo cie kochom, Cancer, Croix Rouge, depress, Dream, dreams, dying, ends, falling, Harold Budd, house, Kinshasa, letting go, Norway, Oslo, Red Cross, robin guthrie, Spain, wings | Kommentare geschlossen
Good morning world :-)
Tonight you slept well. Tonight you had dreams from both sides of the border.
In one you were in America. The land of the Brave and the free. You were in a house with many rooms, and in every room so many things, unused and dusty. And you went from room to room without your feet touching the floor. And you looked at the objects wondering what to take with you. But as you reached for them they dissolved into nothing. And then you woke up in your bed, your hands empty.
These days you seem more obsessed by the thoughts of giving away  and getting rid of than collecting more. Yet things come to you and cling to you, as if they have decided that you are a safe haven where they can rest peacefully for a while.
What is possessions? What is it that fills up the rooms in your house? What is it that is yours, and that you do not have to leave behind on that final day?
The final shirt has no pockets.
I am watching you, growing up between books somewhere in a big house in one of the nicer parts of Oslo. Not rich, but certainly not poor.
And you were traveled with.
You were a child in Africa. Your father: a surgeon for the Croix Rouge – Red Cross. That`s were he got ill. Growing up with fences surrounding the blocks were you lived. Outside: the black children. You: not allowed to play with them. Yet, there were trades. They made toys of wire and brought sugar cane to sell. You had money. Negotiations across the fence. Deals made. Goods and money exchanged places.
And later when you had to go back to Norway because your father was ill. Cancer of the colon. Normally easy to cure, if discovered in time. But my father had been to busy saving others, to have time for himself.
Then: going to Spain because the climate was not so harsh as in Norway. Bag of books in the backseat. Paper to draw on. Comics. Walking under the burning bright sun through the dried up landscape to El Vikingo to have a dip in the pool, and afterwards a vanilla icecream before returning the same way continuously creating ever-changing stories always centering around some deed to be done, like dragons to be killed or universes to be saved.
Then: back in Oslo, your father died.
It was august. You were eleven. You knew it was to happen. It was no surprise. The reason why you cried was not that he was dead, but that your mother had not told you in the morning when she sent you of to school. That you had spent that day as if nothing significant hat happened in your life. That you had been lied to, kept outside of what really happened.
And so on. You learned early that there were something as dying. And that things have an end.
But also that even endings end and then turns into new beginnings.
I watch us as we read what i have written so far. You observe that this is one possible version of the story, one remix among many remixes. Next time you tell the story it will be different again. Only liars who have rehearsed tells the story the same way every time. The more it changes, the more it stays the same.
You were never good at learning by heart. And you are not to start now. Either you perform what you have written or you let the words form in your mind as you speak – never knowing where you end up – or if you have an idea about your destination – not a clue about how you get there.
More than once you have been stuck in a corner – and you have had to wait for the paint to dry. But also: wings have grown as you were falling into the abyss, and you just learned to use them in time before you would have splashed into the ground and the story would have been over.
I sense you are getting restless.
Soon it is time for breakfast. I will let you free to eat. There is no hurry. There is always tomorrow. Or is it? Is every today turned into a yesterday one less tomorrow? Or is that number always changing? I remember that summer when I started a new habit: walking into the street without looking. I was worn out, tired from constantly being on the move.
Anyway, these days, I look both left and right before crossing any street, sometimes I even wait when there is no cars passing. It does not make me immortal, but should i ever die, let it not be because of a metal box with wheels.
I choose to end with a song from the other dream:
Nine to go.
*
Written with
Harold Budd and Robin Guthrie – Before the day breaks (2007)
on repeat in the background, every composition played 3 times before moving on.
Im Herbst letzten Jahres fand hier das große heitere (?) Parallellesen statt, es ging um den jüngsten Roman von Thomas Pynchon, Bleeding Edge. Anfangs beginnend zu fünft, hielten vier bis zum Schluss durch. Mit meiner Begeisterung für dieses Buch fühlte ich mich nicht immer, aber doch öfters, etwas allein, besonders am Schluss, als Thomas schrieb: "Stehe ich vor meinem Bücherregal, sehe ich dort auch einige Freunde, die mich schon jahrelang begleiten. Bleeding Edge ist kein Freund." Wolfram sah das Motiv, den Roman überhaupt bis zum Ende zu lesen, darin: "Man möchte nicht als Feigling dastehen, oder man möchte die anderen nicht mit dem dicken Buch allein lassen …" – Letzteres bestätigt Olaf, wenn er schreibt: "Ohne das Parallellesen hätte ich den Roman irgendwann zur Seite gelegt und nicht wieder angefangen, doch hat sich das Lesen gelohnt." Und ergänzt: "Anstrengend, mit Lichtblicken" würde dem Leseerlebnis nahe kommen.
Nun lese ich in der Süddeutschen-Zeitung ein Interview mit Paul Thomas Anderson, der sich mit seinem neuen Film Inherent Vice an die erste Verfilmung eines Pynchon-Romanes herangewagt hat. Was ihm bei der Lektüre der Romane von Thomas Pynchon wichtig ist, davon erzählt er seinem Interviewpartner Roland Huschke. Hier einige Kostproben: "Die Liste der Dinge, für die ich Pynchon liebe, ist lang. Seine generelle Art, die Welt zu sehen. Die Figuren, die Farben, die schlechten Witze. Einzelne Sätze fallen mir ein, die jedes Mal mein Herz schmelzen lassen … Pynchon bietet ein Meer an Inspiration, sodass jeder etwas anderes findet. Mir ist es zum Beispiel gleichgültig, wenn ich seinen Plots nicht folgen kann … Die narrative Plausibilität ist mir egal, so lange sich die Figuren emotional plausibel verhalten. Wenn es sich wahr anfühlt, kann ich unserem Helden in jede Ecke folgen … Sein Stil ist einzigartig, niemand kann so gut Informationen pflanzen, die an anderer Stelle Früchte tragen." Ja, das hat mich gefreut zu lesen, das kann ich alles unterschreiben. Nun bin ich natürlich auf den Film gespannt, Michael hat ihn ja in Paris zu schon gesehen.
P.S. Es gibt noch ganz andere wirklich gute Romane. Ein Autor, von dem ich auch wirklich jedes Buch lese: Stewart O´Nan, sein jüngster Roman Die Chance spielt nahe der Niagara Falls, Jan Reetze hat uns kürzlich ein Foto geschickt. Es geht um ein Ehepaar, das sich nach vielen Jahren zum Teil sehr schwieriger Zeiten, eine letzte Chance geben will, indem es sich an den Anfang der Ehe begibt, zu den Niagara Falls. Dieser Roman ist irgendwo auch das Buch zur Doku von Michael Moore: Kapitalismus – Eine Liebesgeschichte.
Die Musik am Ende der dritten Stunde der Radionacht "Klanghorizonte" "streikte", und ich musste die Restzeit leider mit anderem füllen als mit Stille, sonst wäre rasch  Musik der unpassendsten Art "angesprungen". Es war auch  keine andere nordische Musik mehr als Ersatz da, alles schon ausgeräumt. Mehr schlecht als recht füllte ich die verbeleibenden Sekunden mit  einem bruchstückhaften Abspann gespielter Titel. Und so war das Ende etwas schludrig, ins Leere hineingeplaudert, der Kraft der Pointe und der Schlussmusik beraubt. Shit happens. Es war aber auch Teil einer leichten Übermüdungsreaktion. So also war es in etwa geplant:
(Musik: Eivind Aarset, Hommage to Greene)
Schlussmoderation Die Nahaufnahme der Radionacht Klanghorizonte geht ihrem Ende zu – im Hintergrund erklingt "Homage to Greene" aus Eivind Aarsets CD "Dream Logic"- "Zehn Jahre Punktfestival, Kristiansand", ein Rückblick, der sich  nur kleine Geschichten, Gesampletes und Momente, die in der Erinnerung nachschwingen, leisten wollte. Im Kalenderblatt folgt ebenfalls eine Rückbesinnung: heute ist der 50. Todestag von Malcolm X.
((Moderator verabschiedet sich, kündigt die kommende Stunde mit Milestones an))
Statt eines Rück- oder Ausblickes, statt gelehrter Zusammenfassungen zum Thema Punkt, hier einfach noch ein Text von Thomas Tranströmer, aus dem Band Sämtliche Gedichte, erschienen in der Edition Akzente, bei Hanser:
"DER BAHNHOF. Ein Zug ist eingefahren. Hier steht Wagen an Wagen, doch keine Türen werden geöffnet, keiner steigt aus oder ein. gibt es überhaupt Türen? Drinnen wimmelt es von eingeschlossenen Menschen, die sich hin und her bewegen. Sie starren aus unverstellbaren Fenstern.Und draussen am Zug entlang geht ein Mann mit einem Hammer. Er schlägt auf die Räder, es scheppert leise. nur hier nicht! Hier schwillt der Klang unfassbar: ein Donnerschlag, ein Domglockenklang, ein Weltumseglerklang, der den ganzen Zug und die nassen Steine der Gegend anhebt. Alles singt. ihr werdet euch dran erinnern. Reist weiter!"
(Musik Eivind Aarset bis zum Beginn der "Malcolm X"- Erinnerung)
P.S. Und sonst? Ich glaube, es waren einige Entdeckungen zu machen, Vertrautes, Unbekanntes. Die Playlist ist hier: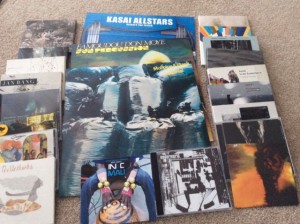 1) Second Moon of Winter: Ghandi Missed The Train, aus ONE FOR SORROW, TWO FOR JOY 2) Schneider / Kacirek: To Mixrophone, aus SHADOW DOCUMENTS 3) Sinikka Langeland: The Tree and The Sky, aus THE HALF-FINISHED HEAVEN  4) Fogh Depot: Mining, aus FOGH DEPOT 5) Kante: Keine Wegspur, nichts zu sehen, aus IN DER ZUCKERFABRIK 6) Jakob Bro: Copenhagen, aus GEFION 7) Riccardo Donoso: Vesperum, aus SARAVU EXU 8) John Carpenter: Night, aus JOHN CARPENTER'S LOST THEMES 9) Kasai All Stars: As they walked into the forest…, aus BEWARE THE FETISH 10) Polar Bear: First Track, aus: SAME AS YOU 11) Famadou Don Moye: Olosolo, aus SUN PERCUSSION VOLUME 1 12) Oregon: Canyon Song, aus DISTANT HILLS 13) Moebius & Planck: Nordöstliches Gefühl aus: MATERIAL 14) Aphex Twin: Diskrept 2, aus: Computer Controlled Acoustic Instruments 15) Moebius & Planck: Osmo-Fantor, aus: MATERIAL 16) Underworld: Dark & Long, aus: Dubnobasswithmyheadon 17) African Express Presents: Terry Riley's In C 18) Nils Christian Moe-Repstad: Legger kroppen… aus THEORY OF THE SINGULAR. 19) Punkt: Comfort, aus Crime Scenes 20) Jan Bang: Self Injury, aus …and Poppies from Kanadahar 21) Jan Bang: Lifeboat, aus NARRATIVE FROM THE SUBTROPICS 22) Erik Honore: Departed, aus HELIOGRAPHS 23) The Unthanks: Magpie, aus MOUNT THE AIR 24) Humcrush & Sidsel Endresen: ha! 9!, aus: HA! 25) Cyclobe: Brightness Falls From The Air, aus: The Visitors 26)  Jan Bang / Erik Honore: The God of Adverbs, aus: UNCOMMON DEITIES , und das "geplatzte", unhörbare  Finale mit Eivind Aarset: Homage to Greene, aus DREAM LOGIC.
2015 21 Feb
Fredrik Hossmann | Abgelegt unter: Blog | RSS 2.0 | TB | Tags: Blind flowers, Clive Wright, Crawling King Snake, dreams, fever, Harold Budd, hitchiking, letters, me, mirror, pains, penguins, reality, space, the saints of whispers, time, Timelessness, you | 1 Kommentar
Here I am, finally writing to myself. It seems it is about time. Harold Budd and Clive Wright is playing in my room. I love the titles, like
Blind flowers
They are poems in themselves. Just reading them makes me see the flowers still reaching towards the sun – even when it is night, even when it is dark. Like they can't let go of the warmth that is still shining inside them. They are not touched by the fact that the sun is not there. They are not made blind by reality.
I am watching  you, typing as quickly as you can as to follow the words, rather than you trying to make them follow you.
Sometimes you stop, like a dog sniffing for the next word, and then! Off you go – left –  right through the high summer grass of your imagination, when you where a child, and Crawlin' King Snake was already in you, not as a song, but as being. Crawlin' King Snake was in you way before you heard the song, the guitar, the voice. And when you heard it, you recognized it and made it yours once more.
You are amazed by how rich the music of Harold Budd is, why did it take so long to discover the rest of it? Yes, you heard The Pearl right away – an unusually beautiful record that you have played over and over in many differing circumstances…
Like when you wanted time to change, when you wanted the world to expand, when you wanted to imagine the hundred years or so between every heartbeat – or the slow motion waves of breathing crashing in on some faraway beach.
I write to you, because I have been watching over you these days. You had fever. You have been coughing. You had to sit up in bed to sleep. When you slept some short flashes the colors were strong and vivid. You dreamt new names for yourself. You dreamt of broken down buildings from your childhood, and of naked people walking around like it was normal to be naked, and clothes were something unthinkable. And you dreamt you became the leader of an organization called "The central commity for a meaningless life".
And as the temperatures came back to normalish and the flu gave way to your normal pains you were two places at the same time. You were inside your body, and outside your body at the same time watching yourself. And the image of being watched and of watching yourself remains in you.
So if there is two of us, which one is the real me? Or maybe even the real us? I never felt alone when there were no one else around. I need my solitude – the place where I meet with myself.
Harold Budd and Clive Wright – The Saints Of Whispers is in my room and he talks to me as i am writing to you. Sometime you heard those whispers – sometimes you ignored them, but sometimes you did what I suggested even if it seemed like crazy riddles and penguins hitchiking.
I whisper to you from a different point in time. Not from the same here and now that you live in. Whereas you are locked inside of time and space, I am locked outside.
So I can never be you, and you can never be me. Or so they say. But we both know better, don`t we?
Maybe i should talk to instead of writing to you, make a youtube video – then it is clearer that we are on each our side of the screen. That time ceases to exist on one side. That it continues freely on the other. That space is wherever we decide it should be.
I look at your hands. From the outside the pains are not visible. It is not that bad in the evening. You have nice hands, many have said – they feel good.
Maybe because when you touch someone else you do not want to hurt yourself, then you are not the only touching – you are aware of being touched as you touch. Harold Budd playing the music. The music playing Harold Budd.
In front of a mirror I often wonder: what does my mirror image do when I am not there. Does it disapear? Does it wait patiently for me to return? Does it sit down with a book? Spend time with a loved one that he has not yet introduced to me? Writing a letter to a different version of himself?
Slowly moving towards the end of this first letter.
It will be ten letters.
Ten letters to myself.
*
Written with
Harold Budd and Clive Wright – A Song For lost Blossoms (2009)
on repeat in the background, every composition played 3 times before moving on.
Befindet sich ein Planet auf seiner Flugbahn mutmaßlich Richtung Erde und möchten Sie mittels wissenschaftlich gesicherter Verfahren überprüfen, ob der Planet auf die Erde treffen oder an ihr vorbei sich bewegen wird, so empfiehlt es sich, ein Gerät nach der oben abgebildeten Art zu basteln und einzusetzen. Es ist ganz leicht und bereits Kinder im Grundschulalter sind dazu in der Lage. Sie brauchen nur eine gewisse Menge an Draht. Halten Sie Ihre Arme ausgestreckt in Richtung des Planeten. Formen Sie mittels des Drahtes den Umfang des Planeten, wie er Ihnen mit ausgestreckten Armen erscheint. Halten Sie nach einer angemessenen Zeit das geformte Drahtstück in der gleichen Haltung, also mit ausgestreckten Armen, Richtung des Planeten. Wenn der Planet nun größer ist als der von Ihnen mit Draht geformte Kreis, so nähert er sich der Erde an. Wurde er kleiner, bewegt er sich von der Erde weg. Beachten Sie aber, dass er sich dann auch wieder auf die Erde hin bewegen könnte.

Idee: Lars von Trier – Melancholia. Ein Film, dessen Schlussszene ich – und ich bin da sehr streng – tatsächlich als unvergesslich bezeichnen würde.