Die Musik am Ende der dritten Stunde der Radionacht "Klanghorizonte" "streikte", und ich musste die Restzeit leider mit anderem füllen als mit Stille, sonst wäre rasch  Musik der unpassendsten Art "angesprungen". Es war auch  keine andere nordische Musik mehr als Ersatz da, alles schon ausgeräumt. Mehr schlecht als recht füllte ich die verbeleibenden Sekunden mit  einem bruchstückhaften Abspann gespielter Titel. Und so war das Ende etwas schludrig, ins Leere hineingeplaudert, der Kraft der Pointe und der Schlussmusik beraubt. Shit happens. Es war aber auch Teil einer leichten Übermüdungsreaktion. So also war es in etwa geplant:
(Musik: Eivind Aarset, Hommage to Greene)
Schlussmoderation Die Nahaufnahme der Radionacht Klanghorizonte geht ihrem Ende zu – im Hintergrund erklingt "Homage to Greene" aus Eivind Aarsets CD "Dream Logic"- "Zehn Jahre Punktfestival, Kristiansand", ein Rückblick, der sich  nur kleine Geschichten, Gesampletes und Momente, die in der Erinnerung nachschwingen, leisten wollte. Im Kalenderblatt folgt ebenfalls eine Rückbesinnung: heute ist der 50. Todestag von Malcolm X.
((Moderator verabschiedet sich, kündigt die kommende Stunde mit Milestones an))
Statt eines Rück- oder Ausblickes, statt gelehrter Zusammenfassungen zum Thema Punkt, hier einfach noch ein Text von Thomas Tranströmer, aus dem Band Sämtliche Gedichte, erschienen in der Edition Akzente, bei Hanser:
"DER BAHNHOF. Ein Zug ist eingefahren. Hier steht Wagen an Wagen, doch keine Türen werden geöffnet, keiner steigt aus oder ein. gibt es überhaupt Türen? Drinnen wimmelt es von eingeschlossenen Menschen, die sich hin und her bewegen. Sie starren aus unverstellbaren Fenstern.Und draussen am Zug entlang geht ein Mann mit einem Hammer. Er schlägt auf die Räder, es scheppert leise. nur hier nicht! Hier schwillt der Klang unfassbar: ein Donnerschlag, ein Domglockenklang, ein Weltumseglerklang, der den ganzen Zug und die nassen Steine der Gegend anhebt. Alles singt. ihr werdet euch dran erinnern. Reist weiter!"
(Musik Eivind Aarset bis zum Beginn der "Malcolm X"- Erinnerung)
P.S. Und sonst? Ich glaube, es waren einige Entdeckungen zu machen, Vertrautes, Unbekanntes. Die Playlist ist hier: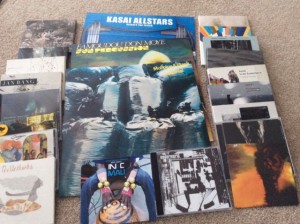 1) Second Moon of Winter: Ghandi Missed The Train, aus ONE FOR SORROW, TWO FOR JOY 2) Schneider / Kacirek: To Mixrophone, aus SHADOW DOCUMENTS 3) Sinikka Langeland: The Tree and The Sky, aus THE HALF-FINISHED HEAVEN  4) Fogh Depot: Mining, aus FOGH DEPOT 5) Kante: Keine Wegspur, nichts zu sehen, aus IN DER ZUCKERFABRIK 6) Jakob Bro: Copenhagen, aus GEFION 7) Riccardo Donoso: Vesperum, aus SARAVU EXU 8) John Carpenter: Night, aus JOHN CARPENTER'S LOST THEMES 9) Kasai All Stars: As they walked into the forest…, aus BEWARE THE FETISH 10) Polar Bear: First Track, aus: SAME AS YOU 11) Famadou Don Moye: Olosolo, aus SUN PERCUSSION VOLUME 1 12) Oregon: Canyon Song, aus DISTANT HILLS 13) Moebius & Planck: Nordöstliches Gefühl aus: MATERIAL 14) Aphex Twin: Diskrept 2, aus: Computer Controlled Acoustic Instruments 15) Moebius & Planck: Osmo-Fantor, aus: MATERIAL 16) Underworld: Dark & Long, aus: Dubnobasswithmyheadon 17) African Express Presents: Terry Riley's In C 18) Nils Christian Moe-Repstad: Legger kroppen… aus THEORY OF THE SINGULAR. 19) Punkt: Comfort, aus Crime Scenes 20) Jan Bang: Self Injury, aus …and Poppies from Kanadahar 21) Jan Bang: Lifeboat, aus NARRATIVE FROM THE SUBTROPICS 22) Erik Honore: Departed, aus HELIOGRAPHS 23) The Unthanks: Magpie, aus MOUNT THE AIR 24) Humcrush & Sidsel Endresen: ha! 9!, aus: HA! 25) Cyclobe: Brightness Falls From The Air, aus: The Visitors 26)  Jan Bang / Erik Honore: The God of Adverbs, aus: UNCOMMON DEITIES , und das "geplatzte", unhörbare  Finale mit Eivind Aarset: Homage to Greene, aus DREAM LOGIC.