Pale horses of Stian Westerhus, the dream riders of Terje Rypdal and Frisell's Big Sur zephyrs at Molde. Die blässlichen Pferde von Stian Westerhus, die Traumreiter von Terje Rypdal und die Frisellschen Zephyre aus dem Big Sur an zwei Abenden in Molde. Wenn das nichts ist! Weiter mit: Stian Westerhus, Oystein Moen und Erland Dahlen reiten durch die Nacht.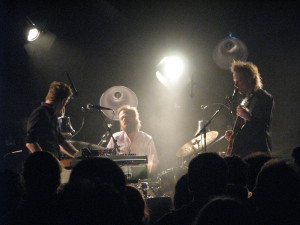 Westerhus hat dieses kräftige breite, zupackende Grinsen, das jedem Wetter trotzt. Voll da, ohne Bodenhaftung zu verlieren. Auch die anderen beiden sehen nicht aus, als ob sie ein bisschen schöne Musik machen. Wenn Westerhus auftritt, steigt die Spannung schon etliche Zeit vorher. Jeder weiss, dass es bei ihm immer zur Sache geht, dass man bei ihm selbst nicht ungeschoren davonkommt. Und: man weiss vorher nicht, was geschehen wird. Und: man ist jedesmal erstaunt über das, was geschehen ist. Und: ganz schön ergriffen jedes Mal. Bisher jedenfalls.
Bei ihm kein motziges oder freundliches Gehabe. Es ist, was es ist und es tut zur Sache. Aber auch dabei lässt er es nicht bewenden. Hinabsteigen oder hinaufsteigen kann man auf leerem Gedröhne nicht. Das wissen er, Moen und Dahlen, die sich u.a. von Puma und von Molvaærs Band kennen, nur allzu genau.
In Molde Premiere. Dienstagnacht, 24:00. Im selben Saal wie zuvor die Big Sur Zephyre. Nur jetzt sind (mit einem Knopfdruck) alle Sitze eingefahren. Stehen. Direkt vor der Bühne. Die ist mit reichlich grossen Reflektorlampen ausstaffiert. Sonnen, Nebensonnen oder blasse Monde? Lichtregie auf hohem Niveau ist auf norwegischen Podien und bei norwegischen Bands fester Bestandteil. Bis hin zur Tiefverdunklung.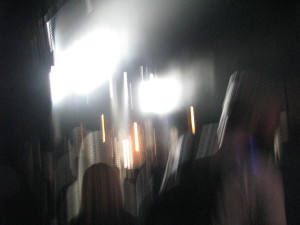 Es war natürlich anderer Tobak als tags zuvor bei Rypdal. Diese drei loteten jähe Tiefen aus, durchstoben wilde Schluchten, peitschten auf und vorwärts, steuerten auf Klimax hin. Die Songline im Griff und Auge. Dahlen hielt die tobenden Wetter in Gang und bei Laune, Moen und Westerhus spielten sich die Bälle zu, schossen hoch an die Grenze jenseits derer die Stimme durchbrach und in die Höhe stieg und Fluchten eröffnete. Einerseits der klassischer Gestus, andererseits heftige Wirbel und drängendes Getöse. Getöse, das sich immer wieder am Boden fing, sich einpendelte und zu neuem Anlauf sammelte.



Es ist ein Unterschied, ob man ein Konzert direkt an der Frontlinie erlebt oder in 'sicherem' Abstand sitzend. Man wird starker hineingezogen, erlebt wohl intensive und mischt mit. Heisst: die Unterscheidung zwischen dem, was tatsächlich passiert und dem, was man in die Vibrationen hineingibt, verschwimmt.








Trotz gigantischer Bassdrum kein Moment des Überdröhnens oder Zudröhnens, Unterwummerns. Richtig gut laut und für manchen unter zu dunstiger Decke, die die schärfere Konturen nicht durchlieβ. Es kommt in dieser Konstellation eben von drei Seiten und dieses war das erste Konzert. Klar, dass der Bereich der Dynamik sich erst zu öffnen beginnt. Wohl gleich auf hohem, oder wenn man vom Erlebniswert her schaut, auf tiefgehendem Niveau.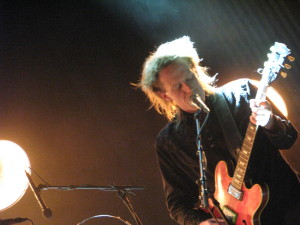 Nächster Anlauf bereits morgen und dann im Nidarsdom von Trondheim, der grössten Domkirche von Norwegen. Es ist nicht nur eine Lokalität, die einiges verspricht. Es zeigt auch, was den Norwegern ihre musikalischen Talente und der Ausdruck wert sind.



Pale Horses im Nidarsdom von Trondheim, Freitag, 2.August, 22:00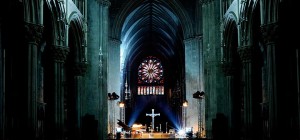 SJØBYGDA

Frage: wie stellt man so etwas auf die Beine? Nach dem Auftritt der Blasspferde treffe ich Eldbjørk Raknes, eine Vokalistin/Komponistin aus Trondheim. Sie erzählt, dass die drei sich bei ihr "im Wald" vorbereitet haben. Im Wald heisst: in der Wildnis nördlich von Trondheim, wo Raknes eine Künstlerresidenz und ein jährliches Kunst-Festival aufgebaut hat. An einem Wintertag in 2007 stiess sie auf die alte Schule Eggaodden und das Haus Bekkastoggo, die Jahrzehnte ausser Gebrauch waren, und war so begeistert, dass sie sich unversehens daran machte, daraus etwas für die Kunst entstehen zu lassen. 2009 waren das Künstlerhaus Sjøbygda und das erste Festival eine Realität.
Ein Auftragswerk für das Festival also: "Deler av konserten er et bestillingswerk skrevet til Sjøbygda Kunstnarhus", und nicht das einzige. Auch der zwei Tage später mit einer neuen Formation auftretende Schlagzeuger, Trommelslager, Paal Nilssen-Love hat sich dort vorbereiten können.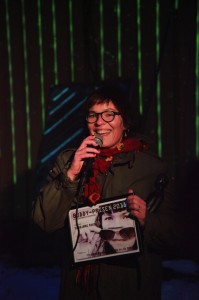 Alle Photos
© FoBo – Henning Bolte
ausser Dom Trondheim u. Eldbjørk Raknes