"There are degrees of amnesia, ways to forget
Ways to remember all the good that you've done
And if you can't get a witness remind yourselves
Nobody's just perfectly good all the time
And if you killed all those redskins long, long ago
Well, they'd all be dead now anyway, anyway
Don't let that ghost disconcert you – the lord will provide
A nice little headstone for the brave Cherokee"
(Robert Wyatt, The United States of Amnesia)


1

Wenn man weiss, und man weiss es, mit welch manipulativen Strategien die Brexit-Wahlen auf den Weg gebracht wurden, ähnlich wie die amerikanischen Wahlen, so dass ein ehemaliger Berater von Obama noch vor Wochen, auf die Chancen Trumps zu einer Wiederwahl angesprochen, fast resigniert anmerkte, durch die manipulative Propaganda a la Breitbart und Co. würden 30 % der Amerikaner in einer "alternativen Realität" leben, und politische Aufklärung gar nicht in ihren Wahrnehmungsbereich gelangen, dann kann man ähnlich nüchtern feststellen, wie korrupt weite Kreise der englischen Politik sein müssen, oder dumm, quer durch die Parteien (die Sozialdemokraten ein ähnlich schlechter Witz wie die "Genossen" in Deutschland, man führe sich nur vor Augen, welch dumpfbackigen Argumente die schlichte Frau Nahles gegen das "bedingungslose Grundeinkommen" ins Feld führte – Andrea, lies doch mal das Godesberger Programm, um dich deiner Vorfahren zu erinnern!), dann ist es beinah sonnenklar, dass der heute wieder massiv aufflammende Widerstand gegen den Brexit einmal mehr abgelehnt und runtergebrochen werden wird, mit den üblichen fadenscheinigen Argumenten. Und natürlich, glauben Sie, der unlängst von Trump ins Amt berufenen Justizminister würde mit dem ihm nun vorliegenden Bericht Muellers zur russischen Einflussnahme auf die Wahl ein Beben in Gang setzen, sicher nicht! Trump wird auch das in einen Triumph verwandeln, und der Graben im Land sich weiter vertiefen. Jetzt fehlt nur noch, dass Maxim Biller mal wieder was Tolles über den Mossad erzählt!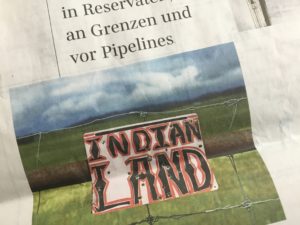 2

Mitch Epstein ist das Kind von Holocaust-Überlebenden. Jetzt begegnen mir einige seiner Bilder in der SZ, Orte, die er als "Akte des Widerstands" fotografiert. Seit zwei Jahre zieht er wieder durch die USA, nicht zum ersten Mal,  die "property rights" sind diesmal sein Thema. Bei Protesten von Indianern, die vermehrt vesuchen, Land zurückzukaufen, begegnet ihm bei einem Massenprotest die umgekehrt aufgehängte Sternenbanner-Flagge – sowas zählt als Straftat. Die Regierung Obama stoppte den Bau einer Pipeline durch heiliges Land der Sioux, Trump hob das Verbot auf. Neil Young schrieb einen Song dazu, die Gräben vertiefen sich mehr und mehr. Diese Dokumente könnten irgendwann auch als dauerhafte Verlustmeldungen in die Geschichte eingehen.


3

Da sass James Yorkston daheim in seinem kleinen Kaff nahe der schottischen Küste, und stellte fest, es seien die alten Leute auf dem Land, vor allen anderen gewesen, die  mit dem Brexit sie Zukunft des Landes verkauft hätten. Im  Vorfeld wurden landesweit tiefverwurzelte Ängste bedient, vor Europa, vor einem starken Deutschland. Ich denke nicht, man sollte nun alle Alteingesessenen in moralische Sippenhaft für Emgstirnigkeit nehmen. Im tiefsten Hinterland finden sich Freigeister, und etliche  von denen, die sich mal kurz nach guter alter "spendid isolation" sehnten, würden ihren Stimmzettel bei nöchsten Mal, das es  nicht geben wird, anders ankreuzen. Mir sind tief im schottischen Hochland wunderbare Menschen begegnet, als ich in den Tagen nach dem Tod von David Bowie (und nach einem kleinen Manfonistentreffen in Glasgow) an der sturmverwüsteten Küste gegenüber von den Orkney-Inseln mein meditatives "road movie" erlebte, und ich zuweilen einen Evergreen meiner Teenagerjahre im CD-Player auflegte, "Lord of the Rings" von Bo Hansson. Man groovt da ja nicht automatisch gutgelaunt durch die Lande – bei all dem Grau aus Regen, Wolken und Meer waren  hier und dort und im Nirgendwo schon kleine Stimmungsaufheller nötig, ich hätte ein Dutzend taugliche ECM-Coverfotos schiessen können, jeder Schnappschuss ein Treffer.  Vielleicht war es auch diese Reise über die Dörfer, die meine Begeisterung für die dreiteilige Serie von Darren Haymens "Thankful Villages" noch mehr entfachte, diese herrliche  Mixtur aus Feldaufnahmen, Gesprächspassagen, Songs und Instrumentals. Einem ähnlichen Ansatz folgt Brian Harnetty seit langem, wenn er auf Reisen und in Archiven die Spuren eines alten Amerika aufnimmt. "Rooted in sound archives and the communities connected to them, his body of work contends that the simple act of listening –– to people, places, and their pasts –– can transform our futures." Das ist ein Quantum Utopie, gewiss. Aber Brian Harnetty versteht es, als "sonic enthnographer", Historie lebendig werden zu lassen, nicht mit Weichzeichnung, vielmehr mit Genauigkeitsliebe und Erfindungsgabe. Aber lassen wir ihn selbst zu Wort kommen, ich habe sein am 26. April erscheinendes Werk gestern zum ersten Mal gehört, und bin begeistert. Und da "Shawnee, Ohio" eben auch ein kleines Taschen- und Bilderbuch ist, freue ich mich auf die Lektüre.
"Shawnee, Ohio is a sonic portrait – past and present, real and imagined––of a small Appalachian town in the United States. Shawnee emerged as a coal mining town in the 1870s. A century of decline forced businesses and people to leave, and today local residents fight to hold their buildings and community up amid a new "fracking" boom. Despite an uncertain future, these residents continue to work for environmental, economic, and cultural enrichment. Since 2010, I have been visiting and working in Shawnee. I have also been retracing the footsteps of my family, who immigrated there as Welsh coal miners in the nineteenth century. Shawnee, Ohio focuses on eleven portraits of local residents recounting their lives, work, friendships, and deeds. They talk and sing of mining, disasters, underground fires, social life, protest, and hope. They include women and men, are black and white, and are across generations and centuries. Working directly with community members, I use archival samples of their voices and weave them together with my own ensemble. Past and present are tangled together in a haunting world of music, stories, and images."