Lonesome fields. In diesem Jahr erzählte ich öfter, eingerahmt von Stories über die Solojahre von Robert Fripp, oder in kurzen Reminiszenzen, von der alten Bande von Furth i.W. – oder besser, von alten Banden, wir waren ja keine Verbrecher, wir waren mit Herz und Kopf bei der Sache, als "Pioniere" der Behandlung von Suchterkrankungen mit dem Reservoir der Kognitiven Verhaltenstherapie. Ralf, Uwe, Petra, Willi, Gudrun, Hansjörg, und all die andern… Im Mai traf sich der "harte Kern" wieder, im damals von uns so wahrgenommenen "Nirgendwo".
Lifers, actually. Damals fanden auch die Go-Betweens zu meiner Soutterainwohnung am Ausläufer des Hohen Bogens. Mit ihrer ersten Platte "Send Me A Lullaby". Aus der gar nicht so grossen Ferne nahm ich da wahr, wie Robert Forster, unweit von mir, und parallel zu meiner sehr viel kürzeren Love Story, seine grosse Liebe fand, Karin Bäumler (in Heidelberg und der Buchhandlung Dombrowsky in Regensburg). Mit Robert und Grant, und später auch Karin (Violine spielend an der Seite Roberts), flogen die Jahrzehnte vorüber. Das war und ist lebensbegleitende Musik. The deep stuff. Nach der plötzlichen Krebsdiagnose von Karin wurde das gemeinsame Spielen daheim Zuflucht, Ritual, Teil der Therapie. 
The deepest stuff. Bald  (im Frühjahr 23) tourt Robert Forster wieder durch die Lande, mit der neuen Platte im Gepäck. A family album. Und an dieser Stelle fehlt mir der zündende nächste Satz, zwei konkurrieren miteinander: in dem einen konnte ich mir Brian Eno als Teil des Hintergrundchors von "Tender Years" vorstellen, im anderen geht es um den seltsamen Gedanken, sich gut zu überlegen, von wem man sich das Herz brechen lässt (das ist natürlich Blödsinn, denn, ja, es war ein Traum, und ich war, once upon a time (in einem früheren Leben), in the Bavarian woods, one hour from Regensburg, genau dort, wo ich einzig und allein sein wollte, in ihr, in ihren Augen, in ihren Armen).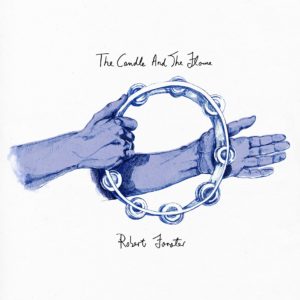 The Candle And The Flame. Ich rief gleich, als ich den Song hörte (und ich hörte ihn wieder und wieder), in meinen Ohren einer der ergreifendsten Liebeslieder der letzten und vorletzten Zeiten, bei Robert Forsters Hamburger Label an. "Ich brauche die Platte einfach vor Weihnachten." In der MOJO vom Februar 2023 (bereits erhältlich) findet sich ein exzellentes, langes Interview mit Robert Forster, und eine, uns Freunden der alten Band, fraglos berührende Bildergalerie. Und, ach, ach, dieser aus der Hüfte geschossene Satz aus einem anderen, neuen Lied von Mr. Forster: i don't do drugs, i do time. "Tender Years" ist ein "heartbreaker"! And it does time.
("The Candle And The Flame" erscheint am 3. Februar bei Tapete Records – ich spiele ziemlich sicher einen Song daraus in den Klanghorizonten, am 27. März, zwischen 21.05 und 22.00 Uhr, im Deutschlandfunk)