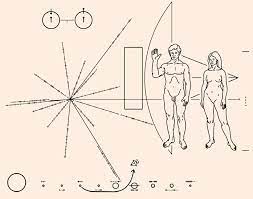 Kaum haben die Pioneer und Voyager Sonden den Kuiper-Gürtel durchbrochen und haben unser Sonnensystem verlassen, meldet das Universum den Empfang der vergoldeten Tafel und der bemerkenswerten Schallplatten mit den Best-Forever-Hits unseres Planeten als wahrhaftiges Weltkulturerbe und sendet uns die drei Kuriere der kosmischen Tankstelle durch ein Wurmloch auf diese Welt, um den nächsten Schritt musikalischer Evolution einzuleiten. Sie treten als heller Komet in Erscheinung und reiten auf dem Hyper-Dimensional Expansion Beam. Ihr gleissendes Licht dringt bis in die Unterwelt und lässt sogar die apokalyptischen Reiter erzittern.
Als The Comet is Coming schlagen Danalogue, Betamax und Shabaka ein neues Kapitel unklassifizierbarer Musik auf, das (nur vage andeutbar) zwischen afrofuturistischen Soundscapes, minimalistischem Hyperdrive und interstellarem Jazz unduliert, zwischen Musikalischem und Mystischem swingt und in den 11 Instrumentalstücken extrasolare Codes versteckt. Mit Synthesizer, Schlagzeug und Saxophon erweitern sie Ereignisräume, die vor ihnen in vergleichbarer Konsequenz wahrscheinlich nur Can je betreten haben. Stoisch, stakkatoartig treibend mit kurzen repetitiven Phrasen und voller kryptischer Elemente. Damit keine Missverständnisse entstehen haben die Künstler ihre Stücke in Videoclips dann auch gleich noch visualisiert:
Innovativ und mit unbändigem Ideenreichtum und vor allem unglaublich intensiv, mal wie Filmmusik zu einem Science Fiction, mal bizarr, wie wenn bei Aftermath eine Shakuhachi zu eigenartigsten synthetischen Klängen aus dem Hyperspace erklingt und schließlich programmatisch mit dem eigenwillig-jazzigen Mystik endet. Ja, The Comet ist Coming und diesmal mit dem Hyper-Dimensional Expansion Beam, der auf der Frequency of Feeling Expansion schwingt und nicht nur das Gefühl, sondern vor allem das Bewusstsein mächtig expandieren lässt. Ein retrofuturistischer Klassiker von Übermorgen. Beam me up!