Chère Uschi,
Je n'ai jamais vu ce film, mais je me souviens vaguement de petits livres de poche rouges et noirs de rororo. Il y a quelques années, j'ai lu avec enthousiasme le livre de Sarah Bakewell sur l'existentialisme, un travail remarquable sur la cohabitation de la pensée, de l'histoire, du quotidien et de la fascination. La philosophie y était enlevée de tout ce qui était académique. Et bien sûr, j'ai aussi échoué au Café de Flore. Mais au lieu de faire la connaissance d'une inconnue à couper le souffle, j'ai bu seul, à la mode existentialiste, un chocolat chaud lourd et trop sucré, servi dans un petit pot en argent.
Damals, vor unserer Zeit, sassen sie da, liebten und zankten sich. War Jean Pierre Leaud auch Stammgast, und Truffaut, Godard? Jedenfallls, und noch viel früher, bereitete Jean Paul (nicht der Schreiber des herrlichen Siebenkäs) eine Reise nach Berlin vor, um vor Ort eine neue Richtung der Philosophie zu studieren, die Phänomenologie, die allen in die Irre führenden Geisteskonstruktionen aus dem Weg gehen wollte, indem sie sich auf "Phänomene" einlässt, statt sie permanent zu hinterfragen.
Tatsächlich hat Sartre nach dieser Zeit, nur wenig überspitzt von Sarah Bakewell in ihrem Buch "At The Existenzialist Cafe" formuliert, Phänomenologie in eine Philosophie der Aprikosen-Cocktails verwandelt – und der Kellner, die sie servierten. Ebenso eine Philosophie der Erwartung, der Müdigkeit, der Erregung, der Leidenschaft für eine begehrte Geliebte, des Thrills eines Fussballspieles, eines Films oder Jazzsongs – eine Philosophie des momentanen Aufleuchtens, wenn zwei Fremde sich unter einer Strassenlaterne begegnen.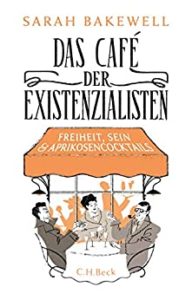 Sartre hat Philosophie gemacht aus Vertigo und Voyeurismus, Scham, Revolution, Musik und Sex. Sehr viel Sex. Ist der Existenzialismus die Auflösung des scharfen, auf Systeme trainierten Nachdenkens, in eine rauschhafte oder detailbesessene Studie der Reichhaltigkeit von Empfindungen? Kann Philosophie stimmungsbesessen sein – "mood philosophy"? So etwas schreit geradezu nach einer Mode – demnach könnte der Existenzialismus einmal schrecklich "in" gewesen sein, dann wieder "down and out". Nein, "in" und "out" sind ganz schlechte Schubladen, die man am besten "in die Tonne haut". Alles Sinnliche war im übrigen gekoppelt an das Sein und das Nichts, an die Verantwortung, an die unzähligen Arten, sein Ich neu zu erfunden.
Der Geist – kein Widerspruch – lässt sich auch in tiefer Entspannung schärfen: ich empfehle den Erwerb des auch im Original leicht zu lesenden Buches von Sarah Bakewell oder die deutsche Übersetzung bei C. H. Beck – und nach jedem Kapitel intuitiv eine Musik auszuwählen, um die Lektüre nachwirken zu lassen – bei Existenzialismus liegt der Jazz immer nahe, von Sidney Bechet bis Miles Davis. Nach Kapitel 1, "Sir, What a Horror, Existenzialism!", kann es durchaus erhellend sein, eines der letzten beiden fantastischen Alben des Carla Bley Trios zu lauschen, "Andando el Tiempo", oder "Trios". Und, en passant, was für ein luftig-schwirrendes Umherfliegen der Gedanken in deiner Vorstellung eines Filmes, den ich nie gesehen habe.
A bientôt, Michel!