"Abdullah Ibrahim's Water from an Ancient Well has accompanied me for a long time.  My dad once said the trombone sounds like a bull elephant and it often makes me tearful when I hear it. Also Ibrahim's duo as Dollar Brand with Johnny Dyani (Good News From Africa) will stay with me throughout my life, I've no doubt; it's their liberated vocals and intuitive connection with each other, I love it."

(Aby Vulliamy)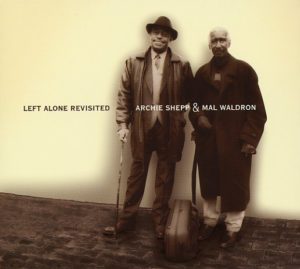 Gregor hatte mir mal erzählt, dass er einmal in Paris Archie Shepp getroffen habe, ich glaube, nach einem Konzert, aber ich weiss nichts mehr vom Inhalt des Gesprächs (an der Theke einer Bar). Ich hätte gerne auch, einst in Paris, Byard Lancaster III in "Harry's Bar" getroffen, nach seinem Auftritt im "Theatre de Mouffetard" (so habe ich den Namen des Theaters in Erinnerung, ich war da noch gerade so ein Teenager, und sein Auftritt hatte mich umgehauen).
Live habe ich Archie Shepp nur einmal erlebt, in Nürnberg trat er auf einem  grossen Jazzfest auf (Rosato war auch vor Ort), vor dem Keith Jarrett Quartett (mit Dewey, Paul und Charlie). Während jene Abende mit Keith und Byard zu meinen unvergesslichen Konzerterlebnissen gehören, empfand ich Archie damals nicht sonderlich inspiriert. Ich wäre auch der falsche Gesprächspartner, wenn es um herausragende Alben des Amerikaners ginge. Dazu kenne ich zuwenig. Ich weiss aber, dass er mit fortschreitendem Alter immer mehr Gefallen an Duo-Alben fand.
In der letzten Woche  bestellte ich mir "Left Alone Revisited", nach dem Lesen einer begeisterten Besorechung in einem Magazin für Musik auf Vinyl.  Saxofon und Piano – eine meiner liebsten Kombinationen.  Eine als Doppel-Album "remasterte" Vinylausgabe dieser beiden Legenden, ein Dokument ihrer Hommage an Billie Holiday vom 7. und 8. Februar 2002, aufgenommen in "la muse en circuit", Paris. Das Album erschien zuerst bei Enja. ich habe  es es gestern in meinem etwas seltsam geordneten Archiv neben eine Sternstunde von Dollar Brand platziert, "Good News from Africa", das einst auch bei dem Münchner Label rauskam (und mir von Aby Vulliamy  vor Jahren in Erinnerung gerufen wurde, s.o.).
Diese Aufnahme entstand ein Jahr vor dem Tod von Mal Waldron, der selbst mit Lady Day auf Tournee war. Das Album ist musikalisch und klanglich herausragend – Balladen können kaum intensiver sein. Manchmal bricht etwas ein im Sound des Saxofons, in den berüchtigten Bruchteilen von Sekunden, und es ist kein Aufnahmefehler, es ist kein Spielfehler, es wohl ein Reflex des vollkommenen Eintauchens in die Stimme der Sängerin. Julio Cortazar wäre von diesem Duo begeistert gewesen.