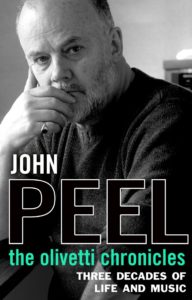 Ich dachte es wäre nicht verkehrt, wenn ich in diesen Tagen mit den Olivetti Chronicles herumlaufe. John Peel war ein begeisterter FC Liverpool Anhänger. Wenn er jetzt leider vom Himmel aus seinen Club gegen Barca verlieren sieht, kann er doch wenigstens unbekümmerter als Jürgen Klopp die geniale Technik von Messi beklatschen.
Ich hatte das Buch – immerhin "Three Decades of Life and Music" – auch letzte Woche dabei, als ich in einem Sportheim mit einem Freund das Spiel Barcelona gegen Liverpool ansah. In der Pause blätterte er in dem John Peel Buch, sprang plötzlich hoch und jauchzte: Das muss ich mir kopieren,  wo kann man denn sonst noch unter den Musikjournalistenfuzzis was über Captain Beefheart (Peel Meets The Captain, 1972) lesen.
Gestern traf ich mich mit einer Freundin in der Düsseldorfer Altstadt. Sie fragte mich, warum ich so ein dickes Buch herumschleppe. Zugegeben, ich bin abergläubisch. Ich erklärte ihr, dass ich bis zum Rückspiel am Dienstag mit dem Wackerstein herumliefe.
I put a spell on you … Ich fragte sie nach Klaus Schulze, Ah ja der, sie hätte vorwiegend Tangerine Dream gehört, weniger Kraut und Kraftwerk. Ich zeigte ihr das Kapitel "Kosmische Musik 1973". Ich kopiere.
Als ich heute morgen am Rhein saß, dachte ich, dass ich John gerne getroffen hätte. Ich finde ihn lustig, intelligent und leidenschaftlich. Ich hätte ihm dafür gedankt, dass er die PSYCHODELIC FURS auf Radio 1 nicht nur vorgestellt, sondern auch oft aufgelegt hatte. The Furs gehören mit dem Song "Fall" in meine Ausnahmemusikkiste:
See the wall the wall is black
We will have a heart attack
We will be alone and we'll fall  we'll fall
Soweit ich weiß, ist er an einem Herzanfall gestorben. 
Letztes Jahr sah ich den Kinofilm I call you by your name. Darin geht es um eine Männerliebe. In einer emotional erhitzten Szene lief plötzlich der Fur Song "Love my way". Grossartig.
John Peel möchte ich das letzte Wort geben:
I'm more concerned about what Liverpool do next 'Tuesday', than what they've done in the past. Their past history…isn't of particular interest to me…It's the same with music, when I say I'm more concerned about those records that I have in the back of my car, that I'll still listen to this weekend than I am really even in the ones I've played in this week's programmes.