EINE LADUNG 7-UP FLÄSCHCHEN
im auf und ab der schlaglöcher
sandschleier staubspiralen
is this the way to the unfinished obelisk?
das klacken der spielsteine glut
die über die straße weht
o alêre! du warst im fremdesten
aufgehoben
aus: Monika Schnyder – Auch Götter haben Gärten. Wolfbach Die Reihe, Zürich 2019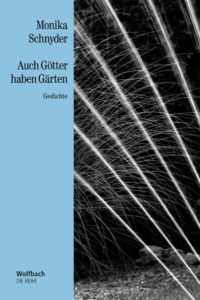 In schönem Wechsel von Weitblick, Nahblick und Tiefblick führen Monika Schnyders Gedichte durch Erdzeitalter, Wolkenbilder und Mythen bis ins Jetzt. Staunend sieht man sich um und erkennt einen Garten für Götter und Göttinnen – bezaubernd, erkenntnis- und genussreich.