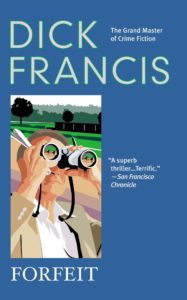 Dick Francis, "Forfeit"
Originalausgabe, 1968 (Michael Joseph Ltd.)
deutsche Erstausgabe: 1979 (Ullstein)
"Jede Wette auf Mord"
Gelesene Ausgabe: 1994 (Diogenes)
"Hilflos"
zu 1) Schnellblätterig
Nun ist es doch das Buch "Hilflos" geworden, das Ich zur Manafonistas-Parallellese-Rennbahn führe. Dabei ist der Titel der deutschen Ausgabe nicht ganz treffend übersetzt. Immerhin hält der Diogenes-Verlag aber die Eigenart des Autors bei, jeden seiner Kriminalromane mit nur einem Wort zu betiteln. Dass dies hier ausgerechnet "hilflos" ist, bestätigt meine These, dass es sich um ein archetypisches Geschehen handelt. Manch eine*r meiner drei Leser*innen wird sich an das fortwährende Auftauchen von "hilflos" in Zürich erinnern. Hier ist es vermutlich bezogen auf die Hilflosigkeit der lungenkranken Ehefrau des Protagonisten, die er vor den Bösen in Sicherheit bringt, und auf seine eigene Befindlichkeit, nachdem er von ihnen mit Whisky abgefüllt worden war. Diese Szenen sowie eine Cobra-taugliche Autoverfolgungsjagd mit einem Pferdeanhänger machen diese Seiten zu den schnellstgeblätterten des ganzen Buches.
zu 2) Verfilmt
Regie: John Cassavates (er kennt sich mit Buchmachern, Gangstern und kranken Ehefrauen aus)
Hauptdarsteller (Sportreporter, Ich-Erzähler): Jürgen Vogel (dem ein Hollywood-Erfolg zu wünschen ist).
Filmmusik: an leisen Stellen das Quatuor Ebene (was vielleicht etwas zu snobby ist auf der Rennstrecke). Bei der kranken Ehefrau fällt mir gemeinerweise Dennis Hopper und Blue Velvet ein… Und als Titelmusik ist wegen der 2 gallopierenden Schlagzeuger "Shake Stew" bestens geeignet; die Band des österreichischen Bassisten Lukas Kranzelbinder steht auch schon auf meiner diesjährigen Novemberliste.
zu 3) Hingeguckt
Das Buch ist unkompliziert und kann eigentlich überall gelesen werden. Da es klar geschrieben ist und immer schön chronologisch bleibt, kann man rasch zwischen Buchwelt und Blick über die Zugestiegenen in der U-Bahn hin und her zappen. An den Strand würde ich es nicht mitnehmen. Die anorektischen Gäule auf den nahezu 40 Buchtitelseiten wirken eher abschreckend als kontaktfördernd.
zu 4) Serienreif
Man könnte auch sagen, Francis habe die Eigenart, aus jedem bestimmten Sachgebiet eine Pferdegeschichte zu machen, den Ponyhofserien und Wendyromanen nicht unähnlich. Die Kritik ist allerdings unpassend: wer einen Tony-Hillerman-Krimi kauft, darf sich auch nicht beklagen, wenn Indianer darin vorkommen.
zu 5) Verwurstet
Lasagne auf der Speisekarte kommt bei Pferdefreunden nicht so gut an. Ich belasse es bei ein paar Käsecrackern mit den letzten Flaschen englischen Weines und wende mich der Tafelmusik zu. Was wir am Essen gespart haben, kommt der Musik zugute. Zugesagt hat die britischte aller britischten Sängerinnen: Anne Clark! Die Pferde fliehen in die umliegenden Wälder.
zu 6) Experte
Zwischen der amerikanischen Wettmafia und den englischen Kleinkriminellen liegen Welten. Aber es verändert sich viel hinter dem Rücken der Pferde; statt dem Glück der Erde findet man immer mehr und immer schlimmere Intrigen und Verbrechen. Als Experte der aktuellen Equikriminalistik habe ich den kalifornischen Journalisten und Cassavetes-Biographen Michael Ventura eingeladen, der sich im Buchmacher-Milieu ebenso auskennt wie in der Arbeitswelt der (Sport-)Journalisten.
Literatur-Hinweis: "If I was a Highway – Essays".
zu 7) Klassisch
Der Roman ist altmodisch und deshalb zeitlos. Die Geschichte ist schon 100 x erzählt worden: ein Journalist deckt einen Wettskandal auf (in die TV-Tagesschau gelangt war diese Woche der SC Brügge wegen des Verdachts auf Wettbetrug) und bringt damit seine Familie in Gefahr. Das ist nett und solide erzählt. Nur der Pferde sind es mir zu viele, vor allem wenn ihr Lebenszweck darin besteht, jedes Wochenende im Kreis um die Wette zu laufen. Mit einem richtigen Pferd galoppiert man fast and furyous dem Abenteuer oder wenigstens der Sonne entgegen!
zu 8) Leseplan
Hier wartet schon etwas länger (dt. 2005) ein Taschenbuch mit den Maßen eines Ziegelsteines: "Ich bin Charlotte Simmons" von Tom Wolfe. Sich auf Charlotte einzulassen heißt, auf absehbare Zeit nicht 5 andere Bücher mit zusammen rund 1000 Seiten zu lesen. Gelohnt hat sich das bei Tom Wolfe immer. Er ist ein Meister mit leiser Ironie erzählter, sich anschleichender Katastrophen. Für Sherman fängt das Fegefeuer der Eitelkeiten mit einer Panne beim Telefonieren an – zu spät merkt er, dass er am Telefon seine Freundin mit seiner Ehefrau verwechselt hat. Im Kuba-Exilanten-Miami (Back to Blood, 2012) erlebt ein junger Polizist, wie er vom Helden zum geächteten Verräter und von der Familie verstoßen wird, ohne dass er weiß, wie ihm geschieht. Es gibt Gemeinsames zwischen Francis und Wolfe: beide haben auch als Journalisten gearbeitet und das Pressemilieu beschrieben. Tom Wolfe's erstes Buch hieß "The Kandy-Kolored Tangerine-Flaked Streamline Baby". Das wäre ein schöner Name für ein Rennpferd.