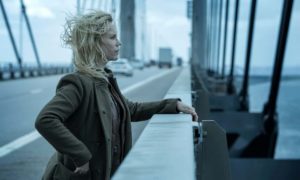 I don't know if any Manafonista will write some lines and add a fourth or fifth album to our column of "albums of the month", but the selection so far is a strong palette of energies ranging from the introspective to the ecstatic, zigzagging between these areas more than once. Arve Henriksen, The Necks, and bass player Barre Phillips! And, just to fastforward a little bit, Aby Vulliamy's album "Spin Cycle" will be one of our October albums. 
I'm quite scceptical about another great album to be released from our, or at least, my personal heroes. Till December 6th, the day of our 2018 retrospectives. Many albums that came along carrying high expectations, were disappointing. Even albums that were on my best of  2018 so far-list couldn't stand the test of (a very short span of) time. Jon Hopkins and Steve Tibbetts are still standing strong, but to be honest, in recent times, I do find more interesting stuff in the reissue-department. Ekuka Morris Sirikiti, for example. I didn't know him, too :) – old thumb piano recordings buried deep down in Africa.
Or Ivor Raymonde. Have a look into the archives of a nearly forgotten composer, the father of the Cocteau Twins' Simon Raymonde. His dad came from an era that had brought strings and reeds full circle to add to the magic of songs. Like young Bowie! He had lost his impact when the guitars took the front rows. (I wouldn't call it "my" music, but it is that kind of old-fashioned stuff, I like to listen to from time to time, it really touches my "sentimental nerve", so to speak. And I have a knack for artists named Ivor, like Ivor Cutler, the late magician of words, a friend of Robert Wyatt, and the bus driver from "The Magical Mystery Tour".)
Patricia Hampl's book is pure meditation. You can read it slowly, and finish it with a feeling of deep enjoyment after about one or two years, I'm sure about that. It's a book ideal for the bedside, long-distant flights, the restroom, the waiting rooms, and the beaches at the end of the world (Sylt, Blackpool, St. Jean-de-Luz). It's all about the cherishing of daydreaming, the wonders and joys of getting rid of time-killing agendas. The free zones of the mind are the basics for still getting surprised by oneself. One of the main figures is the champion of sharp words and short-cut truths, Michel de Montaigne.
"The Book of Hidden Things" is one of the best novels, I've  read in quite a time. Let's call it a book dealing with supernatural matters, and some will turn away immediately. On a deeper level, it is simply a book about, well, oh, come on, find out for yourself. It's thrilling, thought-provoking, with well-designed characters, and all located at another end of the world, in the deep south of Italy. (Besides everything else, it made me think of the best pizza I ever had, made by an Italian master cook in Brooklyn.) Such a cracker! And, funny enough, yesterday I got a present from an Italian guy, a fantastic red wine made and bottled in Salento. Felt like I was inside the book again.
Do you remember the first three seasons of "Die Brücke" / "The Bridge", with that female detective who's easily as outstanding as the protagonist of the Stig Larsson books? Now it all comes to final solutions, in the last season of one of the best editions of that "Scandi Noir"-genre. As far as I know there is no other BluRay edition like the one with original language and English sub-titles. A way to make your possibly favourite flawed heroine even more real – with her "real" voice!
P.S. Was Thriller und Kriminalromane einsamer Klasse angeht, sollten Leser, die gute deutsche Übersetzungen bevorzugen, Keigo Higashinos im Tropen-Verlag erschienenen Roman "Unter der Mitternachtssonne" ins Auge fassen, die englische Übersetzung gewann u.a. den "Mana Thrill Factory Prize 2018". Ein unfassbarer Leserausch (mit dieser Meinung stehe ich nicht allein.)