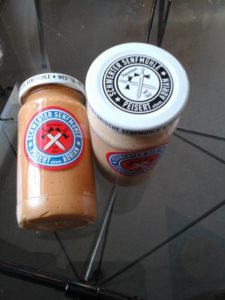 Wir müssen ja Karl Marx nicht wörtlich folgen und den Fisch selber fangen. Aber ihn dann zu Mittag selbst zuzubereiten, liegt sicher in der gemeinten  Denkrichtung.


SEELACHS IM SENFMANTEL

4 Seelachsfilets
8 Eier
8 EL Senf (ich nehme den von Uwe mitgebrachten aus Schwerte)
1 Teelöffel Honig
1 Prise Salz und Pfeffer
Etwas Mehl und Öl zum Braten

(FÜR 4 PERSONEN)


Und dann empfiehlt Herr Marx, nach dem Essen zu kritisieren.

Ich habe für Euch gelesen:

Jaron Lanier: Zehn Gründe, warum du deine Social Media Accounts sofort löschen musst

Ich habe die Bücher von Lanier gerne gelesen. Er war von Anfang an dabei, war Gründer und Insider im Silicon Valley. Er ist  Computerwissenschaftler und – bitte kritisch beachten – arbeitet für Microsoft. In seinem neuen Buch geht es um Datenmissbrauch und wie wir mit Social Media unser Verhalten modifizieren.

Ich zitiere:
In sozialen Medien ist die Manipulation sozialer Gefühle die einfachste Methode, um Bestrafung und Belohnung herbeizuführen (S.27…)
BUMMER (= Behaviors of Users Modified, and Made into an Empire for Rent) in etwa: Verhaltensweisen von Nutzern, die verändert und zu einem neuen Imperium gemacht wurden, das jedermann mieten kann. (S.43 …) Lanier unterteilt in 6 Komponenten:

–
Die Arschloch Herrschaft

– Totale Úberwachung
– Aufgezwungene Inhalte
– Verhaltensmodifikation
– Ein perverses Geschäftsmodell
– Fake People


Dazu ein Beispiel von Lanier selbst auf S.64:

Für eine Weile war ich Top Blogger der 'Huffington Post', immer auf der Startseite. Aber dann stellte ich fest, dass ich wieder in die altbekannten Muster verfiel, wann immer ich die Kommentare las. Ich schaffte es nicht, sie einfach zu ignorieren. Bei solchen Gelegenheiten fühlte ich eine merkwürdige, verhaltene Wut in mir aufsteigen, manchmal auch einen absurden, glūhenden Stolz, wenn es den Leuten gefiel, was ich geschrieben hatte -selbst wenn das, was sie schrieben, eher verdeutlichte, dass sie sich nicht ernsthaft mit meinem Text beschäftigt hatten. Die Autoren solcher Kommentare suchten hauptsächlich Aufmerksamkeit für sich selbst …
S.77 Was wir brauchen, ist irgendetwas, das jenseits der sozialen Angeberei real ist. … Falls du auf Online-Plattformen aktiv bist und dabei etwas Unerfreuliches in dir selbst bemerkst – eine Unsicherheit, ein geringes Selbstwertgefühl, den Drang, jemanden zu attackieren: dann verschwinde von dieser Plattform.
S.94 Postings von Frauen werden häufig auf groteske Weise aus dem Zusammenhang gerissen, um sie zu demütigen, bloß zu stellen oder zu belästigen.
"Social Media tötet dein Mitgefühl " S.107 …) Du kannst jdn. nicht verstehen, wenn du nicht zumindest ein bisschen was darüber weisst, was er erlebt hat.
S.124 BUMMER drängt mich in die Position eines Untergebenen. Schon seine Struktur ist eine Demütigung …
S.152 Ich werde also erst dann ein Nutzerkonto bei Facebook, Google oder Twitter anlegen, wenn ich dafür bezahlen darf -und wenn ich das eindeutige Recht an meinen eigenen Daten habe und den Preis für Sie SELBST FESTSETZEN kann …

Und zum Schluss die Frage an Karl Marx: Wann sollen wir Musik hören?
Ich höre seit zwei Tagen immer Ray Davies: Our Country, besonders The Getaway.