Fünf Jahre lang, von 1975 bis 1980, war der kanadische Komponist Howard Shore der "musical director" der wöchentlichen US-Fernsehshow Saturday Night Live, zu deren Schöpfern er auch gehörte. Um dieselbe Zeit herum begann er auch mit dem Regisseur David Cronenberg zusammenzuarbeiten und hat seitdem die Musiken zu 15 Filmen geschrieben, darunter Crash, Naked Lunch, Ed Wood, Se7en, The Silence of the Lambs und Mrs. Doubtfire. Auch eine Oper, The Fly, hat Shore komponiert. Seine bekanntesten Musiken aber sind ganz sicher jene für die Lord of the Rings- und The Hobbit-Trilogien.
Die gab es natürlich auch alle in Ausschnitten im gestrigen "Pops"-Konzert des Pittsburgh Symphony Orchestra zu hören. Die "Pops"-Konzerte, bis zu dessen Tod im Jahr 2012 von Marvin Hamlisch geleitet, erkennt man vor allem daran, dass die Musiker Weiß statt Schwarz tragen, das Publikum auch während der Stücke durch die Gänge rennt, nach den Stücken nicht nur geklatscht, sondern auch gejohlt wird (denn wegen der Smartphones in der Hand ist Klatschen in vielen Fällen nicht mehr möglich) und die altehrwürdige Heinz Hall (benannt nach dem Ketchupfabrikanten) mit einer PA und buntem Licht aufgepeppt wird.
Offensichtlich, das wurde mir schnell deutlich, eignet sich nicht jede Filmmusik automatisch zur Konzertmusik. Auch die im ersten Teil des Abends praktizierte Methode, die Musik aus den Hobbit-Filmen zu einer vierteiligen Suite zusammenzufassen, ist nicht ideal, zumal mir die Dramaturgie innerhalb der Teile nicht immer stimmig zu sein schien und die Unterbrechungen mir auch etwas beliebig gesetzt vorkamen. Aber man muss wohl in Rechnung stellen, dass heutige Filme wie diese mit einem fast permanenten Soundteppich unterlegt sind, während Filme noch in den 70er Jahren kaum mehr als insgesamt 15 oder 20 Minuten Musik enthielten. Da fallen Suiten leicht mal auseinander.
Zudem fiel mir auf, dass Shore keine Handschrift besitzt, die man sofort erkennen würde. Filmmusiken von Künstlern wie Nino Rota, Ennio Morricone, John Williams, John Barry oder Hans Zimmer erkennt man nach wenigen Takten am Stil oder der Melodieführung. Nicht so bei Shore. Handwerklich ist er fit, Melodien sind aber eindeutig nicht seine Stärke. Dafür allerdings bieten seine Kompositionen einem Orchester die Möglichkeit, ein paar Dinge aufzufahren, die im sinfonischen Programm sonst eher selten vorkommen – etwa Bongotrommeln, Metallklänge, Singende Säge, Donnerbleche, Regenmaschinen.
Unter der Leitung des Dirigenten Ludwig Wicki, der bewegungstechnisch permanenten Alarmzustand signalisierte, selbst wenn die Musik völlig ruhig dahinfloss, traten außerdem eine Reihe von Solisten auf – die Mezzosopranistin Eva Rainforth, die leider latent gewürgt klang, der exzellente Altsaxophonist Terry Steele, die Dudelsackpfeifer Colleen Poe und Palmer Shonk, der Knabensopran Maksim Shcherbatyuk (der spätestens in einem halben Jahr aus dieser Rolle herausgewachsen sein dürfte). Und – für mich der Hauptgrund des Konzertbesuches – Lydia Kavina am Theremin.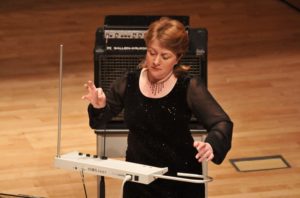 Wer mal irgendjemanden (wie etwa Jean Michel Jarre oder sich für postmodern haltende Popgruppen) live mit diesem Ding herumdilettieren gesehen (und gehört!) hat, der kann nur staunen, wie unglaublich präzise dieses Biest gespielt werden kann – wenn man es denn kann. Und Lydia Kavina kann. Ihr Solo zur Ed-Wood-Musik gehörte zu den Höhepunkten des Abends.
Leider überschritten alle Solisten des Abends kaum mal die Dreiminutenmarke, bevor sie wieder verschwanden. Das war, seien wir ehrlich, in den meisten Fällen kein großer Verlust, im Falle Kavina aber sehr wohl. Da hätte man gern mehr gehört.
Bleibt noch anzumerken, dass Howard Shore selbst anwesend war und, mit einem Interviewer auf der Bühne sitzend, kurze Einführungen zu den jeweils gespielten Stücken gab. Auch wenn die Gespräche einen gescripteten Eindruck machten: Das immerhin war interessant.