Weil es nun mal wieder diese Jahreszeit ist: "Lea & Chess" singen Little Star (Shine On Us Tonight).
Aufgenommen in Joe Meeks Schlafzimmerstudio in der Londoner Holloway Road 304, dem Klang nach wohl um 1964, eine Nummer aus Meeks Nachlass, nie auf Platte erschienen (wie man am Einzählen hört), enthält aber alles, was Meek an Verzerrungen, Übersteuerungen, "heavenly choir", Kathedralhall und Speed-Up-Effekten in seinem Zauberkasten hatte. Welche Band spielt — keiner weiß es genau, es könnten The Outlaws gewesen sein. Wäre dem so, dann wäre Ritchie Blackmore an der Gitarre dabei. Wer den Song geschrieben hat, weiß auch niemand genau, wahrscheinlich aber Meek selbst, für mich klingt es nach ihm. Am Klavier hören wir in jedem Fall Joes Hauspianisten Geoff Goddard.
Lange Zeit wusste niemand, wer sich hinter "Lea & Chess" verbirgt. Nun denn also, dies dürften sie gewesen sein: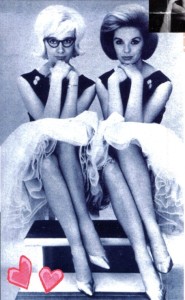 Maggie Stredder und Gloria George, in Musikerkreisen damals bekannt unter dem Namen The Ladybirds, ein sehr aktives Backup-Duo (die beiden singen unter anderem in Jimi Hendrix' Hey Joe), das Joe Meek immer mal wieder für seinen legendären "heavenly choir" in Studiosessions einsetzte. Meek produzierte mit den beiden auch die Titel Dumb Head, eine Coverversion eines amerikanischen Originals von Ginny Arnell, und Boy Trouble, ursprünglich von den Rev-Irons aufgenommen. Diese Tracks erschienen unter dem Namen The Sharades. Beide floppten, aber immerhin: Es gab sie auf Platte. Nicht ganz klar ist, ob Meek die beiden auch noch als Flip & The Dateliners ins Rennen schickte, ihr Song Mama Didn't Lie jedenfalls blieb ebenso unveröffentlicht wie der Little Star.
Joe Meek shall inherit the Earth. Auch 2016.

Schöne Feiertage!