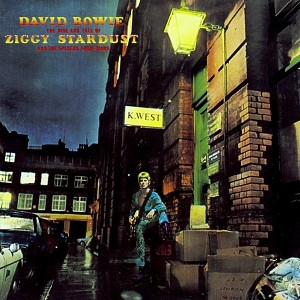 My Mama said: "To get things done, you'd better not mess with Major Tom."

(DB, "Ashes to Ashes")
Die persona eines Musikers, sein Werk, ein spezielles Album, ein einzelner Song oder eine einzige Strophe daraus, ja selbst das Fragment eines seltsamen Akkordwechsels – das alles kann lohnenswerter Gegenstand des Interesses sein. Wo die Liebe hinfällt und vor allem: wann. In diesen genannten Teilaspekten gibt David Bowie sehr viel her – auch wenn meine Haltung zu seiner Musik genau von jener fremdartigen, kühlen Distanz geprägt ist, die ja gerade sein Oevre auszeichnen. Eins ist gewiss: wer über die engen Tellerränder von Klassik oder Volksmusik hinausblickt, kommt an Erscheinungen dieses Karats nicht vorbei. Zu allen Zeiten haben Künstler der modernen westlichen Welt, die wir in diesen islamistisch-verhangenen Tagen erst recht zu schätzen wissen, neue Horizonte erschlossen.
Ihre Kreativität, die performative Kraft, ihr Mut wirkten sich befreiend auf gesellschaftliche Entwicklungen aus – sie waren role models, Vorbilder, zuweilen mit Kultstatus. Deshalb fällt einem zu Bowie auch gleich etwas ein. Zu Beginn dieses neuen Jahrtausend nun, so etwa um das Jahr 2002, gab es ein Livekonzert, das mich aufhören liess – mit einer phantastischen Band, einem gereiften und doch juvenilem Bowie, einer charismatischen Bassistin (sie spielte barfuss auf der Bühne) und einem abgeklärten, professionellen, homogenen Gesamtsound. Lag es daran, dass da Jemand zu jener Zeit ganz schwer verliebt war ("I´m deranged") und vom Lebensgefühl her Paris von der Seine in eine niedersächsische Landeshauptstadt an der Leine verfrachtete und auch sonst den Wind der zweiten Jugend erfuhr? Man sagt ja, die Vierziger seien die besten Jahre.
Ein Stück von Bowie nicht nur funktionsharmonisch zu verstehen, sondern auch irgendwie präsentationsfähig auf die Gitarre zu übertragen, hat seine Tücken, zumindest for a simple guy like me, der niemals Partituren lesen konnte und für den die Notenschrift eine permanente, mühsame Herausforderung ist: Arbeit am Widerstand, dem Studium eines sperrigen Computerprogramms oder dem Lesen einer komplizierten Gebrauchsanweisung eines technischen Gerätes durchaus vergleichbar. Und doch: Musik notieren, in Form zu bringen, festzuhalten, das ist lohnenswert und wenn man konstatierte, nur notierte Musik sei ernst zu nehmen: in a way that would make sense to me.
And so we take this as a playground – ein ewiges Übungsfeld. Never I had been a Bowie fan nor one of Dylan – oder der anderer in Stein gemeisselter grosser Namen der Pophistorie. Aber wenn ich erstmal von einer Fassung affiziert bin, dann höre ich ein Stück gut und gerne bis zu hundertmal hintereinander weg. Es ist ein Sog, der darin besteht, die Essenz eines solchen Songs mir selbst anzueignen. Wer da an Patrick Süsskinds Roman Das Parfüm denkt, in dem der Protagonist betörende Düfte aus einbalsamierten Jungfrauen kreiert, um sie sich einzuverleiben, liegt nicht ganz falsch.
An die erste Begegnung mit dem androgynen Gesangs- und Performancehalbgott erinnere ich mich noch genau. Es war auf der Konfirmandenfreizeit in Südtirol, ein wunderbarer Ort, die Pension lag direkt an der Strasse, mit Swimmingpool. Dort gegenüber ein Fussballplatz, der an einen Wildbach mit grossem Kieselbett angrenzte, an Baden war nicht zu denken, denn trotz Bullenhitze: das Wasser war gefühlte zwei Grad über Null kalt. Mit dabei waren zwei Amerikaner, Austauschschüler, one was a blond and tought countryboy, always jogging straight ahead the crests. The other one was David, a jewish guy from Brooklyn, some years older than me, but we soon became friends. Schwarze lange Locken, feine Manieren, immer leicht ironisch. Er nannte mich Robbie, angeblich sähe ich einem gewissen Redfort aus jungen Jahren ähnlich.
David sang merkwürdige Songs mit komischen Melodien und gepresster Stimme, "Spiders from Mars" kam drin vor und "Major Tom". Wer das sei? Nun hör mal, David Bowie kennst du nicht! Unser tranceartiges gemeinsames Projekt bestand neben meiner Neugier an Stories aus Amerika darin, dass wir auf den Fussballplatz gingen, ein Tor von etwa sieben, manchmal fünf Metern absteckten und er dann vom Siebenmeterpunkt schoss. Er wartete immer, bis ich mich bewegte und schoss dann in die andere Ecke. Im Laufe der gemeinsamen drei Wochen hielt ich nicht einen einzigen Ball. Und da man selbst ja nicht nur Songs in jeder Körperzelle abgespeichert lebenslänglich in sich trägt, sondern in diesen Songs auch eigene Geschichten abgespeichert sind wie ein Fossil in einem Bernstein, muss ich also nun beim Üben eines Bowiesongs und beim Recherchieren über diesen Künstler ständig an diesen heissen Sommer in jenem norditalienischen Alpental denken.
Der Film The Man Who Fell To Earth kann als eine gnostische Parabel gelten und zeigt Bowie mit beeinduckender schauspielerischer Leistung in der Rolle eines von seiner Familie Getrennten und auf die Erde Gefallenen, der dort das dringend benötigte Wasser des Lebens (whiskey) sucht, um es in seine Heimat zu bringen. Er verfällt aber nicht nur der Liebe auf diesem Planeten Erde, sondern auch den kapitalistischen, gierdynamischen Trieben, die ihm eine Rückkehr nach Hause unmöglich machen. Bowies Musik lebt von Sprüngen, die sich auf dreierlei Weise bemerkbar machen: da ist das kaleidoskopische Vexierspiel mit den Gender-Rollen, da ist die grosse Vielfalt an Stilmitteln und Genrekategorien und da ist eine merkwürdig zerklüftete Akkordlandschaft in den Songs zu finden – als interessantes Forschungsobjekt für einen notentechnisch Unvollkommenen.