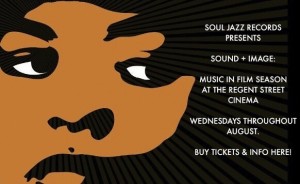 BLACK ORPHEUS August 5th, 6.30pm.
BABYLON August 5th, 8.30pm.
NOTHING BUT A MAN August 12th, 6.30pm
BLACK POWER MIX TAPE August 12th. 8.30pm
SHADOWS August 19th, 6.30pm
SYMPATHY FOR THE DEVIL August 19th, 8.30pm

Soul Jazz Records curates this season of music-related films – from Motown and Civil Rights Jazz through to Reggae, Bossa Nova, Jean-Luc Godard's ground-breaking documentary on the Rolling Stones, & more. All of these films rely heavily on the relationship between music, film, politics and society. More importantly – they're all wicked!
Soul Jazz Records' founder Stuart Baker will introduce each of the films and Soul Jazz Records' Soundsystem DJ's are in the bar before and after each screening!