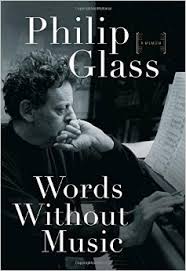 "Words Without Music is one of the most inspiring books I've ever read", schreibt Laurie Anderson über dieses Buch. Nun ja, man kann alles übertreiben, sogar Blurbs. Absolut lesenswert ist das Buch aber allemal. Unaufgeregte Memoiren, geschrieben von jemandem, der genau weiß, wer er ist. Und der das auch darf, denn Philip Glass hat sich seinen Erfolg mit unendlicher Geduld erarbeitet. Eine Kindheit im väterlichen Plattenladen in Baltimore, Studium in Chicago. Als er mit 19 nach New York ging – eine andere Stadt kam für ihn nicht in Frage -, um an der Juilliard School Komposition zu studieren, warnte ihn seine Mutter, er werde enden wie sein Onkel Henry (nein, die Geschichte wird hier nicht verraten). So kam es dann glücklicherweise nicht, aber um als Komponist zu überleben, hat dieser Mann im Stahlwerk gearbeitet, als Möbelpacker, als Klempner, als New Yorker Taxifahrer und noch mehr. Als er zum ersten Mal Von seiner kompositorischen Arbeit leben konnte, war er über 40, hatte eine eigene Band und bereits etliche Musiken für Bühne und Tanztheater im Gepäck. Obwohl die Gelegenheit bestand, hat er ganz bewusst niemals lehren wollen, weder an einer Highschool noch an einer Universität. Gut so, denn ich kenne fast keinen Künstler, dem nicht auf dem Lehrstuhl die Kreativität abhanden gekommen wäre.
Einen großen Teil des Buches nehmen Reiseschilderungen ein. Glass' Reisen haben ihn mit der Eisenbahn nach Indien und Nepal geführt; Ravi Shankar war einer der Leute, die er dort traf und der sehr zu seinem Musikverständnis beigetragen hat. Hier liegt einer der Schwachpunkte des Buches: So abenteuerlich die Reisen und die vielen Begegnungen gewesen sein mögen, man erfährt nur, dass sie stattgefunden haben. Was Philip Glass von diesen Begegnungen mitgenommen hat, das bleibt oft unklar. Seine Kompositionslehrerin Nadia Boulanger in Paris hat, wie er immer wieder betont, großen Einfluss auf ihn ausgeübt – aber worin konkret dieser nun bestanden hat: Wir erfahren es nicht. Im Studium an der University of Chicago hat sich Glass früh entscheiden müssen zwischen der Zwölftonmusik und der "tonalen" Musik. Er hat sich, obwohl er die Musik Bergs und Stockhausens sehr schätzte, für die tonale Musik entschieden. Warum? Das bleibt ebenso sein Geheimnis wie eine Antwort auf die Frage, wie er überhaupt seinen spezifischen Kompositionsstil gefunden hat – den hatte er schon sehr früh entdeckt; schon seine erste Theatermusik (das Streichquartett Company zum gleichnamigen Bühnenstück von Samuel Beckett) zeigt seine typische Handschrift.
Anscheinend gab es für ihn da nie irgendwelche Zweifel, obwohl  ihn fast alle Musiker für verrückt erklärten und der Publikumserfolg ewig auf sich warten ließ. Man wüsste auch gern, was ihn, das Kind aus jüdischem Elternhaus, zum Buddhisten werden ließ. Man wird nie ganz den Eindruck los, Glass' Leben sei sowohl auf der künstlerischen wie auch auf der privaten Ebene ziemlich reibungslos verlaufen, obwohl man zwischen den Zeilen doch gelegentlich mitbekommt, dass es ganz so einfach nicht immer gewesen sein kann. Man merkt bei solchen Gelegenheiten, dass Glass das Buch tatsächlich selbst geschrieben hat; ein externer Biograph hätte bei manchen Fragen vermutlich tiefer gebohrt. Um so interessanter sind dann aber die Stories, die Glass um seine großen Erfolge zu berichten weiß, Einstein On The Beach, Akhnaten und Satyagraha, die Filmmusik zu Koyaanisqatsi sowie seine Opern nach den Filmen von Jean Cocteau. Die kennt fast jeder, und Glass liefert hier jede Menge interessante Hintergründe über die Entstehung, die Zusammenarbeit mit Regisseuren, Dirigenten, Choreographen und Musikern und die Rezeption dieser Werke. Gegen Ende verliert sich Glass dann ein bisschen im Kleinteiligen. Das nimmt dem Buch aber nichts von seinem Wert. Anders als der Titel es sagt, enthalten die Worte dieser Autobiographie sehr viel Musik.
Philip Glass:
Words Without Music
Liveright Publishing, New York/London 2015
ISBN 978-0-87140-438-1