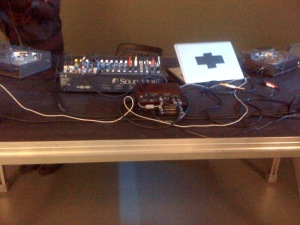 Julia Stoschek ist eine junge reiche Galeristin, die ein gutes Geschick besitzt, die amerikanische Avantgarde nach Duesseldorf einzuladen. Gestern Abend zeigte William Basinski sein neues Werk "Cascade" in der Stoschek Foundation.
Es war seine Urauffuehrung. Er kam in eleganter, enganliegender Lederkleidung in den Raum, stellte sich an den mit Technik ueberbordenden Tisch und begann fast wortlos mit seiner Performance. Hinter ihm lief ein Video, gedreht von seinem Lebensgefaehrten James Elaine. Es zeigte fast ausschliesslich Bilder von bewegtem Wasser. Irgendwann schloss ich die Augen, weil ich staendig an flying toasters denken musste. Er stand ueber eine Stunde fast unbeweglich vor seinem Werkzeug: dem Laptop, dessen Apple Logo er ueberklebt hatte [why?] und den beiden links und rechts aufgebauten tape decks.
Die Musik hoerte sich fuer mich zunaechst "rotten" an. Zuhause haette ich meine kaputte Anlage sofort entsorgt. Aber hier war es wohl part of the game. Links von mir sass eine Frau, die nach 5 Minuten ging, rechts von mir sass ein Mann, der die ganze Zeit die Augen geschlossen hielt. Ich langweilte mich die ersten 15 Minuten, weil alles sehr aehnlich fliessend klang und noch dazu durch ein Echo gedoppelt wurde.
Als die Klaenge vollkommen unerwartet leiser wurden, wurde ich wieder hellhoerig und verfolgte bis zum Schluss das Konzert mit Begeisterung, die Klaviertoene schienen aus dem bereits gehoerten Soundtrack heraus zu wollen. Basinski verabschiedete sich mit den Worten: "Thank you, oops, I forgot my words." Und verschwand.