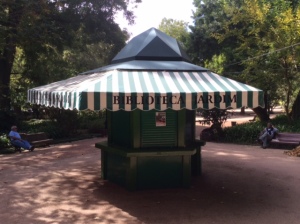 "… And a silence sweeps through the grass." (Fernando Pessoa)

Im Jardim da Estrela befindet sich die kleinste Bibliothek Lissabons, die eher aussieht wie ein Kiosk, in dem Süssigkeiten und Schnapsfläschchen den Besitzer wechseln, über ein abgeblättertes Holzbrett hinweg, begleitet von dem Klingeln eines Kassenautomaten aus der Mitte des 20. Jahrhunderts.
Mein Gück war es, dass der Verwalter dieses kleinen Universums, Paulho oder Paolo, hervorragendes Englisch sprach. Ich entschuldigte mich für die typische Touristenfrage, aber was für Bücher würde er an diesem stillen Örtchen in Umlauf bringen. – Achtzig Prozent portugiesische Schmöker, sagte er, historische Schinken vor allem, aber auch ein paar Klassiker von Pessoa. Der Rest seien englische Bücher, und vor allem Thriller, vorzugsweise alter Stoff aus England und den USA.
Ich fragte ihn, ob er mir ein Blick auf die Inventarliste erlaube, und bevor er die Bude schloss für eine ausgiebige Siesta, in der die Bücher Rücken an Rücken schwitzen konnten wie in einer alle Hitzerekorde brechenden Sauna, drückte er mir eine englische Bücherliste in die Hand. – Penner kommen hierher, Professoren, Studenten und Engländer, Engländer, Engländer!
Ich staunte nicht schlecht, als ich die Liste las. Colin Woolrich, John Dickson Carr, Dashiel Hammett, Reginald Hill, Michael Collins, Eric Ambler, Patricia Highsmith, Dick Francis, Ruth Rendell, Conan Doyle, solche Kaliber. Dann zeigte er mir kurz sein liebstes Stück, eine englische Taschenbuchausgabe von Wilkie Collins' Monddiamanten.
Das Buch sah so zerfleddert aus, als sei es schon durch tausend Hände gegangen, und doch, versicherte er mir, würde keine Seite fehlen. Ein mattes Leuchten ging von dem Grün des Einbandes aus, und obwohl ich es als Jugendlicher mit Freude verschlungen hatte, hatte ich keinen Schimmer mehr von all den darin verhandelten Rätselhaftigkeiten.