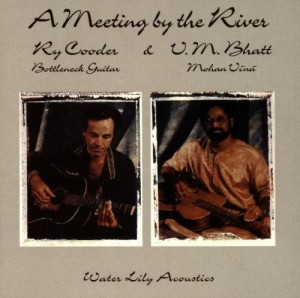 Ry Cooder & Vishwa Mohan Bhatt — A Meeting By the River

I remember Alan Bangs playing the title track from this album on his "Nightflight" programme at BFBS shortly after it was released in 1993. And I knew I had to rush out and buy that album, just by hearing that single track ! (It took quite a while to track that album down and hold it in my hands at last – but that's another story.)
As the album title suggest, the record documents a musical meeting between Ry Cooder (playing slide guitar) with Vishwa Mohan Bhatt (playing a stringed instrument created by himself). Taking into consideration that they only met one hour before the recording started the sheer beauty and virtuosity of this western/indian flavoured "jam session" is stunning.
Often overlooked in the Cooder D'oeuvre it earned a Grammy Award for Best World Music Album in 1994.