Bill Evans

In der Bibel findet sich das Gleichnis von einem Kaufmann, der gute Perlen suchte und eines Tages eine ganz besonders kostbare Perle fand. Da er sie sich nicht leisten konnte, verkaufte er alles, was er hatte und kaufte sie. Soweit diese Geschichte. Es soll jetzt hier nicht darauf ankommen, wie man dieses Gleichnis auslegen könnte, ich muss nur immer an dieses Gleichnis denken, wenn ich auf den zentralen Platz in meinem Plattenschrank schaue. Da steht ein dicker roter Schuber, auf dem in goldenen Lettern zu lesen ist: BILL EVANS: THE COMPLETE RIVERSIDE RECORDINGS. In diesem dicken roten Schuber finden sich nun zwei weitere rote Schuber und in diesen jeweils neun Schallplatten in roten Hüllen eingeschlossen. Diese Perle unter den Schallplattenveröffentlichungen erschien 1984 in limitierter Auflage von 5000 Stück. Als ich damals von dieser Box erfuhr, dachte ich nur eines, eine von diesen 5000 copies muss dir gehören. Nun war die rote Bill-Evans-Sammlung schon damals sündteuer und für mich nicht zu bezahlen. Da gerade ein größerer Flohmarkt nahte, verkaufte ich sogar Dinge, die mir einiges wert waren, unter anderem viele Schallplatten. Zum Glück weiß ich nicht mehr, was ich alles weggegeben habe. Egal, Hauptsache ich hatte das Geld für den roten Evans-Schuber beisammen. Dann fuhr ich nach Stuttgart – damals gab es noch richtig tolle Plattenläden, nicht nur die Auswahl zwischen Saturn und Mediamarkt – und kaufte mir das ersehnte Exemplar.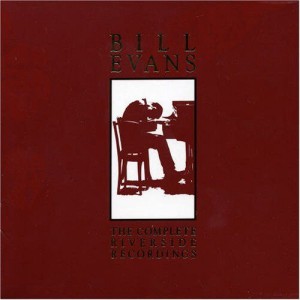 Orrin Keepnews ist der Producer dieser famosen Sammlung und wenn ich jetzt aufzähle, wer da so im Trio oder auch Quartett mit Bill Evans zwischen 1956 und 1963 gespielt hat, dann wird der/die eine oder andere LeserIn es nicht fassen können, was sich damals abgespielt hat. Der im November 2011 verstorbene Paul Motian ist der Schlagzeuger auf den meisten Aufnahmen, auch Philly Joe Jones spielt öfter mit und auf je einer Schallplatte ist Connie Kay und Larry Bunker zu hören. Der Bass wird sehr oft von Scott LaFaro bedient, aber auch von Paul Chambers, Sam Jones, Percy Heath, Chuck Israels, Ron Carter oder Teddy Kotick. Hinzu kommen auf jeweils einer Platte der Trompeter Freddie Hubbard, der Gitarrist Jim Hall und die Saxophonisten Julian Cannonball Adderley und Zoot Sims. Dass jeder Aufnahmesession liebevoll dokumentiert ist, versteht sich von selbst. Und, was bekommen wir zu hören? 140 Titel! Manche in verschiedenen Versionen, so etwa Waltz for Debby gleich vier Mal, drei Aufnahmen von All of you und My Romance, zwei von Alice in Wonderland, How about you, Nardis., Time remembered oder What is this thing called love? Und dann so seltene Aufnahmen wie Peace Piece, Night and Day, Danny Boy oder Israel. Ganz zu schweigen von den Klassikern: Summertime, Round midnight, Re: Person I knew oder In a sentimental mood.
Und? Ist der rote Schuber so limted geblieben? Nein! Bei jpc bekommt der Liebhaber die Plattenbox in Neuauflage zum Sonderpreis von 599,00 Euro, nun im schwarzen Karton. Als CD-Box ist das ganze natürlich auch erschienen, aber wer will schon CDs???