Nach drei Jahrzehnten wieder mal in Aarhus an der Ostküste von Mitteljütland. Einiges hat sich geändert seitdem. Nach der Jahrhudertwende kam das ARos Kunstmuseum mit seinem inzwischen berühmten Your Rainbow Panorama von Olafur Eliasson. Olafur Eliasson ist u.a. bekannt von seiner Installation Falling Waters an der Brooklyn Bridge in New York.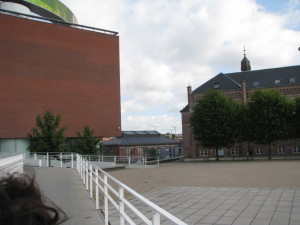 Als ich die Konstruktion von Olafur Eliasson auf dem ARoS Museum in Aarhus zum ersten Mal sah, hat sie mich mitnichten beeindruckt. Dafür sieht sie einfach zu schlicht und einfach aus. Und die Farben, ich konnte sie nicht recht unterbringen. Das änderte sich schlagartig als ich ihr auf dem Dach entgegentrat und in sie eintrat.
Sie filtert nicht einfach nur unsere gewohnheitsmäβige Wahrnehmung der Realität und die Figurierung selbiger. Unsere Wahrnehmung wird gebrochen, mit anderen Figurierungen konfrontiert oder durch solche überlagert.
Der Clou ist, dass Olafur Eliasson keine arrangierten Tableaus bereithält/anbietet. Vielmehr werden sie vom Begeher der Konstruktion (als Teil derselben) in unzähligen Konstellationen und Arrangements selber hergestellt/geschaffen.
Der Begeher ist dabei immer Teil derselben und kann wieder von anderen als Teil von deren Arrangement gesehen worden.
Der Betrachter/Begeher kann zwar Rahmungen vornehmen, aber diese zerfliessen mit jeder Bewegung, mit jedem Schritt.
Die Konstruktion ist also eher ein Werkzeug, eine permanente generative Re-Imaginations- maschine, die auf verschiedenen Ebenen funktioniert. Es ist eine solide, sachliche Stahl-Glas-Konstruktion, die all die 'Remixes' ermöglicht, und damit das krasse Gegenteil von fest konfigurierter Gebäudekunst. Erstaunlich ist, wie durch das Medium Stahl und Glas dieses fliessende Bild ermöglicht wird.
Olafur Eliasson beschreibt seine Konstruktion mit den Worten: "Your rainbow panorama enters into a dialogue with the existing architecture and reinforces what is assured beforehand, that is to say the view of the city. I have created a space which virtually erases the boundaries between inside and outside – where people become a little uncertain as to whether they have stepped into a work or into part of the museum. This uncertainty is important to me, as it encourages people to think and sense beyond the limits within which they are accustomed to moving".
Die Konstruktion ermöglicht nicht nur das Zaubern mit dem Blick auf die Stadt und den Horizont. Umgekehrt kann sie wie früher die Kirchtürme als Orientierungspunkt dienen: man kann etwa sehen, dass man im blauen oder orangenen Sektor der Stadt ist.
Mit ihren Effekten trotzt die Konstruktion auf ihre Weise der Festlegungs- und Dokumentationsinflation unserer Zeit. Die Photografien sind nur Momentaufnahmen, die sich nie exakt wiederholen lassen und die höchstens "auf den Weg schicken" können.
Es ergeben sich fortlaufend wundersame Konstellationen wie etwa bei AROS AIR 1
Das Gebäude von ARoS steht auf einer Erhöhung in der Stadt und verbindet den alten mit dem neuen Teil der Stadt. Der Verbindungsweg läuft mitten durch das Museum,das ein offener Raum (ähnlich dem New Yorker Guggenheim Museum) ist. Umgebung, Alltag, Geschichte sind spürbar Teil des Museums. Näher ans Publikum heranbringen geht fast nicht. Das Erstaunliche ist bis jetzt, dass immer Leute im Panorama sind (und dass das Museum immer reichlich besucht ist).
"The ARoS building is built on the concept of Dante´s Divine Comedy, and with the realization of the rooftop project the connection between heaven and the underworld will be complete – the latter in the form of the exhibition concept The 9 Spaces in the basement level of the museum, with works by Bill Viola, James Turrell, Tony Oursler, and Pipilotti Rist, amongst others; the former with Your rainbow panorama." The 9 Spaces zur Zeit mit der Ausstellung OUT OF THE DARKNESS.
Die Umgebung des Museums hat auch ebenerdig gesehen, diese leicht magische Ambiguität von Tableau und Bewegung. Mit "leicht magisch" meine ich: es sieht auf den ersten Blick arrangiert aus und ist es auch.



Gleichzeitig hat es aber eine fast ungreifbare Bewegungsqualität und eine spezifische Entdichtungsqualität. Massiv und leicht, fein gefügt und offen. So fallen einem noch mehr Gegensätze ein, die sich in ungreifbarer Weise austauschen.
Neben dem ARoS befindet sich das neue Musikhuset, das direkt mit dem Aarhuser Konservatorium verbunden ist. Musikalisch hat Aarhus einiges zu bieten, u.a. das einwöchige Jazz Festival im Sommer (zweite Juliwoche). Auf dem Aarhuser Festival sind auch viele Musiker/Gruppen zu sehen sind, die auf dem Kopenhagener Jazz Festival spielen. Der Vorteil von Aarhus ist, dass sich in Aarhus alle Podia in bequemer Laufweite befinden.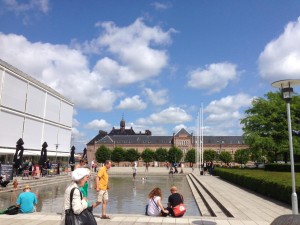 Aarhus wird 2017 – nach Wroclaw/San Sebastián im nächsten Jahr – unter Motto "let's rethink" Europäische Hauptstadt der Kultur sein – zusammen mit Pafos auf Zypern.
alle Photos ©FoBo_HenningBolte – ausser Sektorpeilung, Durchgangsweg