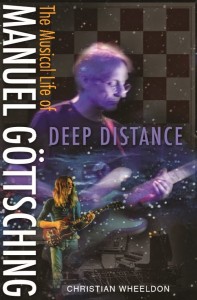 Manuel Göttsching, Gitarrist, Keyboarder, Komponist, kann auf eine Karriere seit 1971 zurückblicken (es gab ihn auch schon vorher, aber nicht auf Platte). Stationen seiner Karriere sind Ash Ra Tempel, Ashra, Alben unter eigenem Namen, Zusammenarbeit mit Klaus Schulze, Steve Hillage und diversen anderen, auch als Filmkomponist hat er sich betätigt. Seit einiger Zeit gibt es ihn sogar als Wachsfigur in einer japanischen Krautrock-Ausstellung.
Der englische Bibliothekar Christian Wheeldon hat in sechsjähriger Arbeit die längst fällige Biografie geschrieben. Das sehr gut geschriebene Buch führt chronologisch anhand von Events und Plattenveröffentlichungen durch Göttschings Musikerlaufbahn. Zunächst wird im Regelfall faktenreich und sauber recherchiert die Vor- und Produktionsgeschichte geschildert, im Anschluss daran bespricht der Autor das jeweilige Album. Sympathisch, dass dabei nicht nur Göttschings eigene, sondern auch einige Werke von Wegbegleitern Göttschings berücksichtigt werden; etwa das Soloalbum Synthesist des Drummers Harald Großkopf, das längst vergessene Projekt Central Europe Performance oder Lutz "Lüül" Ulbrichs Arbeiten mit Nico.
Klar sein muss man sich darüber, dass hier ein Fan schreibt. Das merkt man seinem Urteil nicht selten ein bisschen zu deutlich an. Ohne Frage hat Göttsching viele gute Platten gemacht, aber wie es in einer über 40-jährigen Karriere nicht anders sein kann, sind auch weniger gelungene Einspielungen zu verzeichnen. Das hätte man gelegentlich dann auch gern so gelesen. Bei Wheeldon ist das alles "masterpiece", "genius", "incredible", auch "legendary" taucht viel zu oft auf, und immer wieder werden als Vergleichsmaßstab Philip Glass, Steve Reich und Terry Riley genannt — über den letzteren würde ich ja noch mit mir reden lassen, aber Glass, und erst recht Reich, spielen nun wirklich in einer anderen Liga.
Ein anderer kleiner Haken des Buches sind häufige Übersetzungsfehler aus dem Deutschen, weil Wheeldon Wortspiele oder Mehrfachbedeutungen von Begriffen nicht versteht. So hat Göttsching etwa, um ein Beispiel herauszugreifen, einem kleinen Fluss bei Leipzig namens "Mulde" eine musikalische Beschreibung gewidmet, deren letzter Teil mit "Zerfluss" betitelt ist. Klar, dass man diese Wortschöpfung nicht direkt übersetzen kann, aber beschreiben zumindest könnte man sie. Wheeldon jedoch setzt sie mit "Zufluss" gleich, übersetzt den Titel mit "Inflow" und verfehlt damit das eigentlich Entscheidende. Dergleichen findet man in englischen Büchern zum Thema Krautrock leider sehr häufig.

Bleibt noch darauf hinzuweisen, dass das Buch, wohl um die Kosten niedrig zu halten, in einer sehr kleinen und noch dazu serifenlosen Schrifttype gesetzt ist. Das macht das Lesen für alte Knacker wie mich schlicht zur Tortur.
Das ist allerdings alles, was es an dem Buch auszusetzen gibt. Ohne sich je in alter Krautrockseligkeit zu ergehen, macht die Lektüre Lust, die alten Platten wieder auszugraben, darüber aber auch die neuen nicht zu vergessen. Einige Webseitenempfehlungen und ein sorfältig erstellter Index runden das Buch ab.


Christian Wheeldon
Deep Distance – The Musical Life of Manuel Göttsching
King's Lynn, GB 2015
ISBN 978-1-91069324-7

Das Buch kann ausschließlich hier bestellt werden.