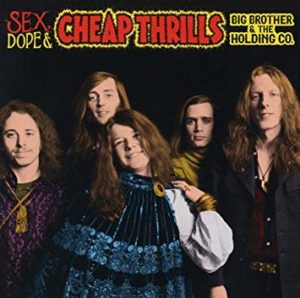 Ein neues Album von Janis Joplin! Ein Doppelalbum sogar! Yay!
Na gut. Die Story des Cheap Thrills-Albums ist wahrscheinlich bekannt: Big Brother & The Holding Company (der Name ist bis heute seiner Zeit voraus) hatten sich im Studio so oft verspielt, dass der Produzent letztlich auf die Idee verfiel, Publikumsgeräusch dazuzumischen und das Ganze als Live-Album auszugeben. Dort würden die Fehler glatt als "authentisch" durchgehen. Einzig "Ball And Chain" war eine wirkliche Live-Aufnahme, aufgenommen im Fillmore in San Francisco. Wenn mich nicht alles täuscht, ist der für den Rest der Platte verwendete Beifall derselbe, der auch für das (ebenfalls gefakte) Live-Album der 13th Floor Elevators von 1968 eingesetzt wurde.
Columbia hat damals weder das ursprünglich vorgesehene Coverfoto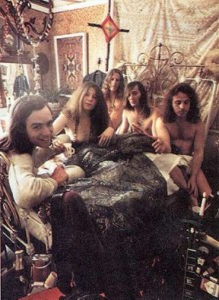 noch den eigentlich beabsichtigten vollen Titel des Albums akzeptiert. So ließ man es denn bei Cheap Thrills, und Janis Joplin höchstpersönlich bat Robert Crumb um einen Comic, den dieser mit Freuden lieferte. Und weil er so schön war, kam er aufs Frontcover. Auf die ihm angebotenen 600 Dollar verzichtete Crumb: "I don't want Columbia's filthy lucre". Wer sich's denn leisten kann …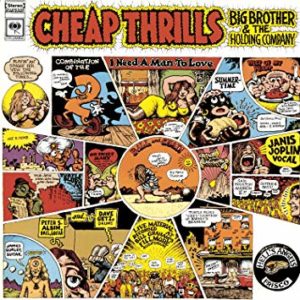 Weil Crumb davon ausging, dies solle das Backcover werden, visualisierte sein Comic die einzelnen Titel des Albums und nennt die Musiker. Eine der Zeichnungen war mit "Harry" beschriftet. Das war der Titel eines sehr kurzen und sehr schrägen Stücks, das die Seite 2 eröffnen sollte. Da die Plattenfirma dieses Stück ebenfalls rauswarf, wurde im Nachhinein "Harry" aus der Zeichnung entfernt und "Art: R. Crumb" eingefügt. (Crumb selbst hat seine Zeichnungen nie signiert.) — Das Original des Comics übrigens ist 1971 aus dem Columbia-Archiv geklaut worden, wohl von einem Mitarbeiter. Zwölf Jahre später wurde es bei Sotheby's für 250.000 Dollar versteigert; das Auktionshaus hat den Verkäufer nie bekanntgegeben.
Nun ist "Harry" wieder da. Diesmal unter dem vollständigen Originaltitel des Albums, für das vorgesehene Originalfoto allerdings mochte man sich aber auch diesmal nicht entscheiden. (So originell war's auch wirklich nicht.) Zweieinhalb Stunden Outtakes und Live-Mitschnitte aus der Cheap Thrills-Ära gibt es zu hören — 30 Stücke insgesamt, davon 25 bislang unveröffentlicht, fünf erschienen bereits als Bonustracks auf anderen Zusammenstellungen oder Re-Issues. In vielen Fällen, so ehrlich sollte man sein, erschließt sich recht schnell, weshalb das Stück ein Outtake geworden ist. Spielfehler, falsche Noten, Abbrüche und Aussetzer kommen immer mal wieder vor. Es wird (wieder einmal) klar, dass BBHC zwar eine für damalige Normalverhältnisse brauchbare Band war, mit Janis' Ausnahmetalent aber schlicht überfordert war. Auch Janis scheint nicht in allen Stücken bei 100 Prozent zu sein, dafür übertreibt sie in anderen Stücken mit voll durchgetretenem Gaspedal. Aber die meisten Stücke sind hörenswert. Und überhaupt: 80 Prozent Joplin sind immer noch mehr als das meiste, was heute gern mal als "neue Joplin" gehandelt wird. Es bleibt dabei: Es gibt nur eine.
Das Booklet beinhaltet einen kurzen Gruß von Grace Slick und einen längeren Text von BBHC-Drummer Dave Getz, der einiges an interessanten Hintergrundinformationen liefert.