Back in Belfast. Returning to a city is problematic. Will it have retained its magic? Will the vibe still be there? Were previous visits illusions? Will the breakfast be okay? All is good. It's Belfast. And everything's alright. The sky is grey but the air is so fresh you take lungfuls of it, consciously, all the time, just for the fun of it. And sometimes departing a city is problematic – cos you just don't want to leave. Ever.

– Ian McCartney (2016)

Was, ein Film über die "Troubles", und dann lachen da alle auf dem Cover? Was ist das denn für ein Rührstück! Ist gar keins, es ist, ähem, tricky. Und durchaus auch anrührend. Die Kamerafahrten allein lohnen es, sich in dieses kleine Kino-Meisterstück fallen zu lassen. Zum Ende des Jahres hat sich der Film auf Platz 3 meiner Lieblingsfilme 2022 geschoben, nach "Licorice Pizza" und "Parallel Mothers". Das zweite Sehen / Erleben (gestern) berührte mich so tief wie das erste. Der Schauplatz und die Atmosphäre: Nordirland zur Zeit der Unruhen ("Troubles").
Man kann das düster und heftig einfangen, oder so, wie es Mr. Branagh angestellt hat, basierend auf seiner Kindheit vor Ort, mit mehr als einem Hauch Wehmut inmitten all des Schreckens. Ein leicht abgefederter Sozialrealismus ist hier am Werke, doch wird die stets drohende Gefahr nie verharmlost, noch eine Pralinenschachtel-Version der "Troubles" vorgeführt, wie eine Kritikerin bemerkte. Und wenn immerzu geschrieben wird, dass der Film aus der Perspektive eines Kindes erzählt wird, ist dies de facto falsch. Es ist die von einem Erwachsenen erinnerte Version der eigenen Kindheit in Belfast. Es gibt bei Kindern oft, wenn sie nicht vom destruktiven Energien ihrer Elternteile infiziert werden, einen gesunden Eskapismus, wenn sie etwa in die Parallelwelten des Kinos und Theaters eintauchen, und hier geschieht das mal mit James Stewart, oder Raquel Welch, oder in einem alten Weihnachtsstück. Mal herrlicher Blödsinn, mal Einblicke in eine fremde Welt.
Und bei aller Sentimentalität, die einsichtliche Gründe hat: gleich zu Anfang, als Krawalle wie aus dem Nichts ausbrechen, spiegeln sich in dem Gesicht des Kindes pures Unverständnis und Erschrecken angesichts des Tohuwabohus im eigenen Viertel. Das ist auch hart und schmerzhaft (da braucht es keine verblutenden Menschen in Grossaufnahme). Und im Chaos des Showdowns steht später steht dann sowieso alles, was man liebt, auf der Kippe.
Peter Bradshaw schrieb im Guardian zwei sehr kluge Schlusssätze in seiner 5-Sterne-Besprechung: "Es ist nicht ganz richtig, wenn man sagt, dass der Alptraum dieses Films einen Hauch von Unschuld enthält, aber sicherlich einen Hauch von Normalität und sogar Banalität, der seinen eigenen surrealen Ton annimmt. Liebesbriefe an die Vergangenheit sind immer an eine Illusion gerichtet, und doch ist dies ein so verführerisches Stück Mythenbildung von Branagh." Die fantastischen Schauspieler, die Regie, die ersten zwei Minuten mit einem betörend inszenierten Zeitensprung, sowie die Songs von Van Morrison, besorgen den Rest. Breathing, organic, overflowing with life.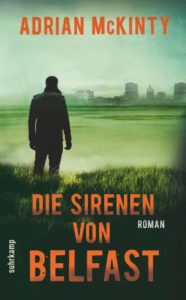 Übrigens, wer Gefallen an dem Film findet, dem empfehle ich, in Reihenfolge, die Sean Duffy-Romane von Adrian McKinty. Crime novels placed in the times of the troubles. Der katholische Bulle, Die Sirenen von Belfast und die anderen. Alle hervorragend ins Deutsche übersetzt. Und was seine fulminante Ahnung von Musik betrifft, könnte Adrian McKinty (resp. sein alter ego Sean Duffy) ein Manafonist reinsten Wassers sein.
– Michael Engelbrecht (2022)