"You win a while and then it's done
Your little winning streak
And summoned now to deal
With your invincible defeat
You live your life as if it's real
A thousand kisses deep" 
Leonard Cohens Roman "Das Lieblingsspiel" hat mich lange nicht so berührt wie seine Songalben, aber es gab eine Passage, da sinnierte er über die Transformation der Frau im Orgasmus, und wie jede einzelne Liebes- oder Bettgefährtin sich in der Exstase in ein anderes Wesen verwandelte. Ein Hang zur dezenten  Übertreibung, aber mit wahrem Kern allemal. Joni Mitchell beklagte sich mal, rückblickend und mit einem Lächeln, dass Leonard kaum ihr Schlaflager verlassen wollte und unersättlich war, liebestrunken, zumindest sextrunken. Ich konnte das mit den "Verwandlungen" im Laufe der Jahre bestätigen (war ja auch ein so hoffnungsvoller wie hoffnungsloser Romantiker), und nur zu gerne begab ich mich auf die Erforschung dieser anderen Seite. Seltsamerweise kann ich mich an den Orgasmus einer meiner ganz grossen Lieben nur sehr fragmentiert erinnern, obwohl wir oft über Stunden das Kopfkissen teilten und es in einer Badewanne, unter Linden, einmal sogar auf einem Ameisenhügel trieben. Unser Sex war allerdings anders als der mit Erika keine Forschungsstätte rarer Stellungen und Praktiken, sondern ein kreatürlicher Akt ohne Design, Rollenspiel, und kleine Gerätschaften, es war auf elementare Weise natürlich, sie war keine "Göttin", keine stilisierte Figur, aber so unfassbar "alles" (in meinen sehenden, blinden Augen), dass ich in jede Falle ihrer Schönheit zu tappen bereit war, bis sie mich am Ende eines Jahres noch dreimal hintereinander hart vögelte und aus dem Paradies warf. Um wieder zu Sinnen zu kommen, um wieder "vernünftig" zu werden. Sie war gewiss mein "Urtyp" –  und damit ohne weitere Vorrede auf zur Transkription von Erikas Trancearbeit, meine "Farbenfrau" betreffend, meinen "Urtyp aller Urtypen". Die aufgezeichneten Details der Tranceinduktion (obwohl an Erickson geschult, machte sie es mit einem Pendel) lasse ich aussen vor.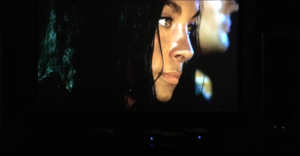 Blue-eyed woman is a healer to me(Blue-eyed woman)If I lose that woman I'm history(Blue-eyed woman)

– Neil Young
ERIKA: Woran merktest du, dass die Sache mit der Farbenfrau etwas Besonderes  war in deinen Träumen?  MICHAEL:  Sie kam immer wieder, oft mehrmals in der Woche. ERIKA: Wie alt bist du da? MICHAEL: Fünf, sechs, sieben Jahre alt. Ich liege in meinem Bett im Weissdornweg Nummer 9 in Hombruch, und sie kommt immer in frühen Morgenstunden. ERIKA: Wieso weisst du, dass es früh am Morgen isr? MICHAEL: Wenn sie wieder fort ist, öffne ich die Augen und blinzele ins  Licht. ERIKA: Ist der Ort, zu dem die Farbenfrau kam, immer der gleiche, und wenn ja, beschreibe ihn. MICHAEL:  Ein warmer Ort. Tropisch. Ich sitze am Rand eines Swimminpools. Meine Füsse spüren die Wärme des Wassers. Das Wasser hat die Farbe von Kakao. Es duftet sehr angenehm. ERIKA: Kannst du sehen, was hinter der Schwimmhalle ist? MICHAEL: Ein grosses Fenster, ein Blick auf eine Wiese,  einen Wald. ERIKA: Wieviele Menschen siehst du in der Halle, und draussen? MICHAEL: Da ist niemand, nur ich. Bis die Farbenfrau kommt. ERIKA: Beschreibe noch einmal deine genaue Position im Raum! MICHAEL: Ich sitze  in der Mitte der langen Seite des Swimmingpools. Manchmal berühren die Füsse das Wasser. Ich bin glücklich. ERIKA: Glücklich? MICHAEL: Geborgen. ERIKA: Woran merkst du, dass die Farbenfrau den Raum betritt?  MICHAEL: ich höre eine Geräusch von hinten, wie eine Schwingtür, ich höre ihre Fussschritte, als würde sie über kleine Wasserpfützen gehen. ERIKA: Und dann? MICHAEL: Sie setzt sich hinter mich, manchmal hockt sie sich hinter mich. Wenn sie ihre Beine neben meinen baumeln lösst, sehe ich, wie lang und schlank sie sind, tiefes Braun. Die Haut glänzt. Die Augen blau. Unendliches Blau. ERIKA:  Wie gross, glaubst du, ist sie?  MICHAEL: Sie überragt mich mit ihrem Kopf und ihren dunkelbraunen, nein, schwarzen… glänzenden… Haaren, ich habe sie nie stehen gesehen…nur schemenhaft aus dem Rückraum auftauchend… ERIKA: Rate ihre Grösse! Michael: 1 Meter 90? ERIKA: Was macht sie, wenn sie hinter dich hockt, oder sich auf dem Boden niederlässt? MICHAEL: Umschlingen…sie umschlingt mich…mit ihren Händen…und Armen…ihre Hände fahren über meine Brust…langsam…meine Oberschenkel…ich bin berauscht. ERIKA: Woran spürst du, dass du berauscht bist? MICHAEL: Da ist dieses Lustgefühl.. Lust strömt durch mich hindurch…überallhin…sie berührt mich…jede Berührung schickt Schauer… ERIKA: Streichelt sie deinen Schwanz, masturbiert sie ihn? MICHAEL: Nein. ERIKA: Hast du im Laufe ihrer Berührungen einen Orgasmus? MICHAEL: Nein…sie berührt mich aber dort, legt ihre Hand auf…himmlische Lust…ich spüre, ihre Nacktheit, wenn sie ihren Oberkörper gegen meinen presst… ERIKA: Wie lange berührt sie dich? MICHAEL: Sehr lange…dann steht sie auf und geht…ich bin nicht traurig…ich weiss, die Farbenfrau kommt wieder. ERIKA: Und du nennst sie im Traum Farbenfrau? MICHAEL: Nein, nie. Hinterher, wenn ich mich erinnere. Sie spricht nicht…ich spreche nicht…gebe nur Laute von mir. Und ich liebe dem Duft und das Geräusch ihres Atems…ERIKA: Später, als die Zeit dieses Serientraums vorüber war, hast du sie dann auch immer noch Farbenfrau genannt? MICHAEL: Ja, oder Amazone. Oder Indianerin. ERIKA: Hat sie je vor Lust gestöhnt? MICHAEL: Nein, ich erinnere ihr warmes Lächeln, wenn ich meinen Kopf nach hinten drehe, ihre grossen Augen… ich gehörte ihr.